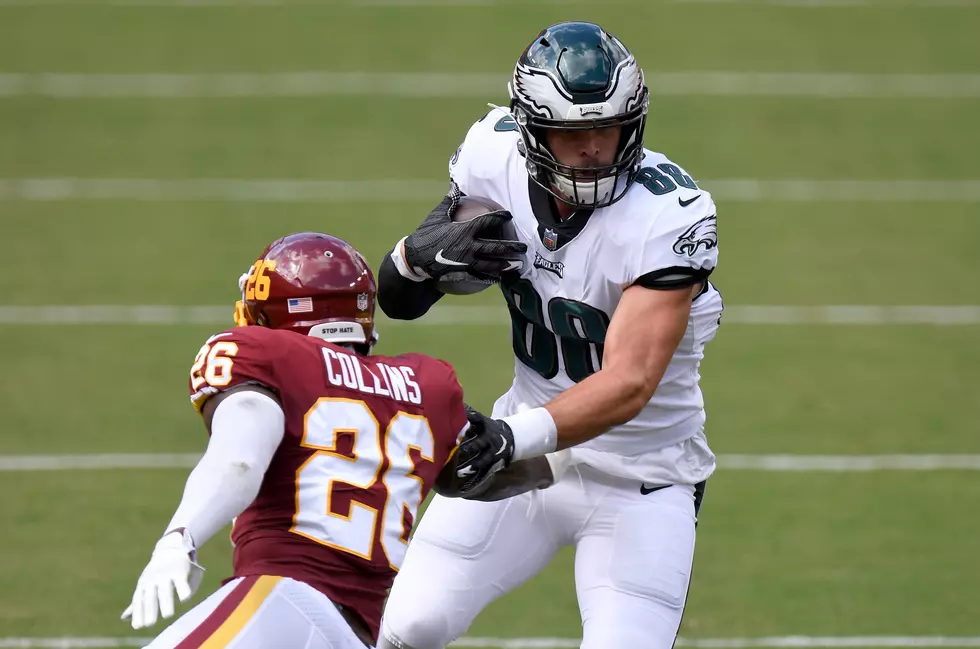 Eagles-Rams: 3 Matchups to Watch
Greg Fiume/Getty Images
The Eagles (0-1) will look to rebound from a devastating Week 1 loss in their home opener against the Los Angeles Rams (1-0).
Though the Eagles will likely be getting reinforcements in critical areas for the Week 2 tilt, it's fair to wonder how many of the pieces will hold up with their first extensive usage in weeks.
Enter your number to get our free mobile app
Below are three less apparent matchups to watch for in today's home opener.
TE Dallas Goedert vs. Rams LBs
Last week, Goedert spearheaded the Eagles' aerial attack, reeling in eight receptions for 101 yards, including a fantastic 34-yard touchdown. He feasted against a stiff and slow-footed Washington second level and could have similar opportunities against the Rams.
Inside linebackers Micah Kiser and Troy Reeder are better known for their run defense than their pass coverage fluidity. Outside linebacker Samson Ebukam is more of an athletic edge rusher than a true, sideline-to-sideline linebacker.
Goedert, the more dynamic of the renowned Eagles' tight end tandem, should have plenty of big-play opportunities down the seam. Look for the Eagles to capitalize on Goedert's ability to manufacture yards after the catch on intermediate routes and screens.
C Jason Kelce in the trenches
Disclaimer: There wasn't a single member of the offensive line that had a stellar Week 1.
However, while there are certainly plays that Kelce would like to have back, the veteran was far from their biggest concern. Whether Kelce's floundering can be attributed to a lack of cohesion along the offensive line or an inevitable regression, it will likely reveal itself against the Rams.
Kelce will not only be tasked with keeping the Rams' formidable interior wall of Aaron Donald and Michael Brockers at bay, but he will also likely need to support Herbig, who is slated to make his second NFL start.
Improved communication and cohesiveness will be vital against a vaunted Los Angeles front.
CB Avonte Maddox vs. WR Cooper Kupp
I suspect Darius Slay will draw Robert Woods in coverage, leaving Maddox to track Cooper Kupp for much of the afternoon. Maddox, who held veteran Dontrelle Inman to just two receptions for 21 yards on five targets in the opener, will face a much more challenging task on Sunday.
Although Kupp failed to take advantage of a leaky Cowboys' secondary in Week 1, Goff is likely to target his top receiver early to test the Eagles' secondary. Kupp, the most explosive of the Rams' pass-catcher, has the size and separation ability to work all three levels of the field. Measuring 6-foot-2, 208 pounds, Kupp has a distinct advantage over the 5-foot-9 Maddox.
Maddox, who has struggled with athletic, big-bodied receivers, relies on intellect, instincts, and closing speed. All three facets of his game must work in unison on Sunday, because if Kupp finds success early, it opens up the playbook for Sean McVay.