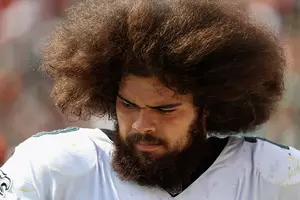 Eagles Ready to Go Back to Seumalo at LG
(Photo by Rob Carr/Getty Images)
PHILADELPHIA (973espn.com) - Potential personnel changes have been a big topic at the NovaCare Complex this week but nothing has been confirmed just yet, according to coach Doug Pederson on Friday.
By Sunday against the Minnesota Vikings, however, there is expected to be a shift on an offensive line which has struggled to protect Carson Wentz since the star quarterback returned from his ACL/LCL surgery.
In practice earlier this week Isaac Seumalo was taking first-team reps at left guard in place of Stefen Wisniewski, harkening back to the beginning of the 2017 campaign when Seumalo, a former third-round pick, was handed the job before ultimately losing it after two weeks, first to Chance Warmack and then to Wiz.
An NFL source told 973espn.com Friday morning that Seumalo is expected to start against the Vikings and Wisniewski will return to the role of interior backup.
Through the first four games of the season, Wisniewski has been average, grading out as the 39th best of 68 total players at the position by ProFootballFocus.com. Seumalo, meanwhile, has been in on just 13 snaps, mainly as an extra offensive lineman in jumbo formations.
"I'm just going to say this: we're constantly evaluating everybody," Pederson said. "This week we've rotated some guys around. Isaac has played left guard, he's played some center. Just giving guys an opportunity to see. We haven't made any changes as of yet."
Seumalo spent most of training camp this summer as the backup center behind Jason Kelce as the Eagles started a reclamation project on his confidence.
Offensive line coach Jeff Stoutland has always liked Seumalo's versatility and ceiling as a player and the Eagles feel he has more physical gifts than Wisniewski. Interestingly, Seumalo, 24, played every position on the offensive line in college at Oregon State except left guard.
After practice on Friday, reporters gathered around Seumalo's locker but the big man wasn't about to confirm anything.
"Nope," was Seumalo's one-word answer when asked if he had a moment.
At the very small portion of practice open to reporters on Friday, running backs Darren Sproles (hamstring) and Corey Clement (quad) were missing as was defensive end Derek Barnett (shoulder).
That likely means the RB rotation against the Vikings will again be mainly Jay Ajayi and Wendell Smallwood, with the latter dealing with most of the third-down work and pass protections.
At defensive end, Brandon Graham, Michael Bennett and Chris Long figure to get most of the work with rookie Josh Sweat perhaps getting his first NFL defensive snap.
"Josh has done a nice job," Pederson said. "He still mixes in with the rotational guys during the practice week and [he's] able to give guys like Michael, Chris, [and Graham] some rest during practice, so he's done a nice job. And if that's the case [Barnett being out], I feel comfortable with him being in the rotation."
HERREMANS SET TO RETIRE AS AN EAGLE
Longtime offensive lineman Todd Herremans, who played 10 of his 11 NFL seasons in Philadelphia, will officially retire as an Eagle on Sunday and serve as an honorary captain against the Vikings.
Originally a fourth-round draft pick out of Saginaw Valley State in 2005, Herremans played in 127 regular-season games (124 starts) and eight playoff games (all starts) with the Eagles.
He is perhaps best known as the only offensive lineman in franchise history to register two TD receptions (a 1-yard pass from Donovan McNabb at Seattle in 2008 and a 2-yarder from Michael Vick at Dallas in 2010.
-John McMullen covers the Eagles and the NFL for 973espn.com. You can reach him at jmcmullen44@gmail.com or on Twitter @JFMcMullen