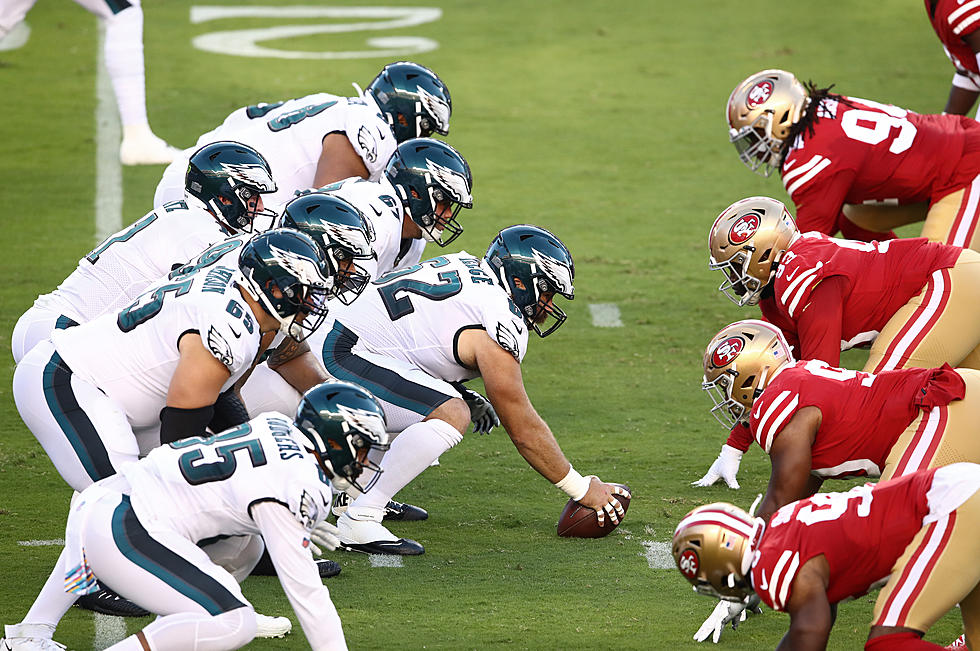 Eagles Offensive Line Will Have Another New Face on Sunday vs Ravens
Getty Images
The Eagles will have another new starting right guard when they host the Baltimore Ravens on Sunday.
According to Eagles head coach Doug Pederson, Matt Pryor will miss the game due to an illness, meaning former third-round pick Jamon Brown, who the Eagles recently signed off the Bears practice squad.
"In the case of Matt Pryor, just like some of our players here recently have fallen into a little bit of the illness issue, illness protocol with him, so we're taking all the precautions and making sure that he's safe and healthy," explained Pederson. "He's going to miss this game and Jamon Brown is going to start at right guard."
Brown does have plenty of starting experience, making 47 starts in 60 career games with the Rams, Giants and Falcons.
"One of the things, he's played and started in this league," stated Pederson. "You go back and watch some of his tape, he's done some things well. He's been with us for a couple of weeks, and as you guys know whenever we get a new player, it's about catching them up to speed on our playbook. He's done a nice job. He's a smart guy. He's aggressive coming off the ball. He fits in really well. And he had a good day yesterday and he'll have another one today when we get to practice and get ready to play."
Pederson also didn't sound optimistic that Lane Johnson would be ready to go on Sunday, meaning rookie Jack Driscoll would be getting the start at right tackle next to Brown.
"Lane is working through his injury this week," acknowledged Pederson. "As you know he hasn't practiced at all. We have Jack ready to go if that's the case. Jack has done a nice job, and listen, he's played all the way back to week one. He's got a lot of time on task. This guy, he's all about business, and that's what you like about Jack Driscoll as a young player. Another opportunity for him to get better this week."
All this mean it will be the fifth time in six games that the Eagles will have a different look on their offensive line.
The Week 1 projections were Andre Dillard, Isaac Seumalo, Jason Kelce, Jason Peters (after Brandon Brooks offseason injury), and Johnson.
On Sunday its likely to be Jordan Mailata, Nate Herbig, Kelce, Brown and Driscoll.  That group is going to have its hands full against a Ravens defense that is very good at getting pressure and creating turnovers.
"As far as them and creating turnovers, one, they know how to put pressure on the quarterback so the quarterback is sometimes forced to make bad decisions or put the ball -- be a little bit less accurate, and so they get interceptions on the back end," Pederson said.
"They're really good at getting the ball out, tackling the football, punching at the football, disrupting timing in the passing game, and that's why they've been able to create turnovers."
Enter your number to get our free mobile app
Eagles First Round Draft Pick Busts