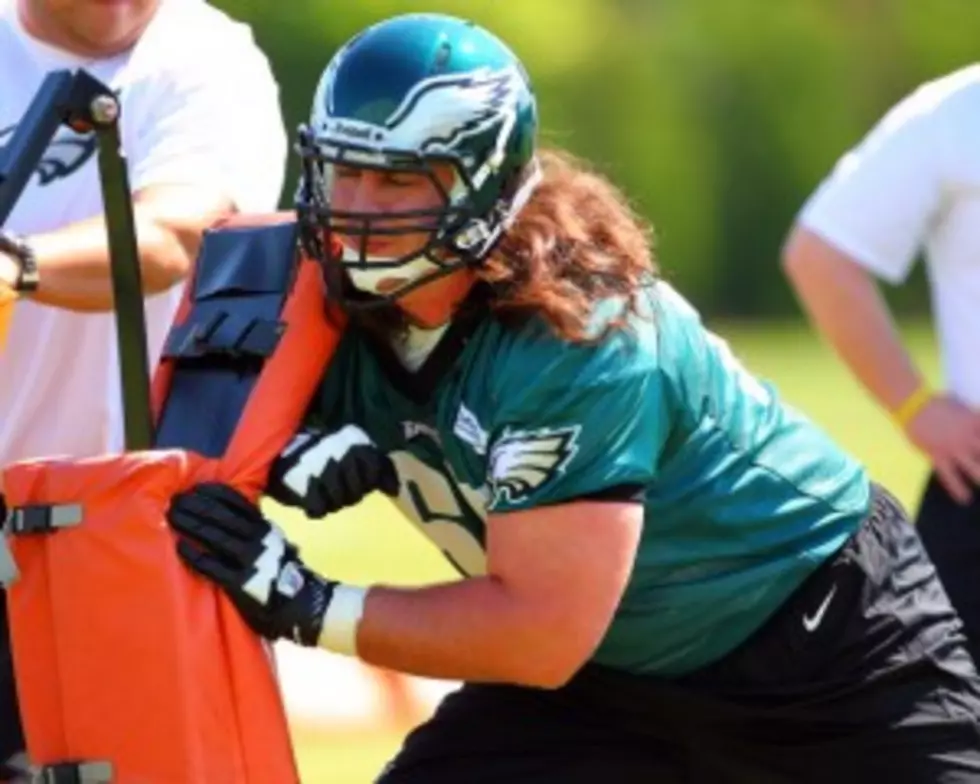 Eagles Rule Two Players Out for Monday Night
Dennis Kelly of the Philadelphia Eagles has been rules out for week one. (Photo by Rich Schultz/Getty Images)
Both the Philadelphia Eagles and Washington Redskins (Listen on 97.3 ESPN) are getting closer to starting their regular seasons on Monday at FedEx Field, and both sides didn't have any surprises on the injury report following Friday's practice.
The Eagles were without cornerback Brandon Hughes (hand) and tackle Dennis Kelly during the session once again. The duo has already been ruled out of the contest against the Redskins.
"Brandon and Dennis are both out," Eagles head coach Chip Kelly said.  "Brandon will return to practice Tuesday, see where he fits back into the scheme.  Brandon and Dennis are two guys that will be ruled out for Monday's game."
On the Washington side, the biggest unknowns both have to do with nose tackle Barry Cofield who is expected to play with an "enormous cast" on his right hand in Monday night's game against the Eagles.  The Redskins don't yet know if Strong safety Brandon Meriweather (knee, groin) will be available for Monday night's game.  He was was limited in practice by a groin injury for a fourth straight day and his status remains uncertain for Monday night.
Pierre Garcon has declared his troublesome foot/toe "100 percent." He told reporters this week; "foot's good. Hundred percent."  The injury plagued Garcon throughout 2012, and the Redskins weren't sure if he'd ever be 100 percent this season.