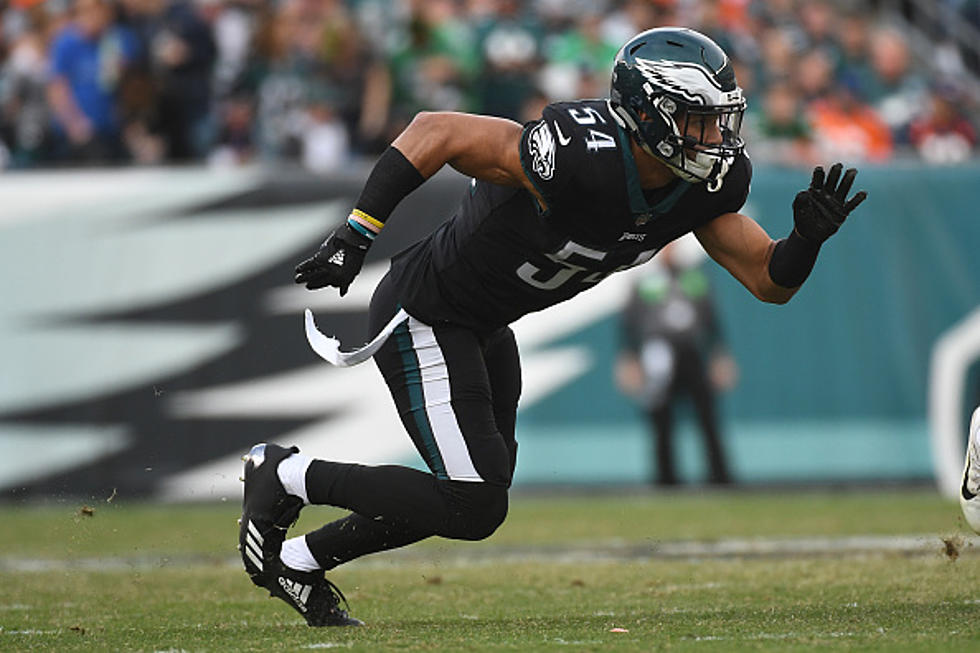 Eagles TC Day 8: Grugier-Hill Carted Off, Cyprien Debuts
(Photo by Andy Lewis/Icon Sportswire via Getty Images)
PHILADELPHIA (973espn.com) — The cart is one of the ugliest scenes you can see at any NFL training camp but it's not quite as ominous as it once was.
Linebacker Kamu Grugier-Hill, who has been having an excellent camp, put a scare into the fans in attendance when he went down clutching his left knee during a live session at Saturday's practice.
KGH was in the mix tackling Jordan Howard on the play. After trainers checked him out Grugier-Hill was able to gingerly walk off where he was loaded onto the cart and taken into the medical tent.
The good news is Grugier-Hill emerged and wanted to join his teammates for the final minutes of the practice before being talked out of it by trainers, instead walking into the NovaCare Complex.
Kamu hardly seemed distressed while walking inside and was more concerned about the tape on the hand he injured last season. He was walking slowly although with no noticeable limp.
Coach Doug Pederson didn't have an update after practice, only confirming that the linebacker had a lower-body injury and more evaluation was needed.
Grugier-Hill has been one of the star's at training camp for the defense, running with the first-team nickel next to Nate Gerry while the team's top LB, Nigel Bradham, continues to work his way back from offseason foot surgery.
KGH has intercepted Carson Wentz twice during 7-on-7 drills during camp and had a knock down on a blitz in goal-line work during an earlier live session on Saturday.
"He's really coming into his own," Pederson said of KGH. "He's obviously getting those first-team reps at linebacker and a core special teams player for us. Really excited about him and what he brings to our football team. He was a young player who's now starting to really grow into his role."
The Eagles did release an injury report that clarified some issues, particularly with Mack Hollins who is day-to-day with what is being described as a hip injury but was in pads and did some individual work. Cornerback Cre'Von LeBlanc is out multiple weeks with a foot sprain, described as a Lisfranc injury by an independent source, while linebacker Paul Worrilow is now listed as week-to-week as he attempts to work his way back from his ACL injury from last spring.
Tight end Richard Rodgers was new to the list with a foot injury and has been listed as day-to-day, perhaps explaining why the Eagles signed another tight end, Alex Ellis, on Friday.
Ellis, wearing No. 48, and safety Johnathan Cyprien, who was also signed Friday, each made their practice debuts with Cyprien getting a few second-team reps.
"It just gives us depth and we swapped out player for player [Godwin Igwebuike] at that position," Pederson said when discussing the former starter in Jacksonville and Tennessee. "It gives us depth and experience at that [safety] spot. Bring him in and let him see what he can do and how he can help us."
The good news on the injury front was that rookie running back Miles Sanders was back after his injury scare during Thursday's practice.
The Eagles practice next on Sunday night at Lincoln Financial Field.
-Both defensive end Joe Ostman and defensive tackle Hassan Ridgeway got some first-team reps during goal-line work. On one occasion Ostman was washed down inside by Jason Peters for an easy TD run by Jordan Howard but the young camp favorite recovered a bit from there.
-Josh Adams showed his power as a runner today in live sessions. He's the type of back who shows up more when the bullets are flying.
-Got to watch the receivers vs. defensive backs in one-on-ones red-zone work and Malcolm Jenkins provided the highlight jamming Nelson Agholor at the line of scrimmage before putting the receiver in his hip pocket, turning and high-pointing the football for an interception. Jenkins' strength in the slot is when he gets his hands on the receiver.
-Other interesting matchups were Avonte Maddox locking down DeSean Jackson on a fade pattern and Agholor rebounding to beat Rodney McLeod with his quickness. McLeod, by the way, is still struggling a bit with his movement skills. On another occasion, Sidney Jones was called over by secondary coach Cory Undlin for some extra teaching.
-McLeod did take a step forward by working in team drills but was held out of the live sessions.
-Ellis had a drop on 7-on-7 work while Carlton Agudosi adjusted nicely to a ball in the air from Nate Sudfeld deep down the field.
-The first official fight in camp was between rookie fourth-round pick Shareef Miller and third-string offensive tackle Casey Tucker.
-Jake Elliott blasted through a 54-yard field goal to end the session.
-John McMullen covers the Eagles and the NFL for 973espn.com. You can reach him at jmcmullen44@gmail.com or on Twitter @JFMcMullen