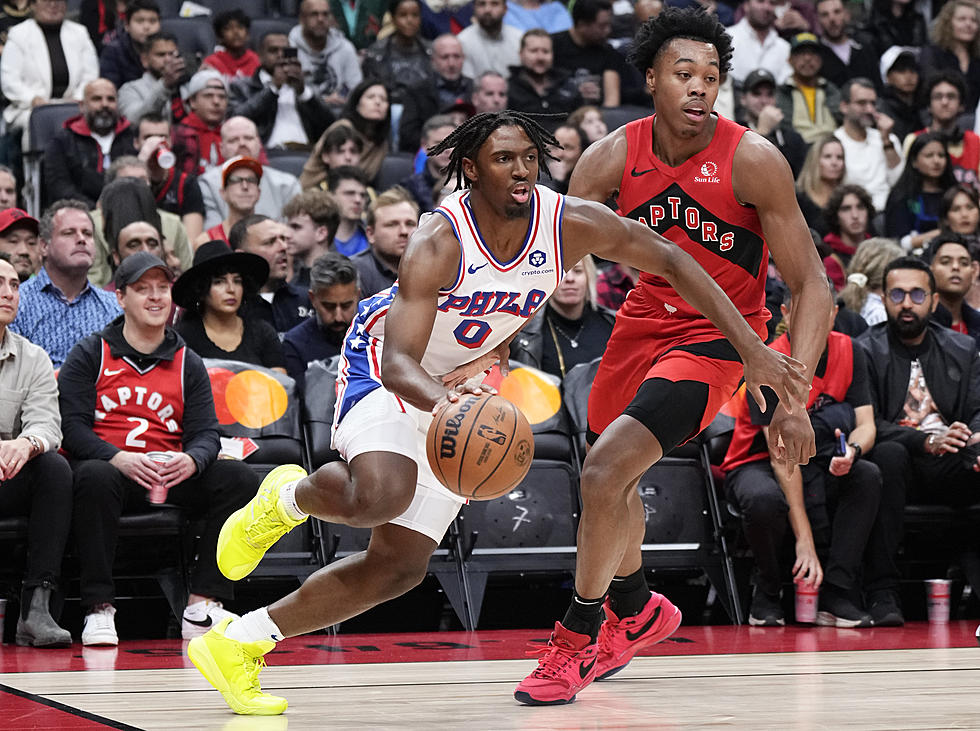 Embiid-Maxey two-man game lethal in Sixers' win over Raptors: Likes and dislikes
Photo by Mark Blinch/Getty Images
The Sixers (0-1) visited the Toronto Raptors (1-1) on Saturday night. Philadelphia was looking for its first win of the season. Toronto wanted redemption after an excruciating loss to the Chicago Bulls on Friday. Joel Embiid and Tyrese Maxey combined for 68 points, 15 assists, 15 rebounds, and two turnovers in a 114-107 victory over the Raptors.
Before we get to the action, some notes.
Contextual Notes
The Sixers were without James Harden, who is not with the team on their road trip as he reconditions back in Camden, New Jersey in preparation for a return to competition after being away for more than a week tending to a personal matter.

Terquavion Smith, Javonte Smart, and Ricky Council IV are on two-way G-League assignments in Camden and were unavailable.
Nick Nurse started Maxey, De'Anthony Melton, Tobias Harris, PJ Tucker, and Embiid.
The Raptors were without OG Anunoby, who has bilateral leg muscle cramps.
Christian Koloko is battling a respiratory illness and was unavailable.
Darko Rajakovic started Dennis Schroder, Gary Trent Jr., Scottie Barnes, Pascal Siakam, and Jakob Poeltl.
Likes
Fresh off being arguably the biggest reason the Sixers lost their season-opener in Milwaukee, Embiid wasn't going to be in the spotlight of an 0-2 start. He scored 16 points and secured five defensive rebounds in more than 17 minutes in the first half. Most important of all - only one turnover.
A factor beyond his fitness that doesn't show up in the box score is the fact that Embiid is having to get used to receiving passes from Maxey as his primary pick-and-roll partner rather than Harden being his running mate in the two-man game. That's not to say Maxey isn't doing a good job of setting up Embiid. It's just that the attack spots are different now than they were last season.
With Harden, the big man was catching passes right at the elbows in positions to shoot or rolling right to the basket in positions where he simply could not be stopped. Maxey is delivering passes that not only aren't always accurate in relation to Embiid's shooting pocket, but they're not always arriving at the same spots on the floor.
As such, Embiid is having to adjust to new angles in real games because he only played in one preseason game. So, he's catching and having to get the ball to his preferred spot himself or shoot from a spot where the muscle memory out of the pick-and-roll isn't quite as refined.
No problem in this game, though. It was more or less target practice for the reigning MVP. He stepped confidently into midrange jumpers wherever he caught the ball. If he didn't quite like the angle, he protected the ball as he backed his way to a sweeter spot before launching a soft fade-away jumper. And if the first pass out of the action didn't go to Embiid, he stayed ready because the rock often pin-balled its way back to him for a jumper at the free throw line.
One of the subtle encouraging developments from this game was that Embiid attacked the basket with control and soft touch. For years, he's just bowled his way to the rim, risking injury or offensive foul. When he's on a heater, Embiid has dazzled with elite footwork for smooth finishes inside. But, he's never really caught the ball in space and finished softly over multiple interior defenders.
He didn't shy away from contact at all; he never has. But, he braced himself for contact inside while keeping his focus on finishing through it. Ultimately, I'm not sure how many ways a two-time scoring champion can materially improve as a scorer. Particularly one that will be 30 years old by season's end. But, the more he refines his game in ways that mitigate risk of any type, the better.
The "Likes" section cannot proceed in any direction without discussing Maxey. My concerns about his point guard ability will not subside until he makes more consistent strides as an intuitive playmaker. But, he's quickly mastering the two-man game with Embiid. He can make a variety of passes to the big fella out of the pick-and-roll, and he's not leaning too far into that at the expense of other reads.
While we were all wondering about Maxey's playmaking this past offseason, it is his scoring that has taken another leap. Maxey is pumping in threes from well beyond the arc and his mechanic is absolutely effortless. But, it's his control of the tempo and manipulation of pace that was incredible in this game. Look no further than right here:
Toying with the pace is a push-and-pull game. Maxey slows down to invite the trap, and then accelerates when it comes to split the pressure and find space in the middle of the floor. Maxey understanding when to slow down and when to speed up is going to create great shots for everyone because it shifts the defense. If he gets comfortable pulling those strings in the halfcourt, Harden will be long forgotten by Christmas.
Wasn't the most efficient night for Kelly Oubre Jr., but I care strictly about him being aggressive as a scorer. That doesn't mean he should take every three he can get. It just means he should call his own number when he senses an opportunity, whether it be from beyond the arc or inside. His cutting was outstanding in this game and Oubre was strong with the ball inside, absorbing contact, staying calm, and focusing at the rim.
More than anything, he leveraged his physical gifts to make plays on defense. His hands have been very active through these first two games. Oubre is using his wingspan to keep the ball alive on rebounds, amass deflections, and blow up passes in traffic. Never touted for his defensive effort, Oubre has been one of the pillar's of the team's transition offense by helping create live-ball turnovers.
If you want a sign that Nurse is trying to build beyond the culture that he inherited, look no further than the new head coach calling timeouts on consecutive possessions to adjust the offense while the Raptors attempted to get back into the game late in the fourth quarter.
Respect to Patrick Beverley for raising his arm and calling his own number when he's whistled for a foul. He knows when he's guilty and he's not going to fight it. You see enough guys argue every single call that someone actively calling on themselves after the whistle is blown is a breath of fresh air.
Dislikes
When Melton dribbles in a crowd, I feel like I'm watching someone covered in butter trying to move. He has to have the freedom to dribble as is necessary to advance the ball. But, his feel for the ball over any kind of extended handling duty becomes murky. It manifests in live-ball turnovers or ugly missed shots - often layups, at that - for Melton. The one turnover he committed in the first nine minutes of the game was a good illustration of that concern. Trent Jr. took advantage of his loose control of the ball on a screen, stealing it away from him high on the court with no one back for Philadelphia. Easy dunk.
It's a little early to define a margin for error for the Harden-less version of the Sixers. But, I think it's unnecessary risk to have Melton handle the ball beyond a couple of dribbles. That doesn't mean he can't handle at all. But, I would like to see those moments come on second-side actions. For example, if the ball swings to him with the defensive shifted more towards the side from which it came, I have no problem with him navigating a quick side pick-and-roll with whoever is on that second with him. It's when he's dribbling around multiple defensive bodies in the middle of the floor that I get concerned.
Remember what I said about Pat Bev calling out himself when he commits a foul? Well, as much as that is a breath of fresh air, every time he jumps to make a pass that isn't there or telegraphs a skip pass across the court is a breath of toxic fumes. More than a decade of professional basketball experience, can't be making those mistakes.
The Sixers (1-1) will host the Portland Trail Blazers (0-2) in their home-opener on Sunday. Tip-off is scheduled for 7:30 p.m., Eastern time. You can catch the game on NBC Sports Philadelphia.
Top 10 Things To Do This Off-Season in Cape May, NJ Area
Anyone who has lived in Cape May County knows that even though half the businesses close during the winter, the locals still love living in this area for many reasons. As someone who has lived in Cape May County for over 20 years, here are some of my favorite activities to do in the offseason:
Gallery Credit: Josh Hennig/Townsquare Media