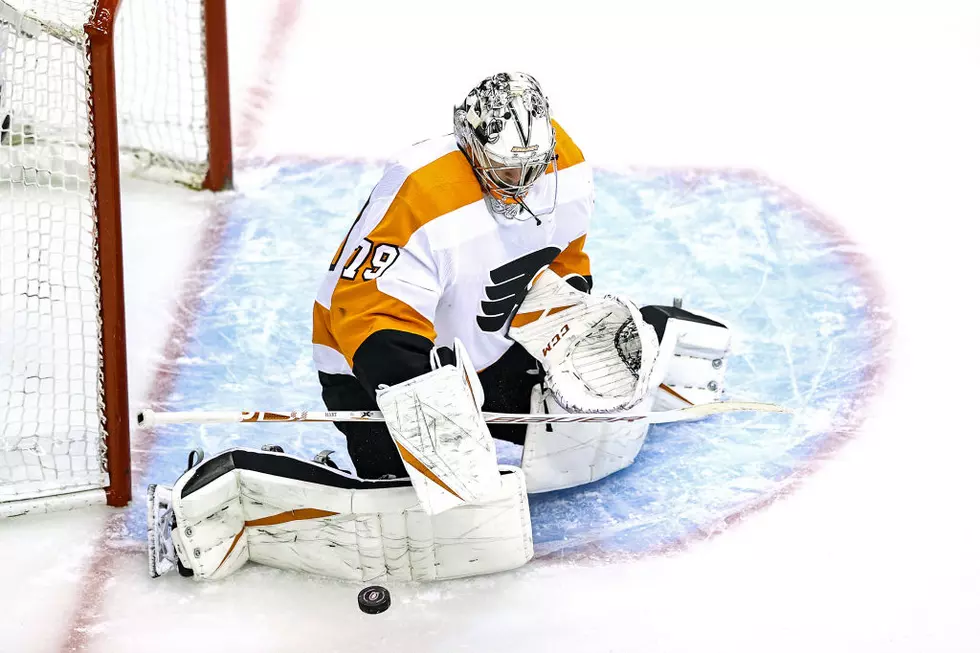 ESPN: Flyers' Carter Hart One of 10 Best Goalies in NHL
(Elsa/Getty Images)
As poorly as Philadelphia Flyers goalie Carter Hart has played this season, his peers still consider him one of the best goalies in hockey.
In a poll of anonymous NHL executives by ESPN's Greg Wyshynski, Hart was still considered on of the Top 10 goalies in the NHL, despite Hart his season long struggles and a 8-11-5 record on the year.
NHL executives consider him the seventh-best goaltender in the league.
No one is going to say that Hart is having a good season -- especially the Flyers. "Carter is a young guy. He had some success last year. This year, he hasn't played at the same level, there's no question," said Flyers GM Chuck Fletcher.

Hart's .871 save percentage and 3.92 goals-against average through 23 games aren't encouraging -- he also has a league-worst minus-18.9 goals saved above average -- but the majority of our voters still believe he has the goods. Five voters had him ranked in their top five, including one veteran goaltender.
While Hart has struggled most of the season, he showed enough during his first 74 games from the 2018-2020 to be included this high on the list, but some thought it was still too high.
That was a little too rich for one coach, who had him ninth. "Hart hasn't earned it quite yet," he said. Based on this

season, that's probably accurate.
Hart, 22, has career mark of 48-36 with a 2.89 goals against average and .905 save percentage in his three seasons.
This year, there is no question about it, he has struggled.  In 25 games, Hart is 8-11-5 with a 3.78 GAA and just a .873 save percentage.
When just the goalies were polled, Hart fell to No. 9 overall on the list, but still in the Top 10 overall.
10 Winningest Head Coaches in Flyers History
KEEP READING: Flyers Top Goal Scorers Each Year Since 2010