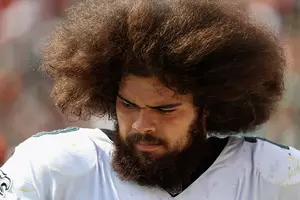 Examining Isaac Seumalo's Strange Spring
(Photo by Rob Carr/Getty Images)
PHILADELPHIA (973espn.com) - Perhaps no Eagles player was handled in a stranger fashion during spring work than third-year offensive lineman Issac Seumalo.
The former starter at left guard, who was demoted early last season after struggling mightily, had worked exclusively as the team's center during 7-on-7 drills. Beyond that, Seumalo had done nothing more than individual drills and a few group installs before finally making his debut in team work during minicamp and promptly airmailing a shotgun snap before being replaced.
Earlier during on-field OTAs when All-Pro center Jason Kelce was given a day off from practice, it was starting left guard Stefen Wisniewski moving over to center with Chance Warmack being inserted at LG with the first team. When Kelce was around and Wiz was taking the first-team reps at LG young players like Jon Toth and Ian Park handled the second- and third-team work at center. Seumalo also didn't work in team drills at guard or tackle although was spotted at RG during one group-install period next to Toth.
Seumalo made himself sparse this spring but earlier this week offensive line coach Jeff Stoutland admitted the player dealing with some kind of injury.
"That's a medical question, and I don't answer those questions, but he's a little dinged and he won't be in there right now," Stoutland explained when asked about Seumalo's limited participation.
To date, Seumalo has been known for his versatility and ability to play multiple positions dating back to his time in college at Oregon State where he played every position on the line except left guard, ironically where he ascended to starting status in Philadelphia.
Those around the Eagles have always believed Seumalo's best position at the pro level would ultimately be center but he's worked just about everywhere even starting at right tackle in Baltimore late in his rookie season and often serving as an extra tight end in jumbo formations.
Backups in the NFL need to be versatile but Seumalo has jockeyed back-and-forth from so many positions perhaps that's what is holding him back from mastering one.
That thesis, however, was dismissed by Stoutland.
"I don't think so, I think it's made him more valuable to the organization," Stoutland said when that question was floated by 973espn.com. "Mentally he is as sharp as anybody in our room. There's no issue with him not understanding a concept or a play because he's at a different position. That's never been a problem with him. I'm sure there are players like that you have to be careful with."
The mentally sharp part of Stoutland's answer again points toward center for Seumalo but with Kelce, a star, and Wisniewski, who has extensive starting experience at the position with both Oakland and Jacksonville, the need at that position is hardly great in Philadelphia with Seumalo's rookie deal set to expire after the 2019 season.
Meanwhile, Halapoulivaati Vaitai is set as the swing tackle with Jason Peters ready to return at left tackle and Warmack, a long-time Stoutland favorite from their days together at Alabama along with massive rookie Matt Pryor, can both work inside at guard.
Howie Roseman is known to like to tweak things in August with trades and Seumalo could be one logical candidate to be moved this summer.
-John McMullen covers the Eagles and the NFL for 973espn.com. You can reach him at jmcmullen44@gmail.com or on Twitter @JFMcMullen
Want more NFL? Check out John's piece on Earl Thomas holdout in Seattle at GetMoreSports.com