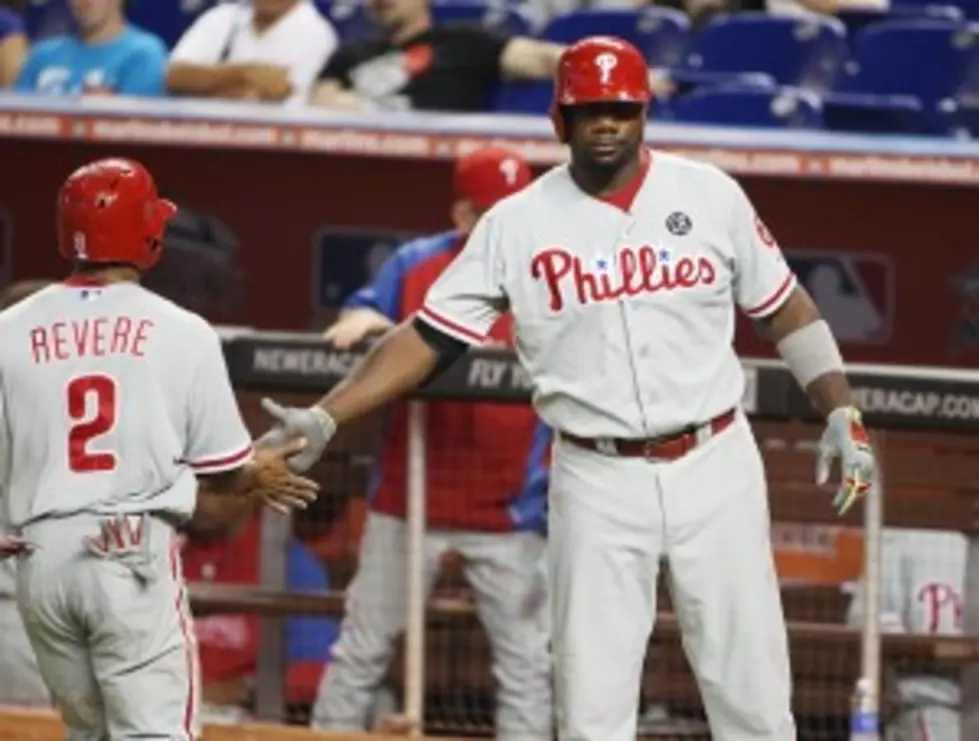 Expectations Low for Phillies as They Head North for Opening Day
Ryan Howard has struggled this spring. (Marc Serota, Getty Images Sport)
With opening day just four days away, the Phillies have returned to Philadelphia after spending the last month and a half in Clearwater.
Opening day is Monday - normally opening day is exciting, not with this Phillies team.
The team finished its grapefruit league portion of their schedule today with a 10-1 loss to the Rays in Clearwater and will head north to play the Pirates in the annual on-deck series Friday and Saturday before they host the Red Sox on Monday in the season opener.
(CSNPhilly.com Phillies contrubitor Corey Seidman joined Mike Gill to discuss the 2015 Phillies)
The Phils ended the grapefruit league 12-17, scoring just 112 runs or just 3.8 per game. Meanwhile, their pitching staff struggles, giving up 167 runs, almost six per game, losing Cliff Lee along the way.
While the team is back and ready to go, they know there is a lot of work to do still.
"We got a lot of work done in spring training," Phillies manager Ryne Sandberg said.  "We We're looking forward to opening day on Monday."
Injuries have already hit the Phillies, even before the first pitch has been thrown.  Cliff Lee could be done for the year and Dom Brown will start the year on the disabled list.
"Its a work in progress," Phillies GM Ruben Amaro Jr. acknowledged.  "We need to show improvement in a variety of areas. We'll see how it goes, we're relatively healthy, we'll get this season going and see how it goes."
If things are going to go well, the Phillies will first need to figure out their rotation.  Cole Hamels is at the top of the staff, but behind him it's close your eyes and pray from rain.  Free agent addition Aaron Harang will pitch behind Hamels, followed by David Buchanan and Jerome Williams.  The fifth spot in the rotation has yet to be determined, but could fall into the hands of journeyman Sean O'Sullivan.
One bright spot could be the Phillies bullpen, with Jonathan Papelbon and Ken Giles handling the back-end duties, the team has a chance to win close games.  Giles made news this week with some back soreness, but hopes to be ready to go on Monday.
"I let it loose," said the 24-year old right-hander. "No pain. No nothing."
The Phillies lineup will have a new look as well, Jimmy Rollins is gone, so Ben Revere will become the full-time leadoff man.  Behind him it will most likely be Odubel Herrera batting second Sandberg said Thursday, with Chase Utley and Ryan Howard in their customary three-four spots in the order.
After that is really anyones guess, with Dom Brown hurt, right field will be a revolving door until he is back and ready to go.  Cody Asche will play third base, Freddy Galvis will replace Rollins at short and Carlos Ruiz is back behind the plate.
While there isn't much to watch this season on the field, one thing to keep an eye on will be the Hamels trade talk, which will dominate most of the first half of the season.  Another thing to watch will be when will we see Aaron Nola pitch at Citizens Bank Park?  The seventh overall pick in last years draft looked solid in his spring training outing with the big club and pitched between single and double A last year.
So Phillies fans what are your expectations?
It could be a long year...