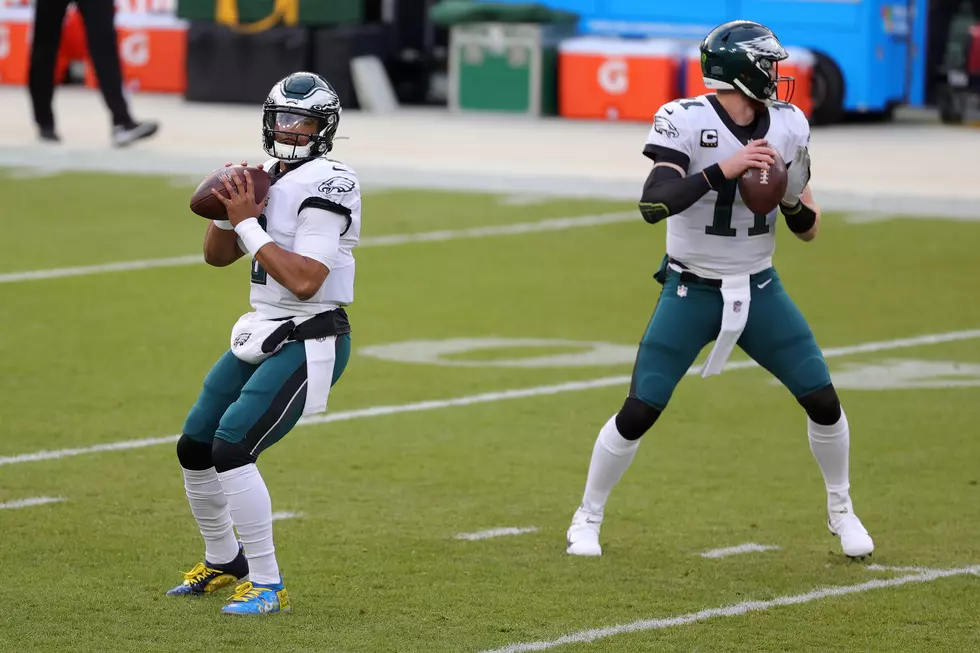 Extra Points: Another Eagles QB Controversy
Getty Images
Nothing gets Eagles fans stirred up like a good, old-fashioned quarterback controversy.
Social media and postgame radio and TV shows were all atwitter - not to mention aFacebook, aNBCSportsPhiladelphia and a973ESPN- Sunday evening after coach Doug Pederson benched Carson Wentz in favor of rookie Jalen Hurts in the third quarter of their 30-16 loss at Green Bay.
I haven't heard that much buzzing since a swarm of bees gathered on a woman's beach towel in Cape May this summer.
"I just felt like we needed a spark," Pederson said. "We needed something to get us going."
Hurts, the Eagles' second-round draft pick wasn't especially efficient - he completed 5 of 12 passes for 109 yards with a TD and an interception - but he was effective. More importantly, he provided a much-needed jolt to a team that was listless and sloppy.
He was like a shot of espresso in a cup of decaf.
Hurts kept plays alive with his elusiveness and speed, rushing for 29 yards on five carries. That also set up his first career NFL TD pass, a 34-yard toss to wide receiver Greg Ward on a fourth-and-18 play. Granted, it wasn't as exciting as "Fourth-and-26" - which also happened against the Packers, by the way - but it got the rest of the team revved up. Fellow rookie Jalen Reagor burst upfield for a 73-yard TD on a punt return and suddenly the Eagles were just seven points away from forcing overtime.
That is, until the defense fell apart, allowing Packers running back Aaron Jones to burst through it for a 77-yard TD that ended the comeback.
Wentz was clearly ticked off about getting pulled. Although he tried to maintain his composure, his face was as red as his hair during his postgame video press conference.
"Obviously, it was frustrating as a competitor and the personality I have," Wentz said. "I wanted to be out there. It is what it is. I know I can play better and I know what I'm capable of. I haven't lost confidence in my abilities. But it's out of my control."
It should be in Pederson's control, though it's no secret that general manager Howie Roseman was responsible for taking Hurts with the 53rd overall pick last April in order to bulk up what he famously referred to as a "quarterback factory."
The Eagles are no strangers to such imbroglios.
In 2008, coach Andy Reid benched struggling Donovan McNabb at halftime of a game against Baltimore in favor of Kevin Kolb. He went back to McNabb the next game and the Eagles wound up reaching the NFC championship game that season. Everyone remembers 2017. Wentz suffered a serious knee injury toward the end of the season. Nick Foles stepped in and led the Eagles to their first championship since 1960 while earning Most Valuable Player honors for Super Bowl LII.
He strengthened his legendary status the following year, again replacing an injured Wentz and helping them win a first-round playoff game at Chicago, otherwise known as the "Double Doink" game, and coming within a dropped pass by Alshon Jeffery of upsetting New Orleans
Speaking of which, why is Jeffery still playing? He should be retiring, along with offensive lineman Jason Peters.
There were more than a few folks who thought the Eagles got rid of the wrong quarterback when Foles was allowed to leave after 2018. I was among them. At the time, I thought the Eagles should have kept Foles and traded Wentz. Instead, they gave him a $128 million contract extension.
Look for Pederson to follow Reid's lead from 2008 and start Wentz for next week's game against New Orleans. If Wentz struggles again like he has for most of this season, however, don't be surprised if he turns to Hurts again in hopes of providing another spark.
The problem with sparks, however, is they can turn into fires.
Pederson better have an extinguisher handy, because the Wentz-Hurts debate is going to rage for the rest of the season.
Eagles Head Coaching Wins All-Time