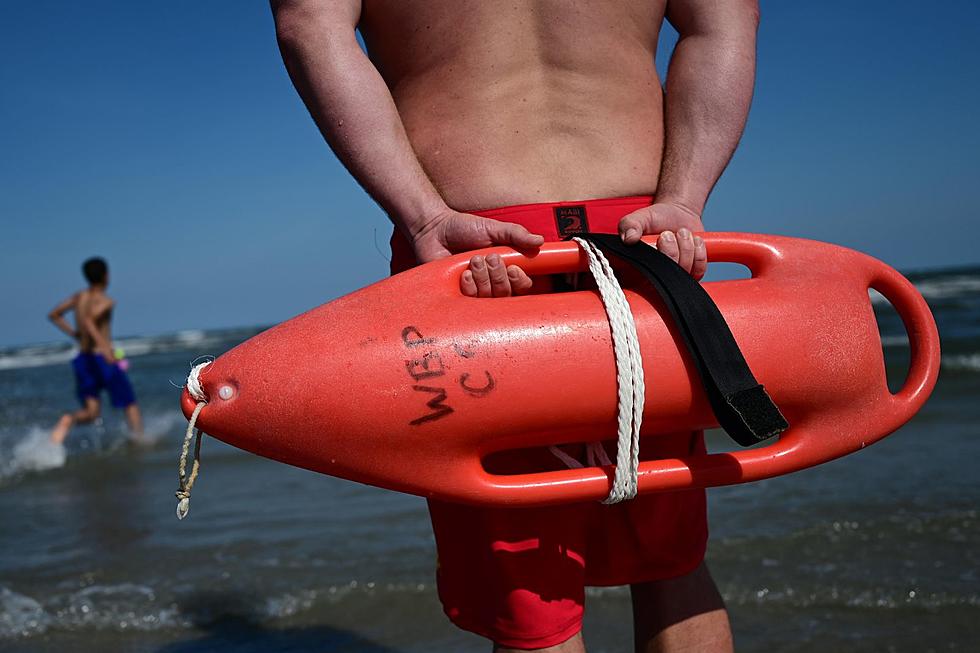 Extra Points: Another great South Jersey Lifeguard Racing Season
(Photo by Mark Makela/Getty Images)
By  DAVID WEINBERG
Lifeguard racing had another banner season this summer.  Beach patrols from Brigantine to Cape May Point experienced success, with Avalon, Atlantic City and Brigantine capturing team titles in the "Big Three" major events - The Dutch Hoffman's, Margate Memorials and South Jersey Championships.
It marked Brigantine's first outright South Jersey team title since 1979; They shared the trophy with Avalon and Ocean City in 1992.
Now that the season has ended, it's time to honor some of the top rowers, swimmers, paddlers and runners who helped helped make this year's so special.
*Doubles Row - There was a lot of brotherly love on display this summer.  Brothers Jack and Joe Savell of Brigantine capped an outstanding season by winning the season's premier race at the South Jersey Lifeguard Championships a week after also winning the Margate Memorial doubles row.  Atlantic City brothers Sean and Rick Blair took first in the Dutch Hoffman's.  Avalon's Gary Nagle and Dave Giulian earned a victory at the Cape May County Lifeguard Championships earlier this summer.
Special shoutout to Ventnor's Meghan Holland and Stacy Price on winning the doubles at the Longport Women's Invitational.  Longport's Madelyn Fox and Megan Barnhard won the Bill Howarth Cape Atlantic.
*Open Swim - Avalon's Dolan Grisbaum, Atlantic City's Charles Schreiner, and Margate's Zach Vasser all earned big wins this summer.  Grisbaum, an Ocean City High School graduate and Boston University Swimmer, came back from an internship as a financial analyst in Boston just in time to win the Dutch Hoffman race.  Vasser, a recent Mainland Regional High School grad who is now at Columbia University, took first in the Margate's.  Schreiner, a rising senior at Egg Harbor Township High, gave Atlantic City its first South Jersey swim victory since John Kenney won the last of his five straight titles in 2002.  Ocean City's Michael Giardino won the swim at the Cape May County's.
*Women's Swim - Longport's Jordyn Ricciotti and Megan Fox along with Sea Isle City's Mary Kate Leonard prevailed in big races.  Ricciotti, who is about to begin her senior year at Mainland Regional, won the Dutch Hoffman race.  Fox edged her Longport teammate in the Longport Invitational and also won the Bill Howarth race.  Leonard, who swims for Boston College, delivered a win in the Cape May County's.
*Men's Paddleboard - Brigantine is known for its prowess in this event and this year was no exception.  Sean O'Neill took top honors in the Dutch Hoffman's while teammate Will Hoffman - no relation to Dutch - won the 12-foot race at the South Jersey Paddleboard Championships.  Cape May's Zeb Hinker took first in the Cape May County's.
*Women's Paddleboard - Brigantine's Grace Emig was virtually unbeatable this summer, winning the Dutch Hoffman's, Longport Women's Invitational and the long-course race at the South Jersey Paddleboard event.  Ocean City's Lexi Santer won the Cape May County event and Cape May's Kennedy Campbell won the middle-distance category at the South Jersey Paddleboard races.
*Singles Row - Jack Savell, Longport's Mike McGrath, Sean Blair and Avalon's Ryan Finnegan were the top singles rowers.  Savell ended his lifeguard racing career in terrific fashion by winning the South Jersey Championship.  McGrath won the Margate Memorials for the second straight year.  Blair took the top prize at the Dutch Hoffman's and Finnegan won the Cape May County title.
Sea Isle City's Maura Quinn gets a shoutout for her win in the Longport Women's Invitational.
*All-around - Avalon's Brandon Hontz and Ocean City's Lexi Santer proved their versatility by winning lifeguard racing's version of triathlons this summer.
Hontz, a former track standout at Penn State, won the Cape May SuperAthalon, which consists of a 2.3-mile run, 1.5-mile row and quarter-mile swim.  He edged 43-year-old Patrick Clemmons of Wildwood and three-time champ Rob Moran of host Cape May.
Santer, an occupational therapist in Delaware, topped Harvey Cedars standout Jenna Parker and Wildwood Crest's Adrienne Bilello to win the Cape May Point Women's Lifeguard Challenge, which is a 1.3-mile run, 1-mile paddle, half-mile swim.
Two boats win millions in the 32nd MidAtlantic
Cape May-based "Common Sense" caught the heaviest white marlin in the 32nd MidAtlantic billfish tournament last week.  Owner Clint Clement, of Cape May Court House, and his crew weighed in an 87-pounder that netted $201,388 of the $5.79 million purse through various calcuttas (side bets).
Maryland-based "Boss Hogg" had the second-heaviest white marlin at 76-pounds.  But because owner Howard Berger had entered the Mega Marlin calcutta, he became a millionaire by winning $1,406,938, which was a tournament record for the division. Michael Jordan's "Catch 23" took third in the category with a 75-pounder and won $462,318.
According to tournament officials, there were 750 white marlin caught during the event - 735 of which were released - which is the third-highest total in tournament history.
Monmouth County-based Pipe Dreamer, owned by Chip Caruso, also won big, earning a division tournament record $1,180,342 with an 889-pound blue marlin.
Among local boats, Kyle Dougherty's "Y-Knot" from Cape May Court House had the heaviest catch in the wahoo category at 56-pounds and won $51,129.
The tournament featured 181 boats that weighed fish at Canyon Club Resort Marina in Cape May and Sunset Marina in Ocean City, Maryland.  The tournament was started by South Jersey Marina owner Dick Weber in 1991 as a way to promote offshore fishing.
25 Best Things to Do in South Jersey — From beaches to boardwalk and everything in between