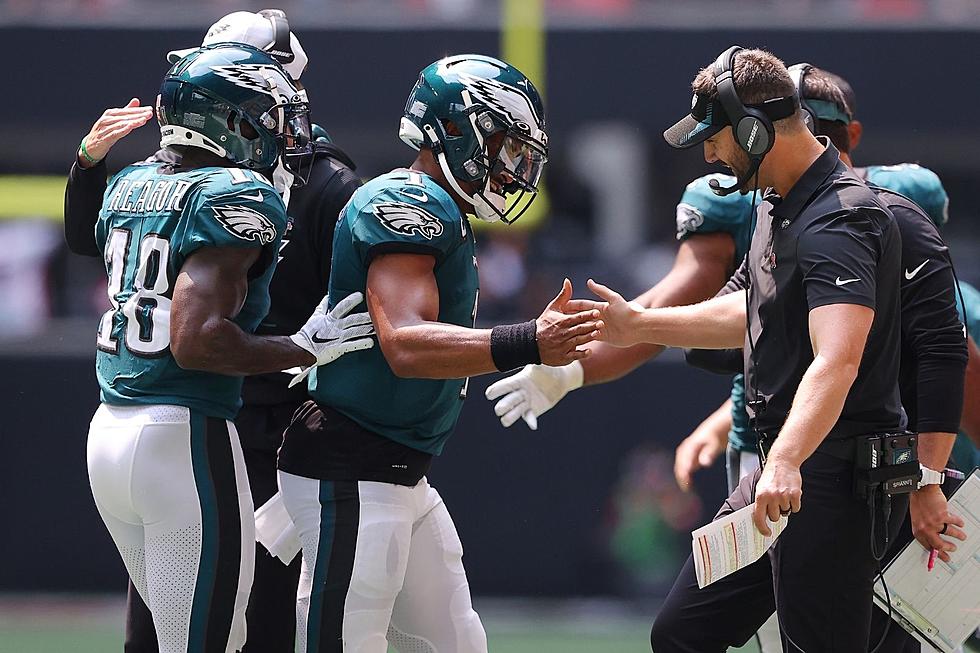 Extra Points: Best, Worst of Eagles Regular Season
(Photo by Kevin C. Cox/Getty Images)
Eagles coach Nick Sirianni did the right thing Saturday night.
Fans undoubtedly had a tough time watching Dallas roll to a 51-26 victory over the backups at Lincoln Financial Field, but any disappointment or anger will fade this week as the team prepares for the playoffs.
The Eagles had nothing to gain by playing the starters against the Cowboys. The talk about maintaining momentum is baloney. Better to let quarterback Jalen Hurts, running back Miles Sanders and company rest and recuperate from minor injuries.
Sirianni allowed several players to achieve some milestones early in the game - wide receiver DeVonta Smith set the team's rookie receiving record and center Jason Kelce made his 122nd consecutive start - before banishing them to the bench. As a result, the Eagles will be well-rested when they take on Tampa Bay, the Los Angeles Rams, Arizona or perhaps even the Cowboys in next weekend's wild-card round.
By qualifying for the playoffs for the fourth time in five seasons, the Eagles (9-8) have already surpassed expectations. Las Vegas oddsmaker set the over/under of wins this season at 6.5. Yours truly predicted a 4-13 outcome. But after a 2-5 start, Sirianni and defensive coordinator Jonathan Gannon engineered an impressive turnaround.
I think the Eagles will be one-and-done in the playoffs, but just qualifying is a nice accomplishment. Here's a look back at some of the plays and players who had roles in the best and worst of the regular season.
BEST GAME: Eagles 40, Saints 29 (Nov. 21, 2021). Quarterback Jalen Hurts rushed for three touchdowns and the Eagles began to establish their status as one of the league's top running teams by rushing for a combined 242 yards. It was also the Eagles' first at the Linc after an 0-4 start.
WORST GAME: Giants 13, Eagles 7 (Nov. 28, 2021). Hard to believe their best game was followed by their worst, but it's true. They were horrible against the Giants. Hurts threw three interceptions and Giants quarterback Daniel Jones threw a touchdown pass before suffering a neck injury that ended his season.
BEST PLAY: (OFFENSE): Hurts connected with wide receiver Quez Watkins for a 91-yard gain against the 49ers on Sept. 19. It was tied for the second-longest pass play in franchise history. Ron Jaworski and Mike Quick own the record with a 99-yarder.
BEST PLAY (DEFENSE): Cornerback Darius Slay scooped up a fumble, dodged some would-be Broncos tacklers, and weaved his way upfield for an 82-yard touchdown at Denver on Nov. 14. It was the Eagles' longest defensive touchdown since Walter Thurmond returned a fumble 83 yards for a TD against the Giants in 2015.
BEST PLAY (SPECIAL TEAMS): Linebacker T.J. Edwards blocked a punt at Carolina on Oct. 10 that linebacker Shaun Bradley recovered on the Panthers' 26-yard line late in the game. That set up Hurts' TD run that sealed a 21-18 victory.
WORST PLAY (OFFENSE): Ironically, the worst play occurred on the same day as their best play. Sirianni tried a version of the famous "Philly Special" against the 49ers on a fourth-and-goal from the 3-yard line. Wide receiver Greg Ward was supposed to throw an option pass to Hurts, but wound up throwing it out of bounds.
WORST PLAY (DEFENSE): Chiefs quarterback Patrick Mahomes hit wide receiver Tyreek Hill for a 44-yard TD in Kansas City's 42-30 win at the Linc on Oct. 3.
WORST PLAY (SPECIAL TEAMS): Brexton Berrios ran through a huge hole in the Eagles kickoff coverage for a 79-yard return to start the game that set up the Jets' first touchdown on Dec. 5.
BEST SINGLE-GAME PERFORMANCE (OFFENSE): Hurts threw for 384 yards and three touchdowns against the Chiefs.
BEST SINGLE-GAME PERFORMANCE (DEFENSE): Slay had two interceptions at Carolina.
BEST SINGLE-GAME PERFORMANCE (SPECIAL TEAMS): Place-kicker Jake Elliott went 4-for-4 on field goals and also booted four extra points in the win over the Saints.
UNLUCKIEST PLAYER: Guard Brandon Brooks lasted just two games before suffering a pectoral muscle injury that wound up sidelining him for the rest of the season.
BEST OFFSEASON PICKUP: The Eagles caught a bit of flak for drafting wide receiver DeVonta Smith in the first round. Smith responded by setting a team rookie receiving record with 916 yards.
WORST OFFSEASON PICKUP: The Eagles signed former Washington defensive end Ryan Kerrigan to provide some depth up front. He was a non-factor with no sacks and just three tackles.
BEST OPPONENT (OFFENSE): Mahomes threw for 278 yards and five touchdowns against the Eagles. It tied the record for most TD passes vs. the Birds.
BEST OPPONENT (DEFENSE): Washington safety Landon Collins had an interception and a fumble recovery against the Eagles on Dec. 21.
WEIRD STAT OF THE SEASON: Running back Miles Sanders rushed for 754 yards and caught 26 passes for 158 yards, yet did not have any touchdowns.
TURNAROUND POINT: A 33-22 loss to the Raiders on Oct. 24 dropped their record to 2-5 and left critics wondering of Sirianni and Gannon would last the season. A 44-6 romp at Detroit the following week started the comeback.
Remember These Games in the Snow...