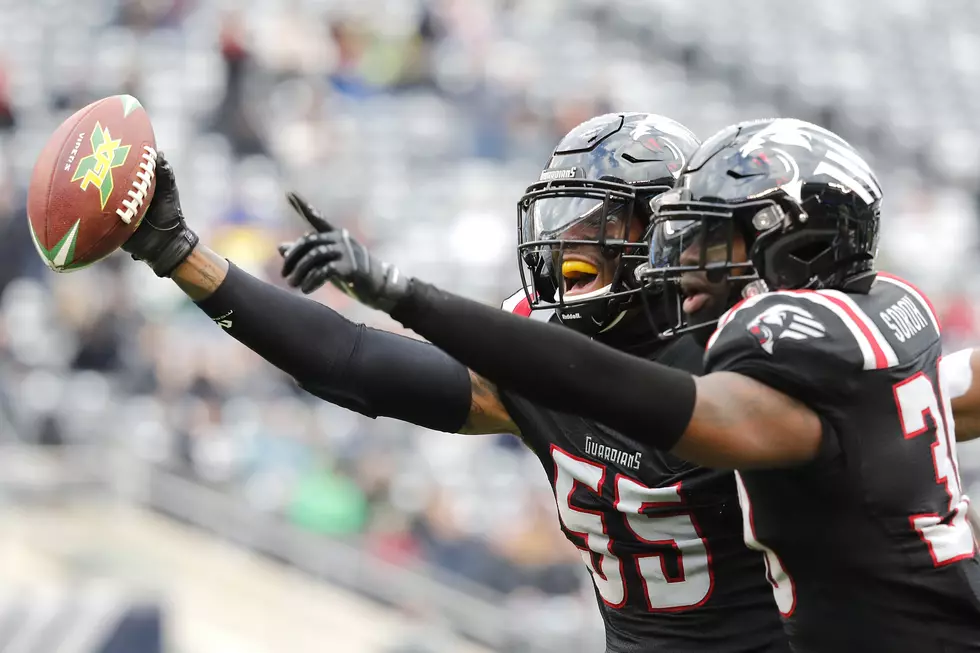 Extra Points Column: XFL Off to Encouraging Start
Getty Images
Thank you, Vince McMahon.
Once the NFL season is over, this is normally the time of year when my weekend afternoon sports viewing is restricted to college basketball and the PGA Tour.
Now I'm all in on XFL 2.0.
The refurbished league enjoyed what I considered an outstanding debut weekend. McMahon and XFL Commissioner Oliver Luck introduced innovations that made it very fan friendly, which will be a key to keeping the league afloat after the AAF (Alliance of American Football) sank like the concrete ship off the coast of Cape May Point.
Inviting TV viewers into the huddles is genius. I was mesmerized while listening to D.C. Defenders coach Pep Hamilton relaying plays to quarterback Cardale Jones, and found it fascinating to actually hear replay official Dean Blandino reviewing plays.
I'm also in favor of several of their rules changes, which I thought added more interest to the game. The XFL took a page from the NCAA rulebook by requiring receivers to only have one foot inbounds for a legal catch. No extra points are kicked. Teams can try for conversions from the 2-, 5- and 10-yard lines, which are worth one, two and three points, respectively.
Eagles fans may recognize some of the players. Donnel Pumphrey, who was a bust as the Eagles' fourth-round draft pick in 2017, is trying to rejuvenate his career with the Defenders. His teammates include defensive tackle Elijah Qualls, who was a sixth-round pick for the Eagles in 2017.
Former Eagles safety Jerome Couplin (2014-15) played for the Los Angeles Wildcats. Running back Matt Jones, who was in training camp in 2018, is with the St. Louis Battlehawks. Quarterback Aaron Murray, who was on the Eagles' practice squad in 2016, plays for the Tampa Bay Vipers.
Speaking of the Vipers, Millville High School graduate Anthony Stubbs is a backup middle linebacker and Cape May summer resident and 97.3 ESPN co-host Colin Thompson is a tight end.
Full disclosure, I only watched Saturday's games. I took advantage of the streak of unseasonably warm days on Sunday with a round at Cape May National Golf Club. I managed to break 90 and most importantly won some big bucks from my buddy Tom Shagren.
Make that big buck. For the last 10 years or so, we've had an ongoing bet regarding total putts for 18 holes. Whoever has the fewest putts at the end of the round wins a dollar. I had 28 putts on Sunday to his 32, which put me up by $3 over the last 200 rounds or so.
Then it was time to catch the back nine of the AT&T Pebble Beach Pro-Am and once again drool over the breathtaking views of the Monterey Peninsula. Playing at Pebble Beach and Spyglass remains at the top of my bucket list. The closest I've come is Pacific Grove Golf Links, which is eight miles north and is about $400 cheaper. All nine holes on the back nine at Pacific Grove border the Pacific Ocean, though it lacks the majesty of Pebble.
Half Moon Bay Golf Links, about 100 miles north on the Pacific Coast Highway, is also terrific. I've played about a dozen rounds on its Ocean Course and have actually shed tears while standing on the 18th tee as the sun began to set and bag pipes played in the distance.
Since the weather is supposed to be much colder next weekend - I no longer play golf when I can see my breath - I'll be devoting more of my attention to the XFL in hopes it will continue to grow in popularity.
It's not the NFL, but it's not a bad way to fill the void for us football fans suffering from a Super Bowl hangover, especially since the Atlantic City Blackjacks and the rest of the Arena Football League no longer exist.
Despite the various rule changes, the revised XFL is a legitimate league, a welcome change from its first season back in 2001.
Thankfully, no one has "He Hate Me" on the back of his jersey this time around.