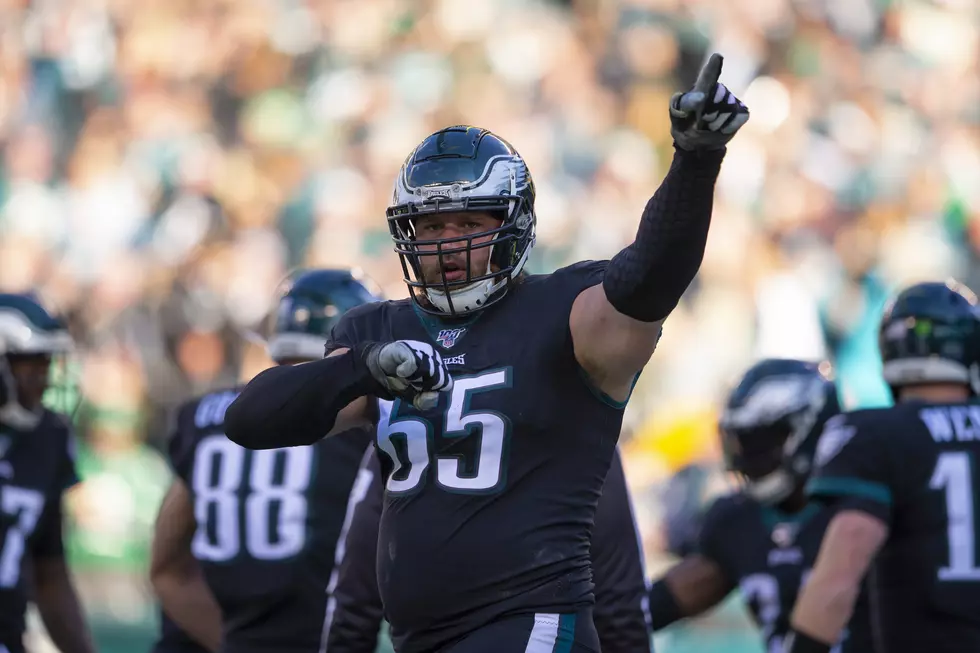 Extra Points: Covid-19 Already Affecting Eagles
Getty Images
Doug Pederson's "bubble" has already popped.
During a Zoom call earlier in the week, the Eagles' coach suggested the team was well-protected against the Covid-19 virus.
"I feel extremely safe," he said Monday. "Obviously, coming into it there might have been some skepticism about the testing and the screenings that go on, but it's very thorough.
This is our bubble right here at NovaCare (Complex)."
On Wednesday, the team announced three players - linebacker Nate Gerry, and tackles Lane Johnson and Jordan Mailata - were placed on the Reserve/Covid 19 list.
According to the NFL, the list was created for a player who either tests positive for Covid-19 or who has been in close contact with an infected person or persons.
"I feel strong and ready to go," he wrote. "Over the past few months, I have tested negative after all travels, including before and after the OL Masterminds Summit 18 days ago.
"I have been working hard in preparation for a long, grueling season and have tried to take all the necessary precautions to build a safe and healthy environment during the (training) sessions. I have and will continue to take this seriously and encourage everyone else to do so as well."
Training camps began to open last week with rookies, quarterbacks and select veterans reporting. The rest of the players are due to report this week. All players must test negative three times before being allowed into the team facilities.
Some NFL players, including new Eagles wide receiver Marquise Goodwin, were concerned enough about the health and possible risks to their family that they decided to opt out of the upcoming season in accordance with a plan developed by the league and the NFL Player's Association.
As of 7 p.m. Wednesday, Goodwin was among 30 players to opt out. The list also included seven members of the New England Patriots, New York Giants tackle Nate Solder and Seattle guard Chance Warmack, a former Eagle.
"Our family has healthy concerns, most notably our son's (5-year-old Hudson's) ongoing battle with cancer and my own bout with cancer," Solder wrote on Twitter Wednesday. "We also welcomed a new addition to the family this spring, a baby boy. With fear and trembling, we struggle to keep our priorities in order and for us, our children's health and the health of our neighbors comes before football."
The concern for family was also what prompted Goodwin to take the season off after getting traded to the Eagles in the offseason in a trade.
Goodwin and his wife, Morgan, welcomed a baby daughter in February. Previously, the couple had lost three sons, including twins, due to pregnancy complications. In November of 2017, hours after son Marquise Jr. was stillborn, Goodwin played for the 49ers against the Saints later that day and broke down after scoring a touchdown. One year later, the couple lost twin boys.
"(Our daughter) is the reason I am opting out for this season," Goodwin wrote on Instagram Tuesday. "After choosing football many times, I feel I am inclined to make the right decision by finally choosing my family first. I know the NFL is trying implement safety protocols to combat the COVID-19 pandemic, as well as other professional sporting leagues, but I just can't chance experiencing another loss because of my selfish decision making.
"It's not something I'm willing to live with, so I've chosen to opt out of playing during the 2020 NFL season. I must protect my family, and this is the best way for me to do that. I'd ask you all respect my decision and hope that you all stay safe through these trying times."
Other Eagles with young children will also be weighing such risks.
Including quarterback Carson Wentz.
Wentz and wife Madison Oberg welcomed daughter Hadley on April 28.
"We all want to play this season, but we need to stay safe in order to actually have a season!" Wentz wrote on Twitter last week while the league and player's union developed a plan. "It's time for the NFL to step up and do their part so that us players can be safe at work and go play the game we love!"
Anyone who opts out should be respected.
No one deserves to be criticized for choosing family over football, baseball, basketball or any other sport.
One's life is much more important than his/her livelihood.