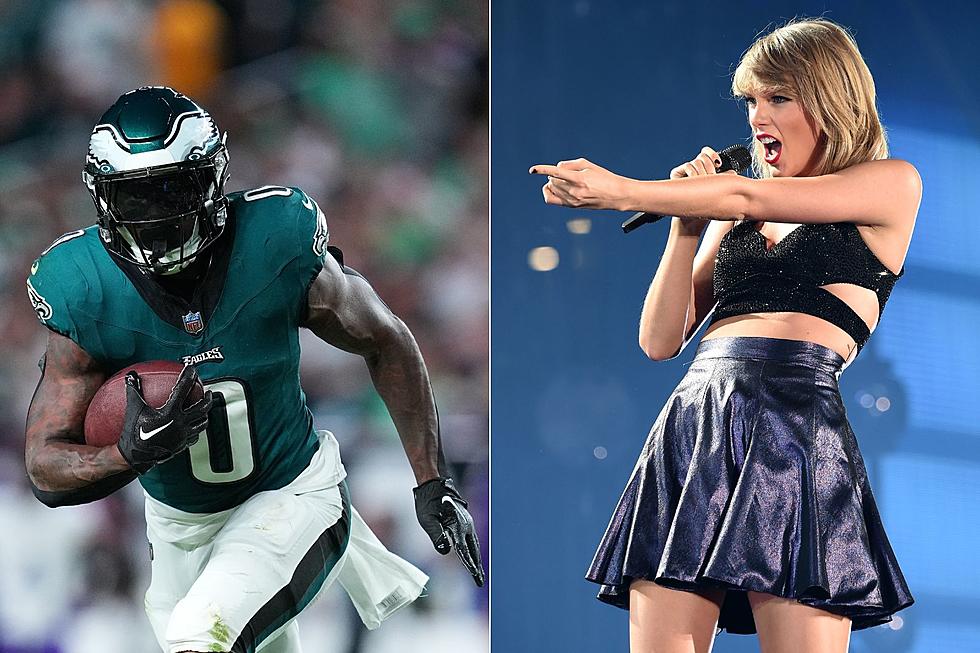 Extra Points: Eagles have their own "Swifty" plus Boxing in AC
D'Andre Swift Photo by Mitchell Leff/Getty Images and Taylor Swift Photo by Dimitrios Kambouris/Getty Images
By DAVID WEINBERG
This is what happens on a slow news day and you're taking steroids for a sinus infection.....Singer Taylor Swift and Eagles running back D'Andre Swift have a few things in common besides their surname.
For starters, Taylor Swift has reportedly been hanging out with Kansas City Chiefs Tight End Travis Kelce.  D'Andre Swift spent last Thursday Night with Eagles Center Jason Kelce, Travis' brother.
But wait, there's more for you "Swifty's" out there.
Everyone knows Taylor spent her childhood summers in Stone Harbor, where her parents owned a home, and once filmed a music video while wearing a Sea Isle City sweatshirt.  D'Andre, being a Philadelphia native, has almost certainly ventured to the Jersey Shore as a kid and will likely be back now that Jason Kelce has bought a home in Sea Isle.
The most important connection revolves around Lincoln Financial Field, however.  Taylor delivered a series of terrific concerts at the Linc as part of her "Eras" Tour in May.  Last Thursday night, D'Andre regaled Eagles fans with a fantastic performance, rushing for 175 yards and a touchdown in the Birds' 34-28 victory over the Vikings.  Jason Kelce and the rest of the offensive line paved the way for D'Andre's success, opening holes as wide as Sea Isle's Landis Avenue against the Vikings.
"The offensive line was working," Swift said after the Thursday Night victory "They made it a little bit easy.  I was just trying to make the most of each opportunity I was given out there."
Swift's 175 yards were a career high and the most by an Eagle since former running back LeSean McCoy dashed through the snow for a franchise-record 217 yards against the Lions in 2013.
Doing it in front of his hometown fans made it even more special for Swift.  Although he played previously in Detroit, Swift grew up in Philly and attended St. Joseph's Prep.
"Everything was amazing," Swift said. "It's a blessing to be back, and have support and love from the people that I grew up around."
It was a stark change from D'Andre's first game with the Eagles; Kenneth Gainwell served as the Eagles' primary running back in their 25-20 win at New England, rushing for 54 yards on 14 carries.  Swift had just one carry for 3 yards.
He lived up to expectations against the Vikings, however.  His speed, elusiveness and power resulted in huge gains, including a 43-yarder during a fourth-quarter drive that ended with him scoring his first Eagles touchdown on a 2-yard run.
"He's like a mighty possum," tackle Jordan Maliata told NJ.com after the game. "He's just real fast. He just hits the hole. It's like a flash, a gust of wind when (Swift) hits it behind you, you feel it."
Swift's effort helped the Eagles improve to 2-0 for the second straight season and left them as one of nine unbeaten teams. Curiously, three of the teams - Eagles, Cowboys, Commanders - are in the NFC East, which is shaping up to once again be an extremely competitive division.
Incredibly, the Birds are vying to become the first team to win back-to-back NFC East titles since they won four straight in 2001-04.
The Eagles haven't been particularly impressive to date - they haven't looked as good as the Cowboys or 49ers, for example - but you don't get bonus points for looks.
Like Taylor Swift says, they just have to "Shake it Off."
"Cause the players gonna play, play, play, play, play.
And the haters gonna hate, hate, hate, hate, hate.
Baby, I'm just gonna shake, shake, shake, shake, shake.
I shake it off, shake it off."
Next up for the Birds is a "Monday Night Football" contest at Tampa against another 2-0 team in the Buccaneers.
Although the game is at Tampa's Raymond James Stadium, there figures to be a nice-sized contingent of Eagles fans in the stands.
"I think there is a decent chance of that happening because it feels like it always happens for us on road games," coach Nick Sirianni said. "I've been on the other side of that where you're practicing crowd noise in anticipation of another team coming in. The Eagles were always one of those certain teams you practiced crowd noise for when I was with other teams."
It was most noticeable during the 2017 season, when he was serving as the Chargers' wide receivers coach.  The Chargers had just moved from San Diego and were playing at StubHub Center in Carson, California while waiting for their current digs to be built.
The announced sellout crowd of 25,374 consisted of around 75 percent Eagles fans. The Eagles responded with a 26-24 victory.
"In my nine years in the NFL, I've never seen anything like it," former Eagles safty Malcolm Jenkins said after that game. "They took over the stadium."
The fans in California that day included Atlantic City Mayor Marty Small, who organizes at least one Eagles road trip per season.  Curiously, this year's trip is back in California.  According to Small, approximately 220 local fans will be traveling to see the Eagles play the Los Angeles Rams on October 8.
Maybe "T Swifty" will be there to watch "D Swifty."
---
Boxing returns to A.C. - Atlantic City's boxing resurgence continues next week with a card at Bally's Atlantic City on September 29.
The card, being promoted by Philadelphia's Manny Rivera of Hard Hitting Promotions, is being held in conjunction with the Atlantic City Boxing Hall of Fame 7th Induction weekend September 29-October 1.
It will be the eighth show on the boardwalk this year, the most since 2018, when there were 10 boxing shows in town.  Eleven bouts are scheduled, including a six-round super-welterweight contest pitting Mays Landing Isaiah Hart (6-3-1, 4 KOs) against Philadelphia's unbeaten Elijah Vines (6-0, 6 KOs).  In the main event, Philadelphia super-lightweight Branden Pizarro (18-1-1, 10 KOs) will face Esteban Garcia (16-2, 8 KOs), of Crawley, California in a 10-rounder.
20 Sporting Events That Happened at Boardwalk Hall in Atlantic City