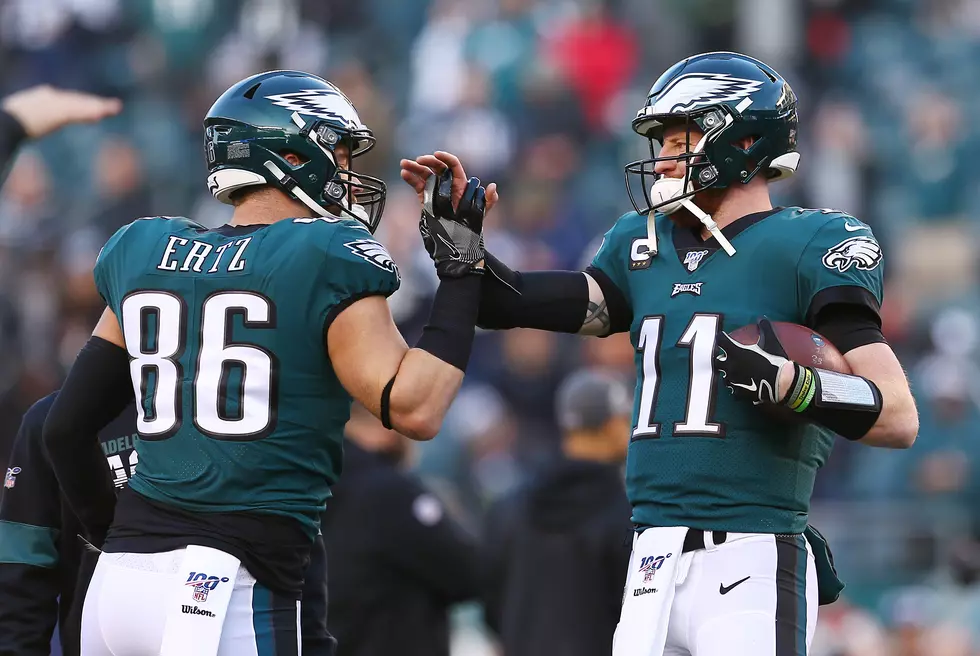 Extra Points: Eagles Headed to Playoffs
Mitchell Leff, Getty Images
The Eagles will not be 16-0 this season.
They also will not be 0-16.
Coach Doug Pederson and company have the talent to compete for a NFC East title and perhaps even win a playoff game or two. But there are some causes for concern. The lack of depth on the offensive line and in the secondary, the nagging injuries that kept some key players on the sideline for training camp and the strength of schedule could also keep them out of the postseason for the first time since the 2016 season.
Enter your number to get our free mobile app
Assuming there is a postseason. While the league seemed to do a good job of controlling things during the preseason, every tea is one Covid-19 outbreak away from seeing their season collapse.
Here's one scenario on how the Eagles' regular season will unfold. Spoiler alert: they will get into the playoffs as a wildcard, but will be one and done.
Sunday, Sept. 13, 1 p.m. - Eagles at Washington: Washington's marching band is the best part of that franchise. Although it won't sound the same without "Hail to the Redskins." "Hail to the Washington Football Team" just doesn't have the same ring. WIN
Sunday, Sept. 20, 1 p.m. - L.A. Rams at Eagles: Eagles tight end Zach Ertz scores a touchdown and gives the ball to Mike Trout's cardboard cutout in the stands. LOSS
Sunday, Sept. 27, 1 p.m. - Bengals at Eagles: A busload of cardboard cutouts make the trip from Manahawkin to watching Cincinnati long snapper Clark Harris, who is a Southern Regional High School graduate. WIN
Sunday, Oct. 4, 8:20 p.m. - Eagles at 49ers: Eagles tackle Jason Peters jumps offsides twice and informs Pederson at halftime he will be sliding back to right guard. LOSS
Sunday, Oct. 11, 1 p.m. - Eagles at Steelers: Eagles rookie wide receiver Jalen Reagor scores his first NFL touchdown. WIN
Sunday, Oct. 18, 1 p.m. - Ravens at Eagles: Lamar Jackson outplays Carson Wentz, who informs Pederson after the game he will be sliding over to play tight end. LOSS
Thursday, Oct. 22, 8:20 p.m. - Giants at Eagles: Giants defensive tackle Austin Johnson (Absegami High School) gets a sack, but the Eagles beat the Giants for like the 25th time in a row. WIN
Sunday, Nov. 1, 8:20 p.m. - Cowboys at Eagles: The Eagles are permitted to have roughly 15,000 fans in the Linc. "Dallas Sucks" chants can be heard throughout. WIN
Sunday, Nov. 15, 1 p.m. - Eagles at Giants: Make it 26 in a row. WIN
Sunday, Nov. 22, 1 p.m. - Eagles at Browns: Eagles make first visit to Cleveland since the 2012 season-opener, which was center Jason Kelce's first NFL game. Peters informs Pederson he will be sliding back to left tackle. WINS
Monday, Nov. 30, 8:15 p.m. - Seahawks at Eagles: Eagles haven't beaten the Seahawks since JFK was president. At least it seems like it. LOSS
Sunday, Dec. 6, 4:25 p.m. - Eagles at Packers: Eagles pulled off an upset in Lambeau last season. I can't see that happening again, especially if the tundra is frozen. LOSS
Sunday, Dec. 13, 4:25 p.m. - Saints at Eagles: Malcolm Jenkins scores on a pick-six against rookie Jalen Hurts and mistakenly celebrates by doing the "Electric Slide" with the Eagles secondary. LOSS
Sunday, Dec. 20, 4:05 p.m. - Eagles at Cardinals: Josh McCown gets called up from the virtual practice squad. He meets Reagor for the first time during pregame warmups and hits him for a TD pass. WIN
Sunday, Dec. 27, 4:25 p.m. - Eagles at Cowboys: Darius Slay returns an interception for a TD, but Ezekiel Elliott runs for 200 yards and two TDs. LOSS
Sunday, Jan. 3, 2021, 1 p.m. - Washington at Eagles: Jason Peters informs Pederson that he's sliding over to tight end for the game. He catches two TD passes and the Eagles clinch a playoff berth. WIN
SEASON RECORD: 9-7, playoff berth