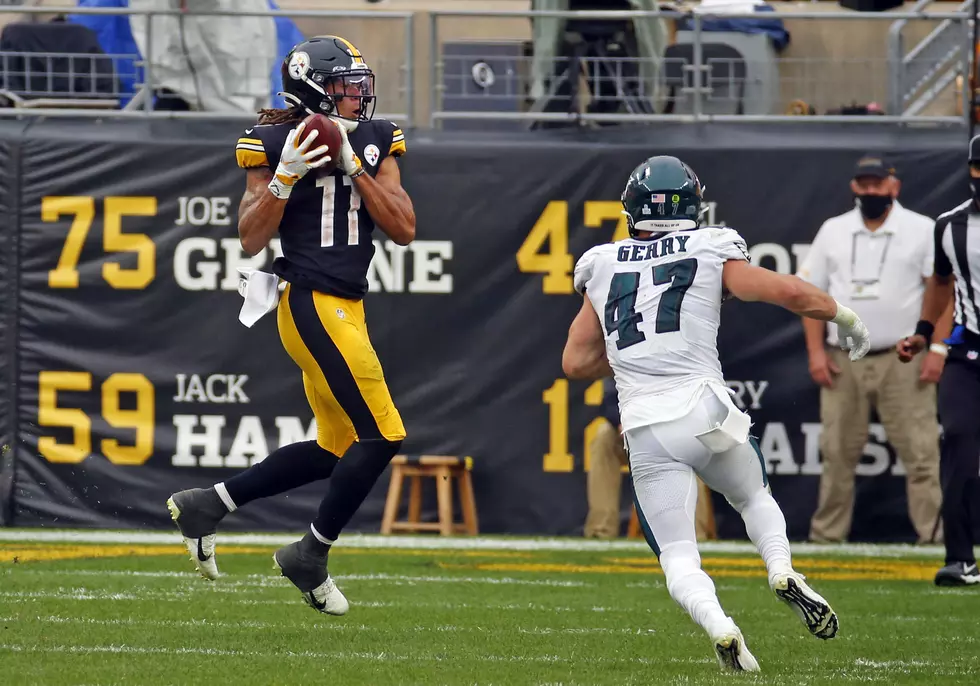 Extra Points: Eagles Loss was No Joke
Getty Images
If you dig in the sand at Sunset Beach deep enough, once in a while you can unearth a Cape May Diamond.
The Eagles have seemingly found a gem at the bottom of their depth chart.
Wide receiver Travis Fulgham, who was promoted from the practice squad last week to lend depth at that position, delivered his second straight marvelous performance in Sunday's 38-29 loss at Pittsburgh.
Enter your number to get our free mobile app
One week after catching the game-winning pass against San Francisco, he followed it up by catching 10 passes for 152 yards and a touchdown against the Steelers. It was the first time an Eagles' wide receiver had at least 10 receptions for 150 receiving yards in a game since Jeremy Maclin in 2014.
After the game, quarterback Carson Wentz labeled Fulgham a "beast" and a "baller."
Don't hurry back, Alshon Jeffery.
Fulgham has been so impressive, fans are already half-jokingly ranking him among the Eagles' alltime great wideouts on social media. He's being mentioned in the same lists with Hall of Famers Harold
Carmichael and the late Tommy McDonald, DeSean Jackson and Mike Quick.
At least I think they're half joking.
For me, it was one of a few impressive performances I saw on Sunday.
While Fulgham was embarrassing the Steelers' secondary, Pittsburgh rookie wide receiver Chase Claypool was undressing the Eagles' defense.
Claypool caught seven passes for 110 yards and three touchdowns and also ran for a score. He became the first player to score at least four TDs against the Eagles since Colts running back Joseph Addai had four in a 2006 game.
His final TD was due to a strange decision by Eagles' defensive coordinator Jim Schwartz. For some reason, he opted to have linebacker Nate Gerry cover Claypool late in the fourth quarter, only to see Claypool sprint past him for a 35-yard TD that essentially clinched the win for the undefeated Steelers, who are 4-0 for the first time since 1979.
"Ideally, would we like Nate to be (covering) a receiver? No," Eagles safety Rodney McLeod said after the game.
It was akin to asking me to outdrive Bryson DeChambeau.
During commercial breaks in the Eagles' game, I flipped over to The Redzone Channel and got chills watching Washington quarterback Alex Smith trot onto the field against the Los Angeles Rams. It was the latest step in what has been an incredible, inspirational comeback for Smith, who underwent 17 surgeries after suffering a horrific leg injury in 2018.
"That is truly one of the most amazing things I think, not only that we've ever seen, but one of the most amazing things in football history," Rams quarterback Jared Goff told his team's web site.
I witness another impressive feat earlier in the day.
After our weekly Sunday breakfast at Uncle Bill's in Cape May, my wife, Karen, and I headed over to Flying Fish Studio so she could purchase a t-shirt from Saturday's annual Lima Bean Festival in West Cape May.
A car pulled up beside us around 10 a.m. and out stepped a teenager with long, curly hair who was carrying a backpack and a set of keys.
Instead of simply unlocking the front door, however, he approached a six-foot-high chainlink fence and scaled it like he was friggin' Spiderman, placing one foot on the fence and casually vaulting over it.
I called him a bad name while Karen laughed hysterically.
"Don't worry dear," she said. "I'm sure you could've done the same thing. ... Forty years ago."
I think she was only half-joking.
Eagles QBs Drafted Outisde Of The First Round Since 2000