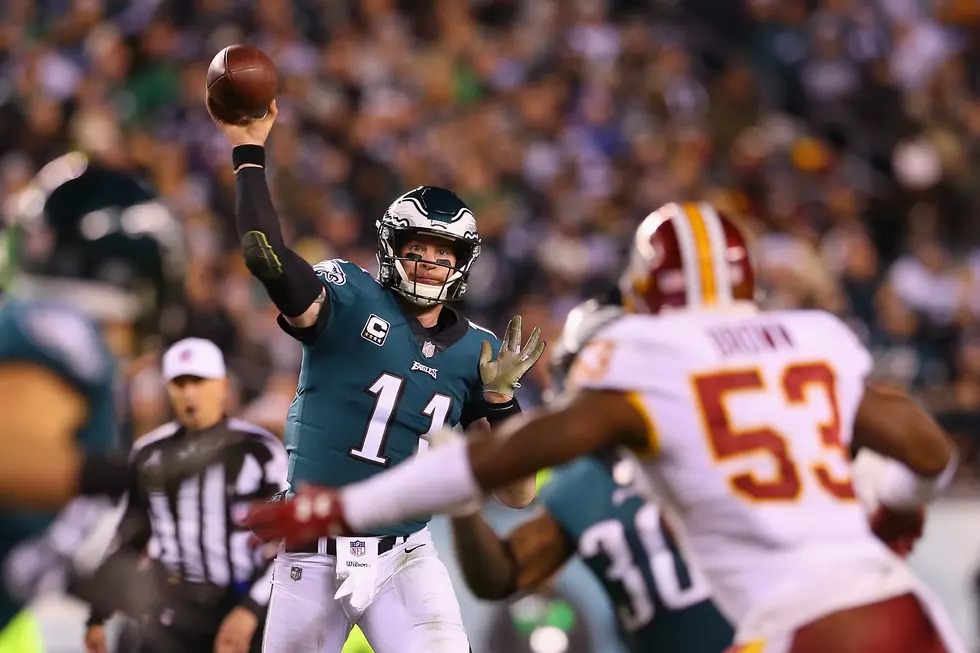 Extra Points: If Playoffs are Held, Eagles Will be in Them
Carson Wentz and the Eagles will open the regular season against the Redskins. (Photo by Mitchell Leff/Getty Images)
The Eagles are scheduled to open the 2020 regular season at Washington on Sunday, Sept. 13. The last time they played the first game of the season at FedEx Field was in 2017.
That was the season they won the Super Bowl.
Whether this season will open as planned or be held at all is still undecided, however. Although the NFL decided to release the schedules on Thursday, everything is on hold while the world continues the fight against Covid-19. As of now, no players are permitted inside the team facilities until further notice. They may very well not be allowed to start practicing en masse until the start of training camp, which usually happens in late July/early August.
Continuing a decades-long tradition, I'll now predict the outcome of every Eagles game, though I reserve the right to change my mind later. Feel free to disagree. In fact, I'm counting on it.
Week 1: SUNDAY, SEPT. 13 at Redskins (1 p.m) – New starting eft tackle Andre Dillard gives up two sacks against Redskins rookie DE Chase Young. (LOSS)
Week 2: SUNDAY, SEPT. 20 vs. L.A. Rams (1 p.m.) – Carson Wentz throws two long touchdown passes to DeSean Jackson in the home opener. But if no one is there to see it, does it really count? (WIN)
Week 3: SUNDAY, SEPT. 27 vs. Bengals (1 p.m.) – Bengals rookie QB Joe Burrows throws three interceptions and blames it on Carole Baskins. (WIN)
Week 4 : SUNDAY, OCT. 4 at 49ers (8:20 p.m.) – Eagles rookie QB Jalen Hurts throws his first NFL TD pass to rookie WR Jalen Raegor. (LOSS)
Week 5: SUNDAY, OCT. 11. at Steelers (1 p.m) – Remember that time when the Eagles and Steelers formed the Steagles? Neither do I. (WIN).
Week 6: SUNDAY, OCT. 18 vs. Ravens (1 p.m.) – Lamar Jackson shows Jalen Hurts how it's done with 4 TDs. (LOSS).
Week 7: THURSDSAY, OCT. 22 vs. Giants (8:20 p.m.) – Eagles are 4-0 on Thursday Night Football since 2016. And it's the Giants. (WIN).
Week 8: SUNDAY, NOV. 1 vs. Cowboys (8:20 p.m.) – Dak Prescott throws three TD passes to rookie WR CeeDee Lamb. Jalen Mills asks to move back to cornerback. (LOSS)
Week 10: SUNDAY, NOV. 15 at Giants ( 1 p.m. ) – St. Augustine Prep grad and Galloway Township resident Austin Johnson gets a sack for the Giants. (WIN)
Week 11 : SUNDAY, NOV. 22 at Browns (1 p.m.) – Eagles center Jason Kelce announces in his hometown that he's retiring at the end of the season. (WIN)
Week 12: MONDAY, NOV. 30 vs. Seahawks (8:15 p.m.) – A former firefighter helps rescue a baby from a burning building, then claims "there was no way I was going to drop him, unlike Jalen Raegor." (LOSS)
Week 13: SUNDAY, DEC. 6 at Packers (4:25 p.m.) – With DeSean Jackson out with an injury, Carson Wentz hits new WR Marquise Goodwin for two TD passes. (WIN)
Week 14 : SUNDAY, DEC. 13 vs. Saints (4:25 p.m.) – Drew Brees throws for five TDs. Jalen Mills asks to move back to safety. (LOSS)
Week 15 : SUNDAY, DEC. 20 at Cardinals (4:05 p.m.) – – Hurts makes his first career start in place of Wentz, but Kyler Murray outplays him the duel of former Oklahoma QBs. (LOSS)
Week 16: SUNDAY, DEC. 27 at Cowboys (4:25 p.m.) – Wentz demands a trade after Hurts accounts for three TDs. (WIN)
Week 17: SUNDAY, JAN. 3 vs. REDSKINS (1 p.m.) – Eagles earn a wildcard spot in the playoffs, assuming they are held. (WIN)