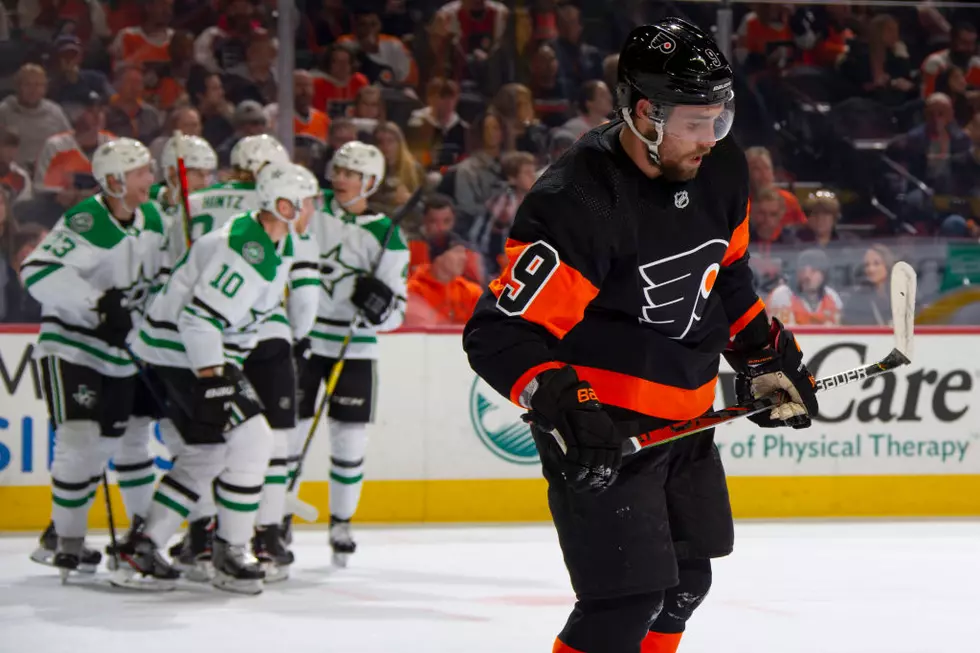 Flyers Drop 4th Straight as Stars Snap Losing Streak
(Mitchell Leff/Getty Images)
It was a formula far too familiar to Flyers fans over the last few years. Dominate in shots. Control the puck for most of the game. Limit chances. Come out on the losing end, helping to snap a struggling team's losing streak.
The Dallas Stars entered Saturday's game in Philadelphia having lost five straight games. They managed just 16 shots on goal in the back-end of a back-to-back after losing in Pittsburgh on Friday. The Flyers still came out on the losing end, 4-1, to drop their fourth straight game.
The Flyers came roaring out and got on the board almost immediately. Just 43 seconds into the game, Claude Giroux and Travis Konecny each helped set up Sean Couturier, who took Konecny's cross-ice feed and scored into an open net to make it 1-0.
The Stars eventually rallied back. Roope Hintz got on the board again with his sixth goal of the season, making a great move around Matt Niskanen and eventually scoring by getting his own rebound to tie the game at one at the seven-minute mark. On a power play later in the period, Esa Lindell cut across the top of the crease and deflected in a shot-pass from Denis Gurianov to give the Stars the lead.
The Flyers had two power plays in the first period but failed to score. Off the ensuing face-off following the second Dallas goal, Chris Stewart and Jamie Oleksiak dropped the gloves with both players landing punches.
The Flyers held a 12-11 edge in shots after the first period.
The Stars were limited to just one shot in the second, but there was not much generated by the Flyers either. They finished with eight shots in a period that featured limited action.
It didn't take long for the Stars to strike again early in the third. Just 1:24 into the period, Corey Perry lifted a backhander over Carter Hart to make it 3-1.
The Flyers held the Stars to one shot throughout the third, and despite taking 17 of their own, were limited in chances in a lifeless final period. Miro Heiskanen scored on the Stars second shot of the period, into an empty net, to ice the game.
Hart made just 11 saves on 15 shots. Ben Bishop stopped 38 of 39 shots. Perry had three points for Dallas.
The Flyers get back on the ice on Monday night, as they face the Vegas Golden Knights. Game time is 7 p.m.
PHI Sean Couturier (2) (Travis Konecny, Claude Giroux) 0:43
DAL Roope Hintz (6) (Jamie Benn, Corey Perry) 7:00
DAL Esa Lindell (1) PP (Denis Gurianov, Perry) 13:48
DAL Perry (1) (Hintz) 1:24
DAL Miro Heiskanen (3) EN (Tyler Seguin) 18:09
| | | |
| --- | --- | --- |
| | Stars | Flyers |
| Shots | 16 | 39 |
| Power Plays | 1/2 | 0/4 |
| Hits | 15 | 16 |
| Faceoff % | 36.8% | 63.2% |
| Giveaways | 17 | 10 |
| Takeaways | 4 | 2 |
| Blocked Shots | 16 | 9 |
| Penalty Minutes | 13 | 9 |