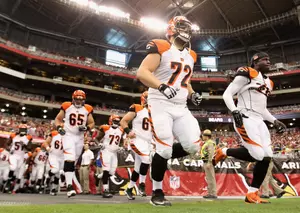 Former Eagles OL Tanner Hawkinson Retires From NFL
Former Eagles OL Tanner Hawkinson retired Friday. (Photo by Christian Petersen/Getty Images)
PHILADELPHIA (973espn.com) — Former Eagles offensive lineman Tanner Hawkinson called it a career Friday, two weeks after being waived by Philadelphia.
The 6-foot-5, 300-pound Kansas product was claimed off waivers by Jacksonville and the Jags confirmed that Hawkinson's decision to walk away from the game at 25 years old is not injury related before placing him on the reserve/retired list.
The Eagles signed Hawkinson off the 49ers' practice squad in October of last year. He was active for just two games during his stint in Philadelphia but never got in for an offensive snap.
Overall Hawkinson appeared in just four NFL games, all with the team that drafted him in the fifth-round of the 2013 draft, the Cincinnati Bengals.
-John McMullen covers the Eagles and the NFL for 973ESPN.com. You can reach him at jmcmullen44@gmail.com or on Twitter @JFMcMullen