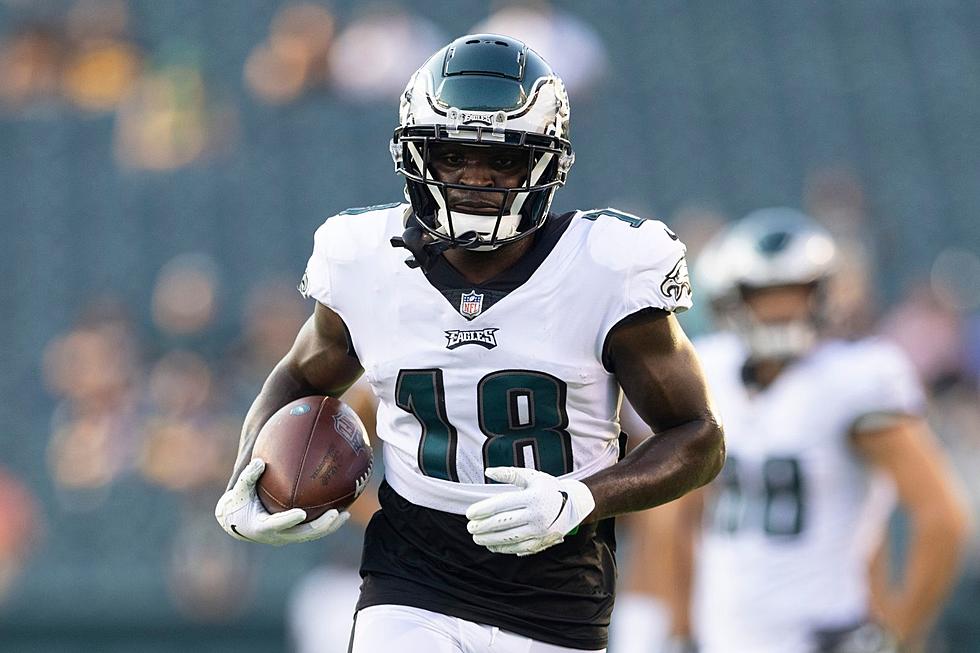 Four Eagles Players to Watch in Preseason Game Two
(Photo by Mitchell Leff/Getty Images)
With only three preseason games on the Philadelphia Eagles schedule before the start of the 2021 NFL season, Game Two is likely to be the most important game establishing the roles for many players on the roster who will contribute this year. Here are four players I am keeping an eye on for tonight's game versus the New England Patriots
(Listen to coverage from the Eagles Radio Network tonight starting at 630pm on 97.3 FM ESPN South Jersey with Merrill Reece and Mike Quick calling all the action all season long)
*Wide Receiver Jalen Reagor
-The 21st overall pick in the 2020 NFL Draft missed five games last year due to injuries and the 2021 Eagles Training Camp was not a great start for him. But he has come alive in practices over the last couple weeks including an incredible one-handed catch at Joint Practices versus the Patriots Cornerbacks. The Eagles need to see Reagor become more consistent, not just flash the elite talent that parlayed him into being a First Round Draft Pick. Reagor's first action this NFL Preseason was a mixed bag with a dropped pass in the First Quarter but ran a great route that gained 13 yards for a first down in the Second Quarter. The time is now for Reagor to take what he has done on the practice field and showcase himself in live game action on Thursday to prove he is more than just a player who shows flashes, instead that he is a reliable offensive weapon for the Eagles.
*Wide Receiver Travis Fulgham
-Speaking of Wide Receivers, Travis Fulgham has been almost invisible these last couple weeks at Training Camp. The belief among many NFL Analysts when the Eagles hired new Head Coach Nick Sirianni and Offensive Coordinator Shane Steichen was that players like Fulgham would benefit from these coaches who have years of experience developing Receivers. But Fulgham had zero targets in the first preseason game and the only documentation we have of him at Eagles Practices is being coached up by Nick Sirianni.  Fulgham could be in danger of not making the 53-man roster if he can't muster up any production in August. Remember when Fulgham had 435 Receiving Yards and Four Touchdown catches in five games last season? Well that seems like a distant memory now that Quez Watkins has become the talk of Eagles Training Camp. It's "Put Up or Shut Up" time for Fulgham who turns 26 years old next month.
*Defensive End Tarron Jackson
-The Eagles know who their starters on the Defensive Line will be with Pro Bowlers Fletcher Cox and Brandon Graham joined by Javon Hargrave and one of the stars at Eagles Camp Josh Sweat. With Derek Barnett being added to the Injury Report this week joining Ryan Kerrigan, there should be more playing time available for the young players competing for a roster spot. Jackson was Philadelphia's Sixth Round pick in the 2021 NFL Draft after a productive college career at Coastal Carolina where his team's defense got national attention after they shutdown the high powered BYU Offense led by the New York Jets First Round Pick Zach Wilson. Tarron Jackson played well but not great in the Eagles first preason game in which he tallied a Tackle For Loss but also ran the wrong direction on one of the Steelers Run Plays. Jackson had 18 Sacks in his final two seasons at Coastal Carolina and he needs to take that relentless motor to the game versus the Patriots tonight against Quarterbacks like Mac Jones, Brian Hoyer, and Jarrett Stidham.
*Safety K'Von Wallace
-After missing the first preseason game with an injury, Wallace was vocal during joint practices this week, notably barking at former NFL MVP Cam Newton. The Eagles picked K'Von Wallace in the Fourth Round of the 2020 NFL Draft after he was a key member of the Clemson Defenses that played in the College Football National Championship game in consecutive seasons. While Wallace is an aggressive tackler who showed relentless pursuit in college, his coverage skills were something that needs development at the NFL level and missing time at Training Camp puts into question about his growth as a second year player. The 2021 NFL season marks the third different defense Wallace will play in over the last three years, so tonight's game will be important for Wallace to get on the field and show he is up to speed if the Eagles need him to get significant playing time this upcoming season.
Top Ten Eagles Wide Receivers in Franchise History