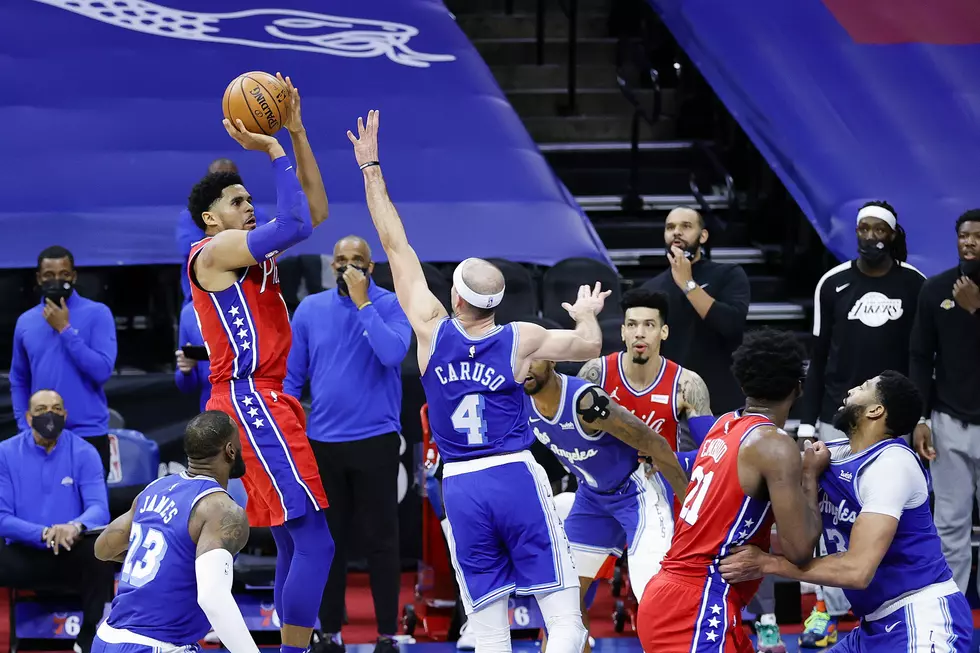 Grades from Sixers' dramatic win over Lakers
Tim Nwachukwu, Getty Images
Luckily for the Sixers, there are no style points in the NBA.
Thanks to a game-winning shot from Tobias Harris, the Sixers turned what would've been a brutal loss into a thrilling 107-106 win over the defending champion Lakers Wednesday night. The Sixers led by as many as 16 but had to hang for dear life to improve to 10-0 when all five starters are playing, and 13-6 overall.
Here are grades from a heck of a game at the Wells Fargo Center.
Joel Embiid: A-
It came easy for Embiid early, as he scored 13 points in the first quarter and routinely beat his nemesis Marc Gasol 1-on-1. As the game wore on, the Lakers sent more defenders his way and the game got more difficult.
LeBron James shoved Embiid on a dunk attempt in the third quarter. James was called for a Flagrant 1 foul. Embiid landed on his back and was very slow to get up. He remained in the game but was visibly grimacing and reaching for his back. Doc Rivers mentioned postgame that they used Embiid differently late in the game because of his back. He did have one unbelievable circus finish on a reverse layup against Anthony Davis in a big spot.
Embiid's overall numbers don't look sparkling (28 points on 8 of 18, six rebounds, four assists), but considering the opponent, this was a gritty performance.
Ben Simmons: A
Simmons started the game with six quick points and was strong on both ends throughout. There was perhaps a play or two where Simmons passed up a decent look around the basket, but not many. On one play in the third quarter, Simmons had just Anthony Davis to beat on a fast break. Simmons took it right to Davis, who was unsuccessful in his attempt to draw an offensive foul.
Simmons recorded his 31st career triple-double with 17 points, 11 rebounds, and 10 assists. Perhaps his best stat on the night: One turnover.
Tobias Harris: A+
The Sixers will go as far as Embiid and Simmons will take them, but with the way Harris has played this season, it makes you feel like the Sixers can make serious noise. He's been outstanding, providing complementary scoring and playing super-efficient. He made multiple big shots down the stretch, but none bigger than his game-winner with three seconds left. Harris finished with 24 points on 10 of 16 from the field.
Not only has Harris continued to look like the Clippers version, but possibly an even better version when you factor in his much-improved defense. This could be the year Harris gets his first All-Star nod.
Doc Rivers: A-
Hey, when you beat the defending world champions/best team in the NBA, there's going to be plenty of great grades to go around. Rivers pushed almost all the right buttons tonight. The only reason he gets the minus is the Sixers' offensive possessions down the stretch. It looked more like they were trying to run the clock out than add to their lead.
Aside from that, he made the right call on defensive matchups, mixed up his rotations and lineups, and extended his starters a bit against a great team. He also put the ball in Harris' hands, who delivered.
Danny Green: B+
This was one of Green's best games as a Sixer – and it came against his former team, of course. Green had 14 points (4 of 9 from three) and did an excellent job on the elusive Dennis Schroder. It was a night that reminds you of Green's strengths as a role player. Just a solid night from the veteran guard.
Seth Curry: D-
Since he was on the injury report with right ankle soreness, it's not right to crush Curry, but he did struggle tonight. After a ridiculous start to the season, Curry has cooled off over his last couple games. Curry scored a season-low seven points Monday and followed that up with just two points in 31 minutes Wednesday.
Sixers bench: C
Shake Milton was OK, scoring nine points in 21 minutes. If Rivers could have afforded to give any reserve more time, it was probably Milton for a struggling Curry. Matisse Thybulle was active on the defensive end, notching three steals and pestering James.
It appears that Furkan Korkmaz will get the nod over rookie Tyrese Maxey when the rotation shrinks. Korkmaz went 3 of 5, but his decision making and defense are causes for concern. You lose shooting with Maxey in the game, so the decision is fair, but it's a situation worth monitoring.
Over the past few games, Dwight Howard has been a cause for concern as the team's backup five. He was a minus-23 on Monday in Detroit. He was a minus-6 Wednesday night and committed four fouls in seven minutes. At one point in the first half, Rivers turned to Simmons to play some backup five minutes. Another situation worth monitoring.
Sixers First-Round Picks Since 2000