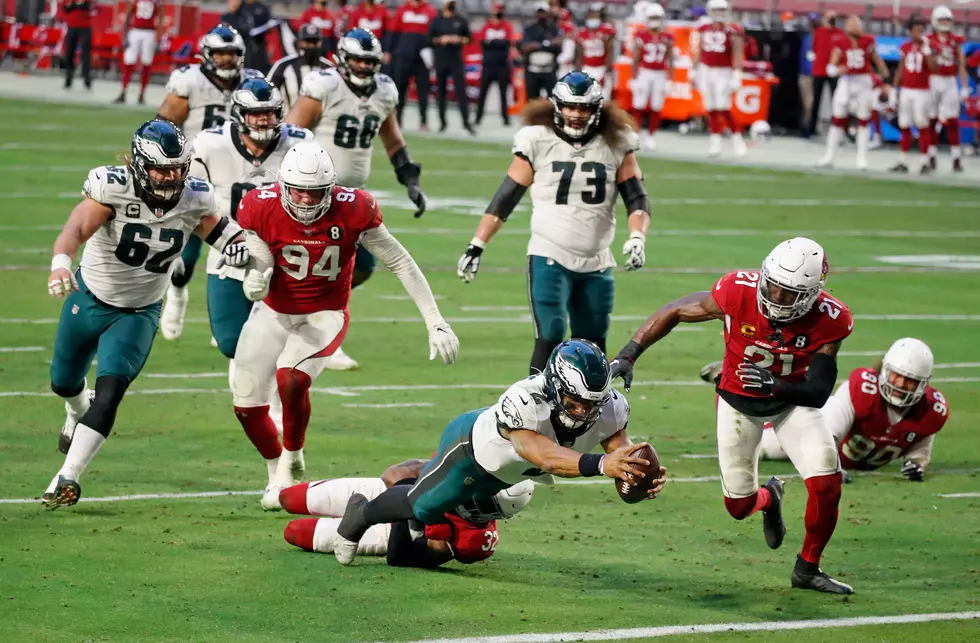 Grayson's Grades: Eagles at Cardinals
Getty Images
The Philadelphia Eagles dug themselves an early 16-0 hole before tying the game and eventually losing to the Arizona Cardinals 33-26.
Rookie Jalen Hurts once again sparked the offense. He passed for 338 yards and three touchdowns. Hurts added 63 yards rushing with another touchdown.
The defense was missing a lot of key starters in the secondary, but still found a way to force three turnovers.
The Eagles are not eliminated from playoff contention; however, a win by Washington in the final two weeks or a loss by the Eagles will prevent them from another trip to the postseason.
It is another mixed bag of marks in the latest edition of Grayson's Grades:
Jalen Hurts - Hurts had another strong outing. He got off to a slow start taking a safety on the Eagles opening possession. But then he started to get dialed in and made a lot of big plays to keep drives alive or to put points on the board. Hurts once again looked composed and never rattled out there. He was quick to make decisions and used his arm and his legs to do damage to the defense. Hurts completed 24 of 44 passes for 338 yards and three touchdowns. He also carried it 11 times for 63 yards and another touchdown. He has definitely provided a spark and energy to this offense.
Greg Ward - Ward made his opportunities count. His receiving yards were in no way sexy, but he proved to be a big target when Hurts needed one most in the endzone. Ward caught four passes for 15 yards, but two of his catches were for touchdowns. On one of those touchdowns Ward did an amazing job to get both feet in. He seems to be gaining more and more chemistry with Hurts.
Zach Ertz - Ertz racked up some solid yardage in this game. He was targeted seven times by Hurts but managed only two catches for 69 yards. Hurts misfired on some of those passes intended for Ertz. But Ertz got open and created easy throws for Hurts on those two receptions. He needs to get back to being more involved in the offense.
Dallas Goedert - Goedert seems to be gaining more and more targets from Hurts. He made some big catches in this game. He nearly made a huge touchdown catch late in the game but the ball hit the ground before he secured it. Goedert does a nice job of tacking on yards after the catch. He caught four passes for 39 yards.
Alshon Jeffery - Jeffery seems to be playing harder and showing more effort with Hurts running the offense. That's just my observation. Jeffery caught two passes for 63 yards but his biggest contributions are not in the box score. He drew multiple pass interference penalties which helped the offense move down the field.
Jalen Reagor - You can see the occasional flash of speed and skill that Jalen Reagor can bring to this offense. I'm still not convinced he runs screen plays well. He seems to drop too far behind the line to catch it and does not trust himself to hit the right hole after the catch to use his blocks. Once he does that, those screen passes could go for big gains. Reagor caught five passes for 49 yards.
Miles Sanders - Sanders had to work hard for his rushing yards in this game. He carried the ball 17 times for 64 yards. Sanders also caught one pass for 26 yards. So he totaled 90 yards in the game. I keep saying I want to see Sanders get 20 carries per game. This was at least close to that. While he did not hit a home run in this game, he still averaged 3.8 yards per carry and five yards per touch.
Marcus Epps - Marcus Epps was one of the backups playing due to the injuries in the secondary. He made some big plays. None of those bigger than the interception he had in the endzone when the Cardinals were driving. Epps also was around the ball and made some tackles. He finished tied for third on the team with seven tackles. Epps also added two passes successfully defended and an interception.
Doug Pederson - I am starting to see that Doug Pederson did not forget how to call plays on offense. It makes me think Carson Wentz was changing the play at the line a lot more than I previously suspected. There is more of a rhythm to these plays and the offense is able to get down the field in this offensive system. Pederson seems to be learning more about Hurts as Hurts is learning more about the offense. I am excited to see how Pederson and Hurts finish out the final two weeks of the season. Pederson went for it on fourth down multiple times converting three out of four fourth down attempts. The offense put up more than 400 yards of total offense.
Nickell Robey-Coleman - Nickell Robey-Coleman had some good plays and bad plays in this game. I'll start with the good. He did a great job of forcing a fumble out of Kyler Murray's hands and not stopping there. He also recovered it. Robey-Coleman also finished second on the team with ten tackles and added half-a-sack. On the negative side, I still do not understand how he failed to bat away the touchdown pass to Larry Fitzgerald. If he squared up to the Quarterback, it could have been an interception. Instead, he was turned sideways and did not even try to bat it away. Don't get me wrong. I liked his effort and hustle on the field. It is something to build off of heading into next week's game against the Cowboys.
Alex Singleton - Singleton seems to be getting more and more consistent. He once again led the team in tackles with 11. He also added a tackle for a loss. Singleton fills the running lanes pretty well and helps to try and take that aspect of the game away from the opponent.
Offensive Line - The offensive line definitely missed some blocking assignments. It led to sacks and plays getting blown up before they even really got going. There were also too many false starts by the offense that put them in some more difficult spots. Granted, it was the 13th different starting offensive line in 14 games, so it is easy to understand how the communication and chemistry are not rock solid amongst that group. Those missed blocking assignments need to be fixed after watching the film of this game.
Rick Lovato - Lovato normally does his job so well you never notice him. However, when things are bad you notice that. Lovato failed to chip the rusher on the punt that was blocked. He also made a bad snap that bounced in front of Zach Ertz who was holding for an extra point. Those are two costly mistakes that certainly played a role in the outcome of this game.