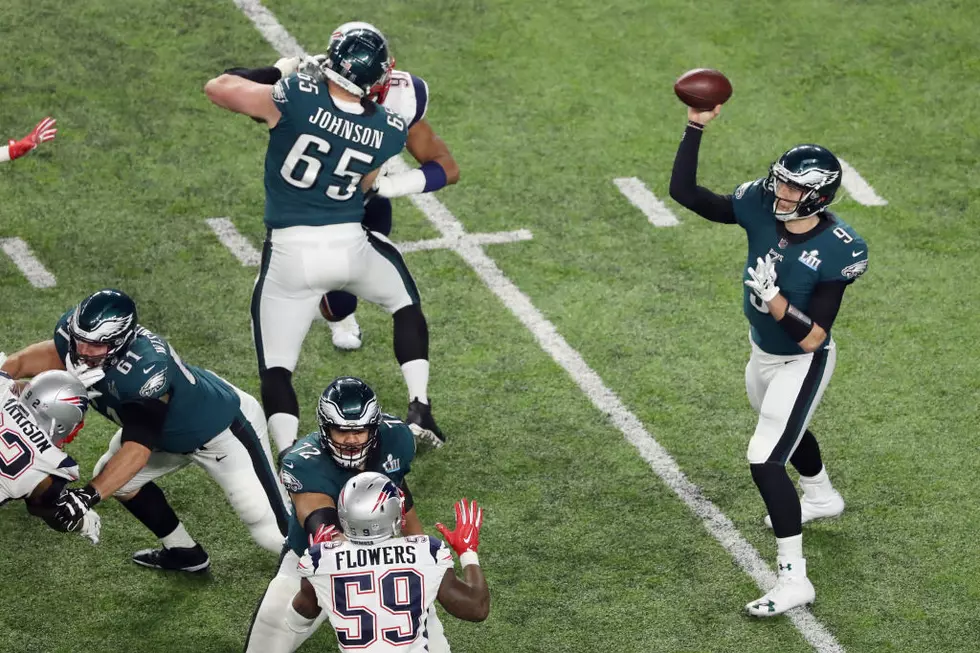 How Important Was Eagles Offensive Line In Super Bowl 52?
(Photo by Christian Petersen/Getty Images
Nick Foles had one of the best games of his NFL career on the biggest stage in Super Bowl 52 as the Eagles won the big game for the first time in franchise history.  Throwing Three Touchdowns and 373 Yards with a 65.12 Completion Percentage, Foles earned the honor of being named Super Bowl 52 MVP.  But a major part of Foles' success was because the Eagles Offensive Line played at an elite level in front of the 6'6" Tall Quarterback.  The Eagles Offensive Line was named Best Offensive Line Of 2017 by Pro Football Focus while at the NFL Honors the night before Super Bowl 52 the Eagles Front Five were named the winners of the BUILT FORD TOUGH OFFENSIVE LINE THE YEAR.
ESPN.com NFL Insider KC Joyner joined Mike Gill on Monday talking about how the Eagles Offensive Line were a major key to Nick Foles success in Super Bowl 52:
"Pass Protection, that had to be the key – (Foles) only got contacted on 2.1 Percent of his Drop Backs, that's an incredibly low number, your team wants to be in double digits and 2.1 Percent just means one out of 50, so basically they touch the (Quarterback) one time and that's huge.  The Patriots did get a 29.5 Percent Pass Pressure Rate which is a solid number but it took them Blitzing nearly 30 Percent of the time to do it, which is more than they wanted to do.  So they were sending people and doing everything they could to try to get pressure on Foles and trying hit him and it just didn't happen.  And when you give (Nick Foles) no pressure at all and give him a lot of good options underneath, you're going to see that kind of a game."
Checkout what Joyner had to say about Doug Pederson, the Patriots Defense, and more analysis of Super Bowl 52