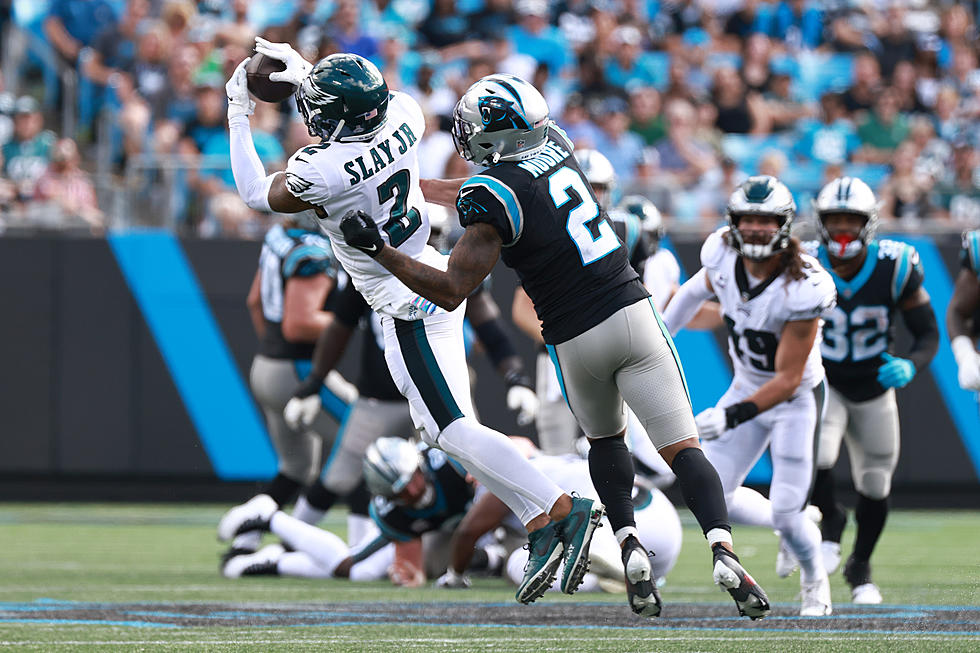 Instant Reaction: 5 Thoughts on Eagles' 21-18 Win Over Panthers
Getty Images
The Eagles come from behind to end a three-game losing streak to beat the Carolina Panthers 21-18 on the road on Sunday.
The victory moves Philadelphia to 2-3 on the season.
Here are my rapid reactions to the Eagles win.
1. The Eagles defense, which was horrible in the first-half of the game, played very well in the second-half and was the difference in the game.  They kept the Eagles offense, which was inept most of the day, in the game.  The defense picked Sam Darnold off three times, sacked him three times and played pretty well.
On a key 3rd and two the Eagles got a stop, holding Carolina to a field goal, which turned out to be a key play in the game.
Steve Nelson's interception sealed the deal.
2. Jalen Hurts with a big drive to win the game.  Hurts who struggled most of the day, made a big throw to Dallas Goedert and got the ball in to the end zone to give the Eagles the lead.  He also made a nice play on the two-point conversion.
3. The penalties continue to be an issue.  The team had another touchdown called back because of an offensive pass interference call.  Alex Singleton had two penalties on defense. Overall the team was penalized six times for 60 yards.
4. Special teams got a huge blocked punt, which set up the winning score.  With the team struggling on offense, they got a blocked punt, which shortened the field.
5. A big play in the game was Hurts finding Quez Watkins down the field for a 53-yard catch.  The play set up a 1-yard quarterback sneak by Jalen Hurts and got the Eagles back into the game.
Eagles vs Carolina Panthers, Oct 10, 2021
Eagles vs Kansas City Chiefs, Sunday Oct 3 2021