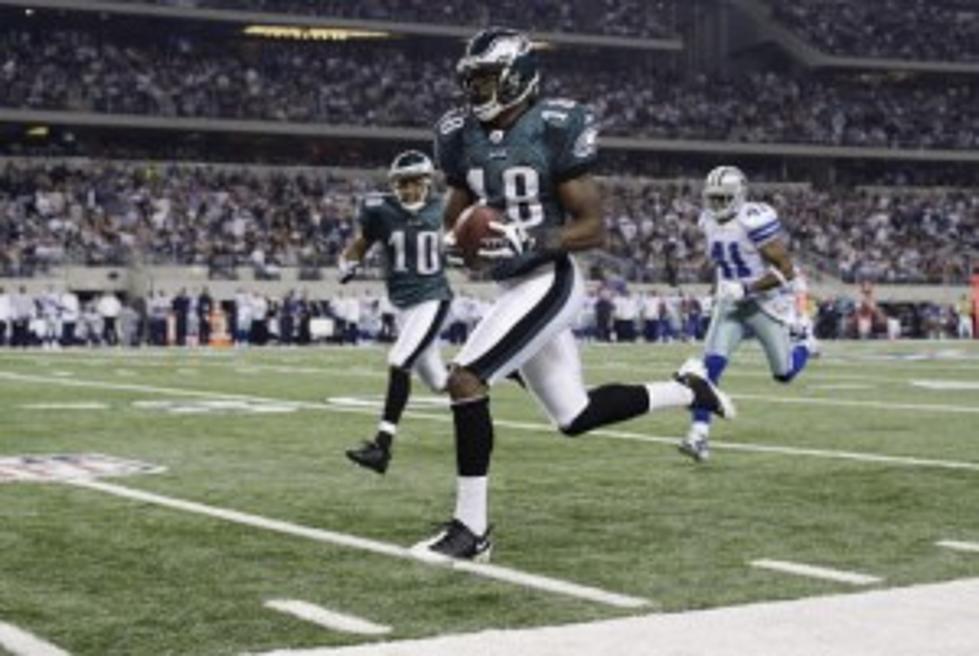 Jackson and Maclin Questionable as Eagles Prepare for Ravens
PHILADELPHIA, Pa. -- The Eagles will list wide receivers DeSean Jackson and Jeremy Maclin as questionable for Sunday's game against the Baltimore Ravens, according to head coach Andy Reid.  Jackson's hamstring tightened up at practice on Wednesday, and he was limited in practice today after missing it yesterday.  Maclin suffered a hip pointer and hip flexor strain on Sunday and also missed practice yesterday and returned in a limited role today.
Quarterback Michael Vick didn't express much confidence in having his top two passing targets back by game time.
"I can't say right now for sure, but the guys who we have out there now have been working extremely hard and they understand the offense and what we're trying to get accomplished, so that's all you can ask for right now," Vick said. "Hopefully DeSean and Jeremy will be out there."
AUDIO: VICK ON INJURED RECEIVERS
"They weren't able to do too much today, so we'll see how it goes," Vick later added. "Hopefully they'll bounce back and they can get out there on Sunday."
Meanwhile, Maclin had little doubt he'll be able to play after working with the offense today in practice and feeling no pain.
"Right now everything's a go," Maclin said.  "I feel good man, I think I did the right things necessary throughout the week to get me to this point and I feel good."
AUDIO: MACLIN SAYS HE SHOULD BE ABLE TO PLAY SUNDAY
Maclin said he can wear extra padding or equipment to protect his hip, but right now it's not even hindering him.
"I feel like nothing right now," said Maclin. "You still want to be careful and obviously the injury is still there but as long as I can tolerate the pain I'll be alright."
If Jackson or Maclin are out, undrafted rookie Damaris Johnson stands to see a big jump in playing time.  Jason Avant, who is probable with a wrist contusion, would move up the depth chart making room for Johnson and recently re-signed Mardy Gilyard.
That could all have an impact on Vick's timing with his receivers.
"It's different, but our guys have done real well throughout the week and I'm confident," Vick said. "I'm confident we can go out there and get it done, they're confident in themselves and they take pride in what they do and that's what's most important."
Johnson won't treat this week any differently, but he does relish the chance to see more playing time this early in his career.
"It definitely doesn't change at all," Johnson said. "I go in every week just trying to go in and prepare myself as if I'm the number one guy. I did that this week, I did that last week.
"I'm really excited, I mean definitely I just want to go in and play. I'm really excited just to help out the team on each phase, on special teams and definitely on offense. I just want to go in and focus and try not to let our team down."
Reid said he does have a plan if one or both of his top receivers are unable to go, but he prefers to remain optimistic.
"Well, we have a plan," Reid said. "We're just going to go play, we're going to go play. I'm not even going to go there. Think positive on that."
AUDIO: REID WANTS TO STAY POSITIVE