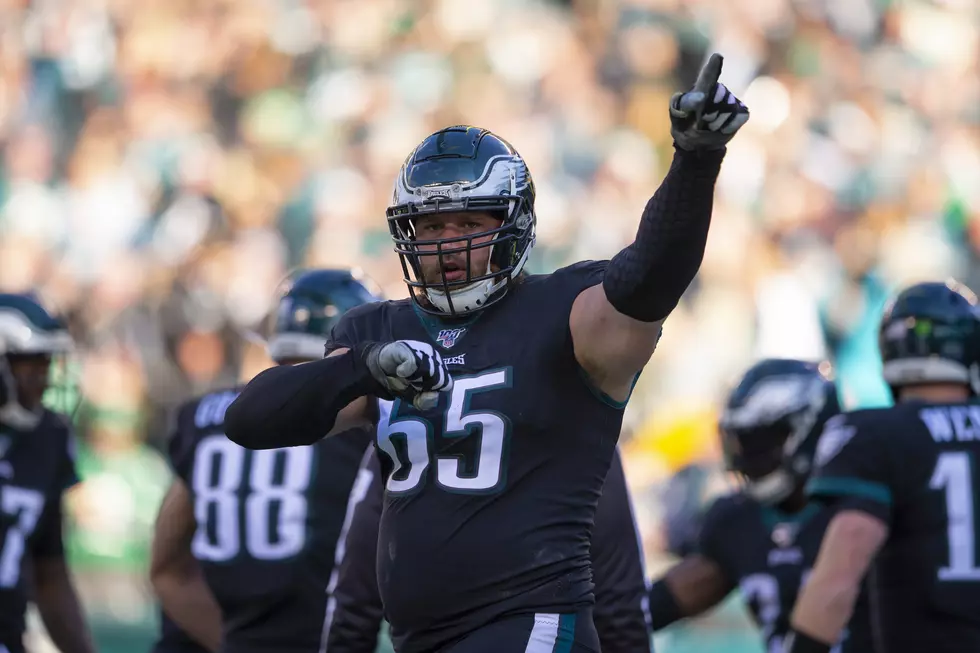 Lane Johnson: Last Season Not a Representation of What We Want to Be
Getty Images
The Philadelphia Eagles have been in this situation before.
The 2012 team has high expectations, before injuries began to cripple their offensive line, leading them to a 4-12 ending to their season and firing Andy Reid.
With the No. 4 overall pick in the 2013 draft, Howie Roseman took Oklahoma offensive lineman Lane Johnson and pair him with the returning bunch of lineman, helping the team go from four wins to 10 wins.
Johnson thinks this years team is in a similar situation.
"Having guys like Brandon Brooks back in the lineup, Isaac (Seumalo) was injured for sometime, get myself back in the lineup, getting guys who have played a lot of football together on the field."
"Last season is a representation of what were about, or what we want to be."
That 2012 team lost four-of-five starters, leading them to take Johnson.  In 2020 the team had 13 different line combinations in 16 games, losing multiple players to injury, throughout the season.
Johnson admitted getting off to a slow start kind of set the tone for what would be a poor season.
"We weren't being smart with the football, being careless with the football, not executing the way we wanted to on offense."
Getting their full depth chart of offensive lineman back should help the Eagles, who hold the No. 12 pick in the NFL Draft.  A returning line of Johnson, Brooks, Jason Kelce, Seumalo and either Jordan Mailata or Andre Dillard might end up being one of the best in football if they can stay healthy.
"On paper its looking good," Johnson agreed. "I think Mailata last year kept progressing, Dillard kept progressing before he got hurt, that will be an interesting battle to watch. If we can stay healthy we'll be dangerous."
So should the Eagles invest on the offensive line with the pick?
"Whoever we pick, I just want a baller," Johnson laughed.
Now 31-years of age, Johnson realizes that his back is against the wall, but mentioned guys like Andrew Whitworth, Jackie Slater and others that played deeper into their 30's and into their 40s.
Johnson mentioned that Mailata and Dillard will be a fun battle to watch, and while he didn't throw his name in the hat to play left tackle, he did acknowledge that he probably would be thought of differently if he played the position.
"I feel I probably would have had a better career, I feel you get more respect at left tackle," Johnson admitted.
As for new coach Nick Siriani, Johnson said his first impressions where impressive and that said that he likes how Jalen Hurts handles himself, going back to the way he handle himself in college and how he played during his four games as the Eagles starter.
"We're hoping for the best, we're training getting ready for OTA's."
9 Notable High School Alum from South Jersey
10 Shows South Jersey TV Fans Started But Couldn't Finish