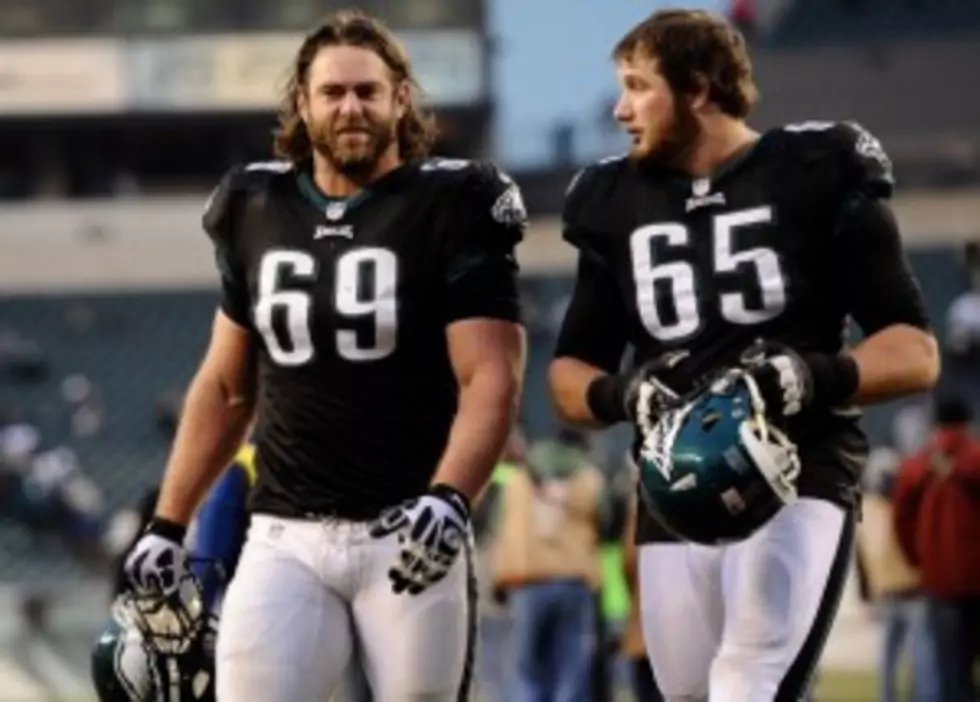 Lane Johnson's Return Should Give the Eagles Offensive Line a Boost
Lane Johnson was the Eagles' first-team right tackle in Tuesday's practice.
(Photo by Maddie Meyer/Getty Images)
The Eagles' beat-up offensive line will receive a little help this week, as Lane Johnson has been activated after serving his four-game suspension (Twitter link) and returned to practice Tuesday. To make room on the 53-man roster, the club has waived offensive lineman Kevin Graf.
Johnson was the Eagles' first-team right tackle right away during Tuesday's practice and should provide immediate help for the Eagles beat up offensive line.
"Put him in there [and] let him play," Eagles offensive coordinator Pat Shurmur said on Tuesday.  "We visited yesterday.  He came back, he's in great shape.  He kind of informed us what he was doing, because we really weren't allowed to have any contact with him.
Johnson's return allows Todd Herremans to move back to right guard.  However, the Eagles will still be without center Jason Kelce and left guard Evan Mathis.  Which means more of David Molk and Matt Tobin for the foreseeable future - even though Shurmur sounded non-committal to either.
"We'll see," Shurmur stated.  "You guys will check it out.  Lane will be in there at right tackle.  But we will see where it all goes from there."
As far as why the Eagles will go with Tobin over Dennis Kelly, who has more experience and filled in at right guard last week for Herremans, who played right tackle last week in place of Johnson.
"They are both steady performers," Shurmur explained.  "I think Tobin at times can be a little bit more mobile.  Kelly has kind of a bigger, broader style of play, where you know, Tobin sometimes is just a little bit more mobile.  I think they are both good NFL players.  I think what you need to keep in mind is, as we are weathering the storm, which I'll say until we get those five guys back that played all last year; so you weather the storm.  You know, like boats.  You put your bow into the waves and you go. You don't stop and sometimes you get wet while you're driving.  You just go and I think that's where we're at."
Either way getting Johnson back should help bolster a line that his giving LeSean McCoy just 2.5 yards per carry so far in 2014.