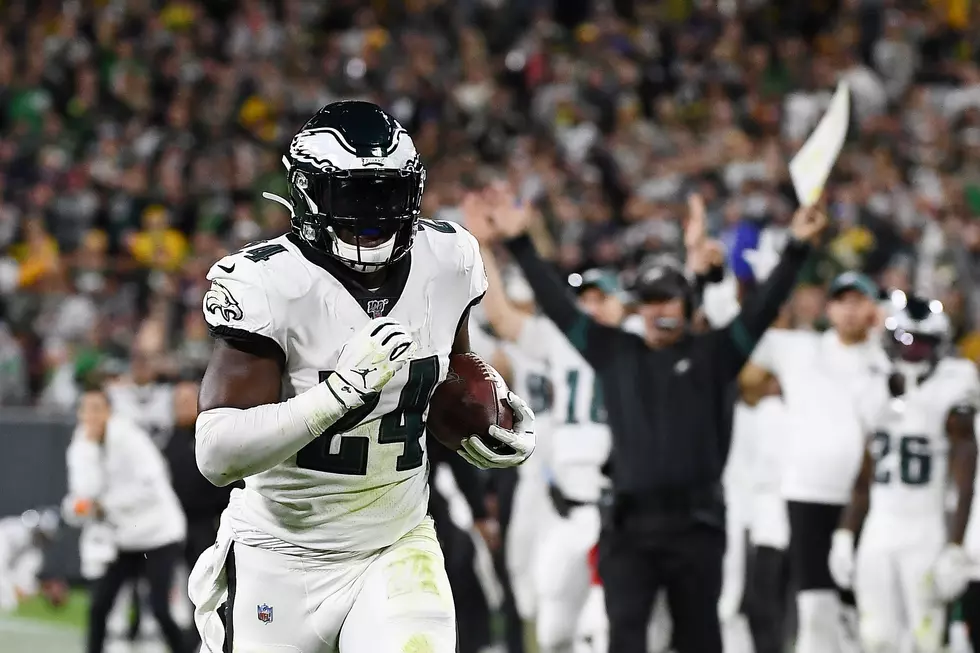 McMullen: Defined Coupling in Backfield Will Help Eagles
(Photo by Stacy Revere/Getty Images)
PHILADELPHIA (973espn.com) - With the Eagles' cleanup hitter sidelined since the early moments of a Week 2 loss in Atlanta, the coaching staff has finally figured out that a sharp single or a double down the line can help you win as well.
The baseball analogies seem apropos with Major League Baseball's postseason ongoing because Doug Pederson was caught up in the home run-or-bust mentality that has overrun football's professional cousin.
When you have a threat like Jackson perhaps that's not a bad way to think but the 32-old-speedster has been shut down since tweaking his abdomen early against the Falcons and without his presence scaring opposing defenses into keeping a safety deep, the intermediate routes -- the domain of players like Zach Ertz and Alshon Jeffery -- have become more difficult with extra traffic to deal with.
In the ensuing weeks the Eagles have had success throwing the football at times but the home run has been absent without Jackson. Pederson and offensive coordinator Mike Groh have done a nice job adjusting since Jeffery and Dallas Goedert have gotten back from calf issues. Miles Sanders has been part of that equation as well coming out of the backfield as a receiver.
The fact that Sanders was the de facto starter at RB over veteran Jordan Howard, though, was a nod toward that home-run mentality Philadelphia took into the regular season.
The Penn State rookie is undoubtedly more explosive than Howard. What he isn't, however, is more decisive running the football and instead of taking what's blocked on a particular play Sanders has too often tried to bounce things outside, going for that elusive home run. Howard, on the other hand, is as advertised from his days in Chicago, a chain-mover who is content to take what's available and wear down any defense.
Although it's probably five weeks too late Pederson has evidently recovered from his HR-itis and decided to move forward with a more defined coupling with Howard handling the majority of the work as a runner and Sanders getting the third-down passing receiving role, something actually made easier by the quad injury to Darren Sproles that will keep the veteran out for multiple weeks.
Howard started to distance himself in Green Bay with 15 carries for 87 yards and followed that up with 13 for 62 in the 31-6 win over the hapless New York Jets last Sunday. Over that two-game span the two-time 1,000-yard rusher also has four touchdowns. Overall the numbers are stark as well with Howard averaging 4.7 yards-per-rush and Sanders at only 3.6.
"I think moving forward, it's kind of going that way, but again, I can't sit here and tell you, if [RB] Miles [Sanders] has a hot hand one day that he gets more touches, but right now, that's kind of the trend," Pederson admitted on Monday.
Sanders is still very valuable, though, and has been killing it as a receiver with some big gashes, the latest of which being a beautiful 36-yard wheel route from Carson Wentz against the Jets.
Meanwhile, the Eagles next opponent, the Minnesota Vikings, have two really good linebackers who Mike Zimmer trusts -- Eric Kendricks and Anthony Barr -- and expects to handle backs in single coverage, something that should give Sanders some opportunities down the field in Minneapolis.
"We've still got a lot of season left. First of all, it's a good mix of guys, a good mix with those two guys. You're seeing Miles in the passing game be a little more explosive with some of the down-the-field throws with him," Pederson explained. "And with Jordan, he's kind of the guy that you kind of settle down in the run game and give him those touches. He's a between-the-tackles guy. He's big and powerful. He has good vision. And I really think Miles is learning from Jordan running the ball, which is a positive."
It may have taken too long for the Eagles to go down an obvious path but at least they finally uncovered it.
"I think as we go, Jordan has been the lead back the last couple of games for sure. But Miles is learning and coming, and we are really happy with both of them," Pederson said.
-John McMullen covers the Eagles and the NFL for 973espn.com. You can reach him at jmcmullen44@gmail.com or on Twitter @JFMcMullen