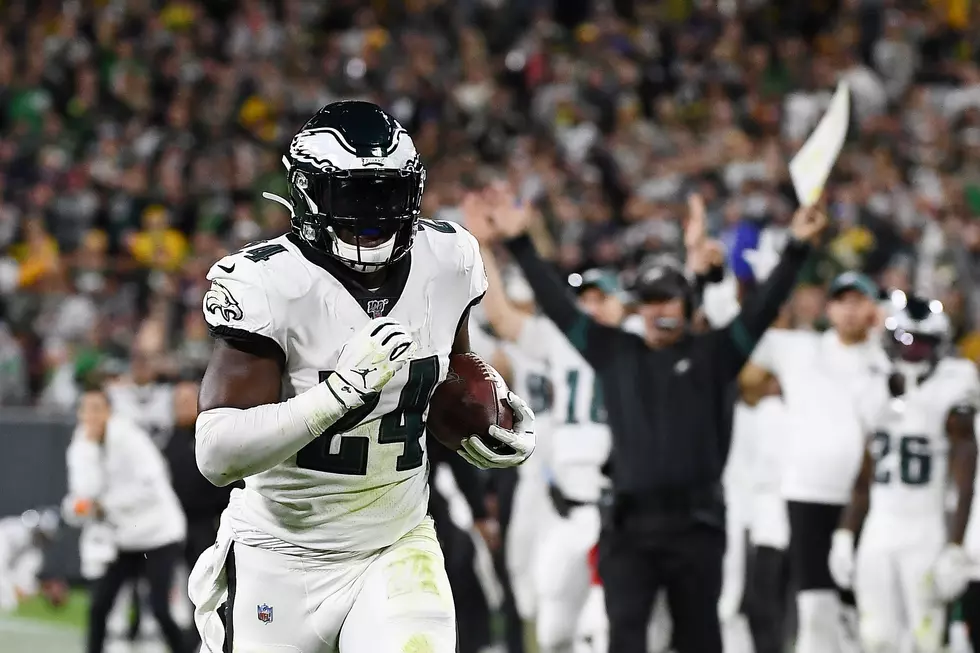 Jordan Howard Earning Role of Lead Back
Getty Images
Jordan Howard has 28 carries for 149 yards, another 28 through three catches, and four scores the past two weeks, both Eagles wins.
Its something the Eagles head coach Doug Pederson is taking notice of, and with that, you can expect to see more of Howard as the lead back in thew coming weeks.
"I think moving forward, it's kind of going that way, but again, I can't sit here and tell you, if [RB] Miles [Sanders] has a hot hand one day that he gets more touches, but right now, that's kind of the trend," Pederson explained when asked if fans can expect Howard to get a higher percentage of the carries moving forward.
The first few weeks of the season, the Eagles really didn't seem to have a lead back, and were struggling to find their footing in the run game.  However the last two weeks, both Eagles wins, the team has leaned more on the veteran Howard over rookie Miles Sanders. 
"First of all, it's a good mix of guys, a good mix with those two guys," Pederson said.  "You're seeing Miles in the passing game be a little more explosive with some of the down-the-field throws with him."
"And with Jordan, he's kind of the guy that you kind of settle down in the run game and give him those touches. He's a between-the-tackles guy. He's big and powerful. He has good vision. And I really think Miles is learning from Jordan running the ball, which is a positive."
"I think as we go, Jordan has been the lead back the last couple of games for sure. But Miles is learning and coming, and we are really happy with both of them."
You can expect to see even more of Howard with veteran Darren Sproles out the next few weeks with a quad injury, and he's already out-touched Sanders 31-25 the past two weeks.
Just as importantly, Howard hasn't fumbled, something Sanders has done twice already this season, both in the loss to Detroit in Week 3.
Of course, truly establishing the run will mean continuing that success Sunday against the Minnesota Vikings, who have one of the best run defenses in the league.
"I looked at it this morning. I was very impressed with Minnesota's defensive line. They got off the ball extremely fast," Pederson said of the Vikings defense.