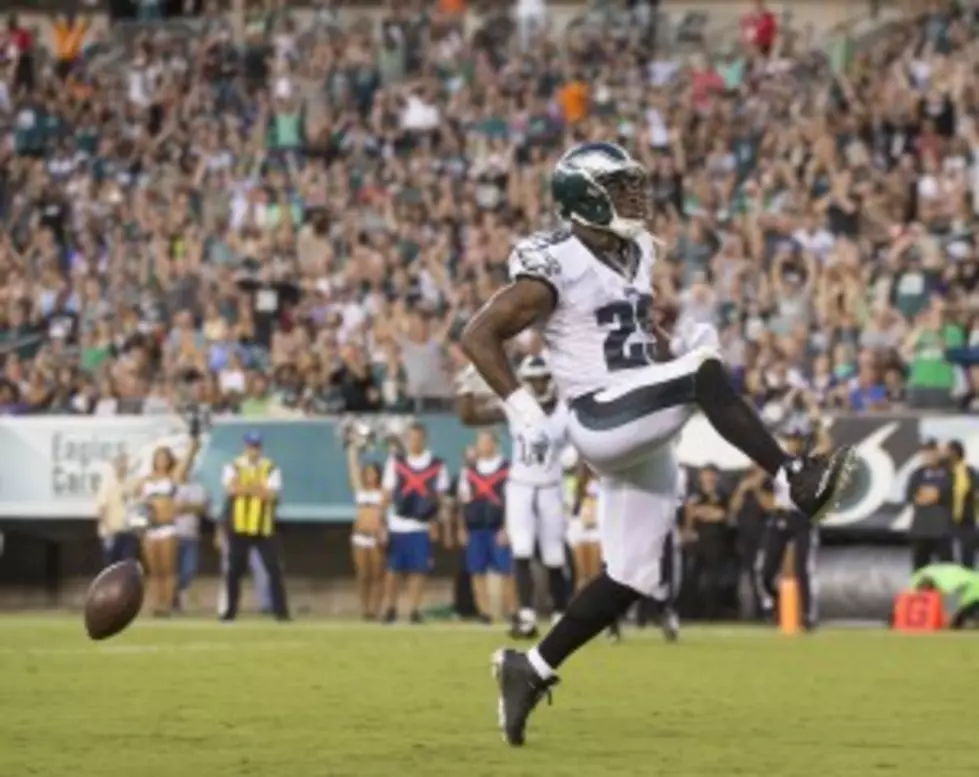 McMullen's Quick Hits: Eagles-Ravens Edition
Making his preseason debut, DeMarco Murray rushed five times for 17 yards and a touchdown in Saturday's game against the Ravens. (Photo by Mitchell Leff/Getty Images)
PHILADELPHIA - You wanted a live pass rush?  You got it.
The Philadelphia Eagles dominated their second straight preseason game over the span of six days, topping the Baltimore Ravens, 40-17, at Lincoln Financial Field but that was hardly the real story.
The oft-injured Sam Bradford finally took off the red jersey and the intimidating Terrell Suggs tested him immediately with a borderline shot at his surgically-repaired left knee five plays into the game. The quarterback, who is attempting to return from consecutive ACL injuries, was visibly shaken but was able to weather the hit, which drew a personal-foul flag, and responded by completing three of five passes for 35 yards on a 12-play, 84-yard scoring drive that was punctuated by a 14-yard Ryan Mathews touchdown run.
Along the way Bradford, who was last on an NFL field 364 days ago, was also tattooed legally by 335-pound Baltimore nose tackle Brandon Williams, who slammed the former Rams starter to the turf and had him flexing his jaw as he tried to shake it off.
If Bradford is able to play all 16 games this season, he might not take two tougher shots that he did in the 12 plays he was on the field tonight.
"If you want to run the read option with your starting quarterback that's had two knee surgeries, that's on you," an unrepentant Suggs said. "That's not my responsibility to update you on the rule."
The former No. 1 overall pick connected on a key 12-yard pass to Darren Sproles on his lone drive; and also hooked up with slot star Jordan Matthews for 15 yards on 3rd-and-5 from the Baltimore 29.
""He did get a couple hits. No worse for the wear. Good step for him," Eagles coach Chip Kelly said. "I thought he looked good for his first time out there."
Backup Mark Sanchez took over the Eagles for the second series of the night and took advantage of a short field created by a Byron Maxwell interception of an overthrown Joe Flacco pass. Philadelphia's other new offensive star, running back DeMarco Murray, scored on a 2-yard TD run to give the Eagles an early 14-0 lead.
SAM I AM: Some local observers went a tad overboard by calling this the most important preseason game in Eagles history because Kelly is now wed to the Bradford experiment. Two things, though, there is no such thing as an important preseason encounter, and this is a marathon not a sprint. Only Captain Hindsight will be able to tell you whether Chip made the proper move by sticking his neck out for Bradford and it will take him until January to do it.
Even if Bradford was lights out against Baltimore, it wasn't going to tell you much because Dean Pees isn't game-planning for him and that's not going to be the case on Sept. 14 in Atlanta. This was important for one reason and one reason only, the mental hump Bradford had to get over. Anyone who has had an ACL injury -- from a starting NFL quarterback to a weekend warrior hurt in a pick-up basketball game -- is going to be a little shaky coming back from such a painful surgery and Bradford went through it two years in a row prompting at least some thought of retirement. He needed to see a live rush and understand the knee was going to hold up.
Mission accomplished in that limited sense.
GUARD-ING SAM: Andrew Gardner has been entrenched at right guard over the past week with John Moffitt trying to shake the rust off from a two-year sabbatical to push him. You can forget about Matt Tobin and Julian Vandervelde, who are cross-training to be potential game-day backups.
Gardner played every snap with the No. 1s again and even got some extra reps with the second-team, making him more than the odds on favorite to begin the season as the starter. A miscommunication between Gardner and Jason Kelce contributed to Williams getting his clean shot on Bradford so the chemistry still needs work. Moffitt, though, struggled even more and really isn't close at this stage.
A DUCK IN WATER: Two games, two punt-return TDs for backup running back Kenjon Barner, who is fighting for a roster spot as the fourth running back and backup returner to Josh Huff on kickoffs and Sproles on punts. At this rate Kelly may want to start thinking about keeping Barner, one of the many ex-Oregon players on this roster, as the all-emcompassing returner and let Huff and Sproles concentrate on their offensive duties.
And speaking of Huff at receiver, can we please stop pretending he is ahead of talented rookie Nelson Agholor?
ANYONE HAVE A NICKEL?: Bill Davis' Friday news dump about Nolan Carroll beginning to gets reps inside at the slot position next week is a clear indication the youngsters vying for the spot haven't impressed. Rookie second-round pick Eric Rowe clearly isn't comfortable inside just yet and Jaylen Watkins has been lost in run support to this point. Starting safety Malcolm Jenkins talked about getting the best five defensive backs on the field in obvious passing situations and that's shaping up as Carroll kicking inside with Rowe entering on the outside opposite Maxwell at corner, and Jenkins and Walter Thurmond handling the safety spots as interchangeable pieces.
DON'T DOUBT DEMARCO: All the hand-wringing over how the Eagles have handled DeMarco Murray to this point should subside. The All-Pro looked razor-sharp in his cameo appearance, rushing five times for 17 yards and a TD, and adding a reception for another 14. His body looked very live and  none the worse for wear after 497 touches in Dallas last season.
SAFETY NET: Ed Reynolds was the star last Saturday but his week wasn't as productive as Davis mentioned Chris Maragos and Chris Prosinski as the guys making the biggest push to be the backups behind Jenkins and Thurmond. With Earl Wolff officially done, it's time for Reynolds or second-year man Jerome Couplin to step up and give the team a desirable option. Reynolds was a bit late on a fourth quarter Daniel Brown TD reception although CB Marc Anthony was in position to break things up. Reynolds also dropped a potential INT in the waning moments on a tipped ball. Couplin, meanwhile, is back after an appendectomy and showed some physicality but he's missed a lot of time.
SHOWCASE: Kelly's constant fawning over Tim Tebow foreshadows the better quarterback, Matt Barkley, isn't in line for the third-spot but the Eagles want something in return for the former Southern California star. Another solid outing would have helped that possibility immensely but Barkley took a step back with his ball placement in the third quarter, finishing 6-of-14 for 86 yards. He did, however lead the team to a pair of field goals so there's that.
Tebow, meanwhile, ignited the crowd with a 26-yard, fourth quarter run on a read-option play and nearly had a 4-yard TD run but it was overturned on review. The bad news is Tebow continues to miss open receivers and has a tough time pulling the trigger. And getting rid of the football quickly is supposed to be a staple of Kelly's offense. He finished just 1-for-4 passing for 8 yards passing and an additional 31 yards on the ground in three attempts.
VINNY'S EXCELLENT ADVENTURE: Whether it's a two- or three-week injury, Marcus Smith's latest hamsting issue has sped up Vinny Curry's move toward outside linebacker. The defensive end was getting looks there anyway with the intent of getting his pass-rush ability on the field more often but he's now in play for the role Brandon Graham had last season as the guy who spelled Connor Barwin and Trent Cole.
The most obvious tact is playing to Curry's strength and letting him pin his ears back and head toward the passer with only the occasional zone drop. You can guess opposing offensive coordinators will try to get the big man out in space, however, and it's dicey thinking of Curry chasing a running back in the flat or downfield on something like a wheel route. It didn't happen tonight but Davis is aware of the possibility.
"It's the dropping part that gets you," the defensive coordinator admitted. "Vinny is so explosive. Vinny has a great feel. That's what great pass rushers do."
-John McMullen covers the Eagles and the NFL for 973ESPN.com. You can reach him at jmcmullen@phanaticmag.com or on Twitter @JFMcMullen