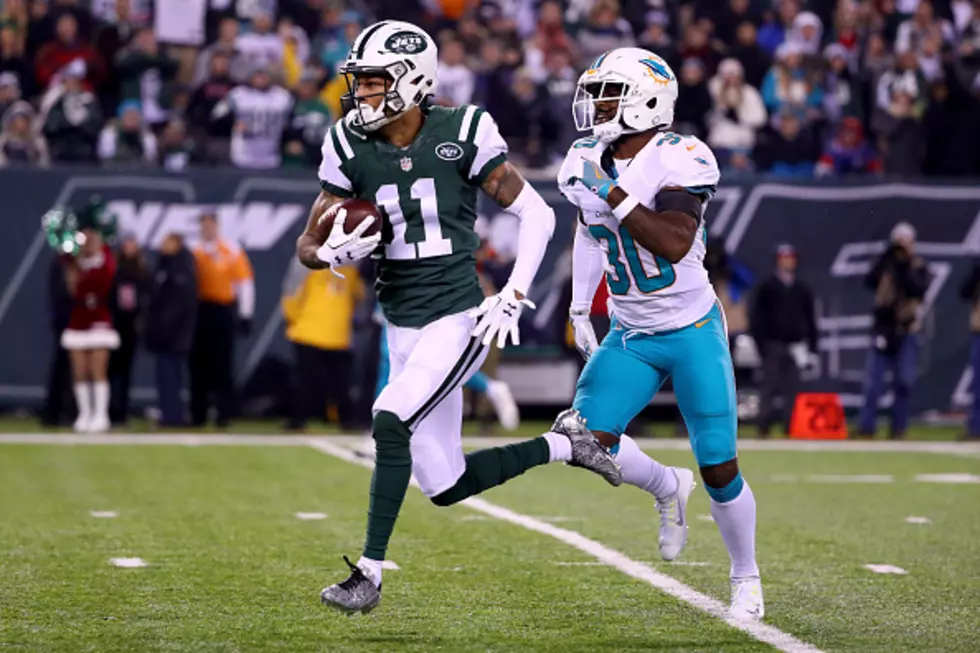 New source of speed could be available
Getty Images
Doug Pederson and Carson Wentz will say they can make plays down the field even without DeSean Jackson in the lineup.
In the past, they would be right.
Alshon Jeffery, Nelson Agholor, and JJ Arcega-Whiteside (at the collegiate level) have been able to to find success making big plays on the deep ball over the years.
That hasn't been the case in 2019.
The only receiver who can make these plays with speed in Agholor, hasn't been a factor due to his significant regression.
With the week by week timetable of Jackson, Philadelphia needs to look outside the organization for speed.
The New York Jets might be offering it up at the right price.
A year ago, the Eagles front office offered New York a trade for WR Robby Anderson at the trade deadline.
Anderson is a 26-year old deep threat that would be the solution to a problem that has held the offense back for two years now.
The Jets weren't interested in moving Sam Darnold's only legitimate passing threat.
A year later, with a new regime in place, and Anderson's pending free agency, he might be available for the right price.
While Jets GM Joe Douglas could decide to try and sign Anderson to a contract extension, say for the hypothetical's sake that he is available for trade.
Does Philadelphia's front office still think it is worth giving up a decent draft pick for a potential rental at 3-4?
It could depend on the result of Sunday's game against the Buffalo Bills.
After a win in London over the Jacksonville Jaguars last year to get to 4-4, Roseman traded a 3rd round pick to the Detroit Lions for WR Golden Tate.
Roseman has made these aggressive moves to acquire proven talent over the last three seasons to maximize a championship window.
Trading for Anderson would reflect that formula, but it also could make sense as a move for the future.
A 26-year old deep threat is valuable not only for 2019, but if the Eagles could extend Anderson, he could be a go-to target on offense for years to come.
If the asking price is a 2nd round pick with the WR market inflated thanks to Tuesday trades (Patriots trade a 2nd round pick for Falcons WR Mohammed Sanu and San Francisco traded a 3rd and 4th round pick for Broncos WR Emmanuel Sanders), an extension would likely need to happen.
Even if the Eagles can't strike a deal, giving up a 3rd or 4th round pick still makes some sense.
After all, the Eagles do have two of each.
Philadelphia has 10 draft picks in 2020 including six in the first four rounds.
Giving up one or two of the picks would help save the 2019 season.
Not to mention a compensatory pick could be recouped in the offseason if Anderson signed a lucrative deal with another team.
Roseman was interested last year. Lets see if he calls up his old partner to rekinddle the Anderson flames.
Follow Louie on Twitter- @DiBiaseLOE