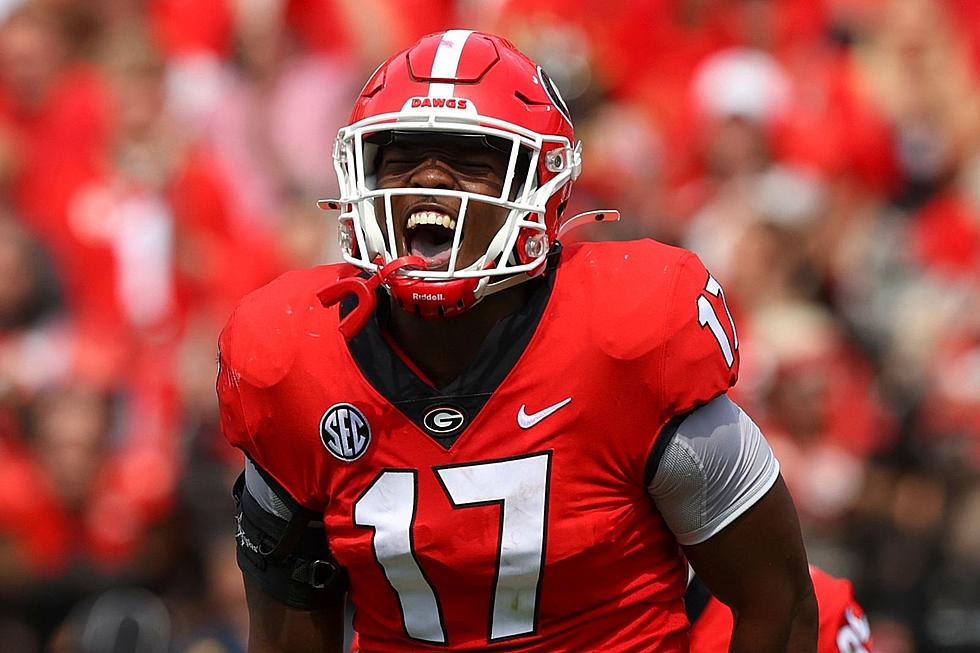 NFL Draft Prospects for Eagles to watch in CFB Championship Game
(Photo by Todd Kirkland/Getty Images)
With the Philadelphia Eagles holding three draft picks in the first round of the 2022 NFL Draft, Monday Night will be an important night for their scouts. The College Football National Championship game between the Alabama Crimson Tide and the Georgia Bulldogs features many NFL Draft Prospects for NFL teams and their fans to see in the final game of the College Football season.
CBS Sports HQ NFL and College Football Analyst Emory Hunt joined Josh Hennig this past Saturday on 973 ESPN FM and talked about the prospects playing in the College Football National Championship Game that should be targeted by the Eagles:
"Well, you can just watch the entire (College Football National Championship) Game and see all draft prospects on both (teams) and both sides of the ball. One guy in particular that I am intrigued by and I really like....Philadelphia (Eagles) fans should keep an eye on him, as someone who can help (the Eagles) out: Nakobe Dean, the Linebacker for Georgia is someone that I would take with one of the three first-round picks the Eagles have."
Nakobe Dean is the 2021 Butkus Award Winner (awarded to the best Linebacker in the country) and was a semi-finalist the season before along with winning the 2018 High School Butkus Award as the nation's top High School linebacker.
Emory Hunt elaborated on what makes Nakobe Dean a special NFL Draft Prospect that the Eagles should target in the 2022 NFL Draft:
"Dean is an extremely smart football player and extremely smart person as a whole; So when you have a smart football player combined with the athletic traits that he has, he is tremendous (at Linebacker). And this is someone that really can play on both ends on defense: Stopping the Run but also in coverage he makes a lot of plays out there."
Another Georgia player to watch on Monday Night is Wide Receiver George Pickens, who just recently returned to play after suffering a torn ACL. Before injuring his knee, Pickens had 85 Catches and 14 Receiving Touchdowns in 20 games. CBS Sports HQ Football Analyst Emory Hunt spoke to 973 ESPN about Pickens for the Eagles:
"Considering what the depth is right now with the Eagles (at Wide Receiver): George Pickens, maybe in the second round, a big Wide Receiver that doesn't mind going up and getting the football, he'd be a nice Eagles (draft) selection."
The final player to watch in Monday Night's College Football National Championship Game is Georgia Running Back Zamir White. Listed at 6'0" and 215 pounds, White is Georgia's power back who has been top ten in the SEC in Rushing Yards and Rushing Touchdowns each of the last two seasons. White has 21 Rushing touchdowns in his last 24 games played. Emory Hunt spoke to 973 ESPN's Josh Hennig about why the player nicknamed "Zeus" should be looked at by the Eagles:
"Later in the draft - (Georgia Running Back) Zamir White, he runs extremely hard, he is physical, the Eagles right now need another bruiser outside of Jordan Howard, if they decide to bring Howard back (next year). Someone like Zamir White would be an ideal fit with this Eagles Run Game."
You can hear the College Football Playoff National Championship Game on Monday Night on 973 ESPN FM, pregame coverage begins at 7pm and you can all hear all three days of the 2022 NFL Draft on 973 ESPN Thurday April 28 through Saturday April 30th.
Top 10 Rushers in Eagles History