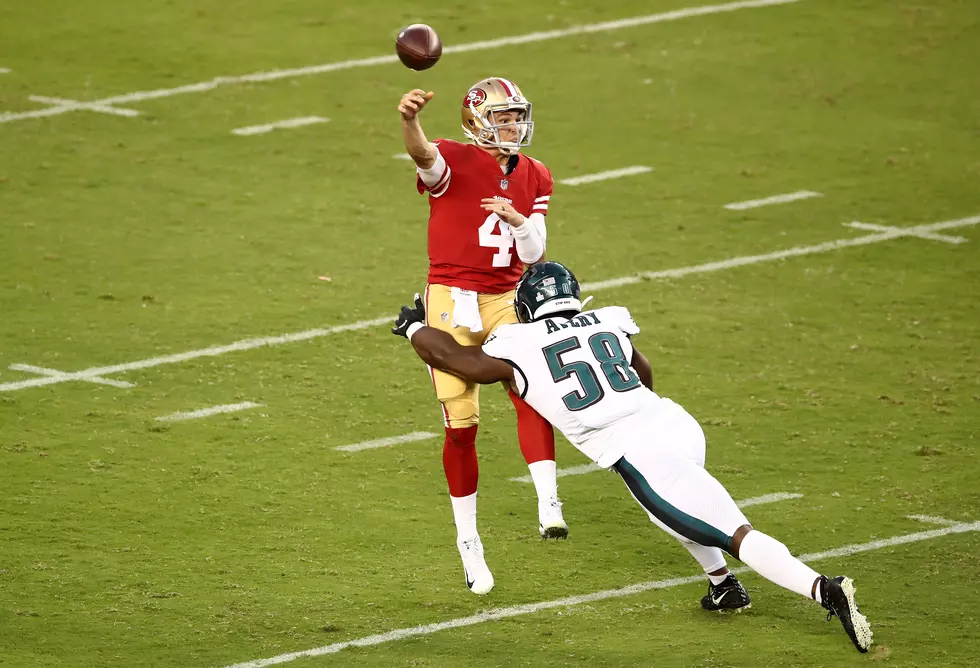 Nick Mullens, Sean Mannion No. 3 QB Options
Ezra Shaw/Getty Images
The Eagles' are search for a No. 3 quarterback, following the release of undrafted rookie free agent Jamie Newman on Wednesday, was among the topics discussed when Eagles insider Adam Caplan from the Inside the Birds Podcast joined The Sports Bash for Football at Four on Thursday.
When asked about what the options are for filling that role with a veteran, Caplan mention two names to keep an eye on.
"The guys to keep an eye on, all fit they west coast offense," said Caplan. "Sean Mannion, who was drafted by the Rams, that's one guy.  Nick Mullens, who played against the Eagles last year when the Eagles went to Santa Clara. played in a west coast offense".
"Those are two guys to keep an eye on."
Mannion played in Minnesota last season as a backup to Kirk Cousins, but did not appear in a game.  He started in one game in 2019 in Minnesota after appearing in 10 games with the Rams from 2015-2018.
As for Mullens, Eagles fans should be familiar with him. He completed 18-of-26 passes for 200 yards, a touchdown, and an interception in the 49ers' Week 4 loss to the Eagles during the 2020 season. He was replaced by C.J. Beathard, who came in and nearly led the 49ers to a comeback win.
"Mullens has decent starting experience because of Jimmy Garoppolo's injury," Caplan added.
Mullens started eight games in all during the 2020 season, throwing for 2,436 yards, 12 touchdowns and 12 interceptions. He has started 16 games since entering the league in 2017 out of Southern Mississippi.
"They are definitely adding a quarterback, these are two I was told to keep an eye on," Caplan explained.
The video below includes additional thoughts from Caplan about what the Eagles offseason, during his recent appearance on Football at Four on The Sports Bash.
The Top 10 WORST Jobs In America