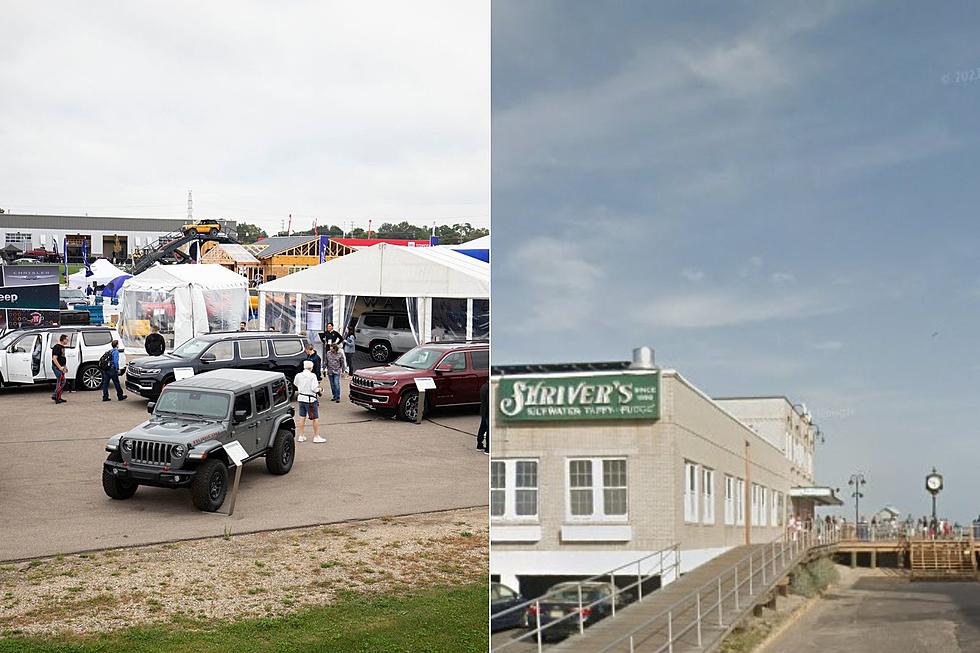 Ocean City, NJ Fall Jeep Invasion Postponed to new date
Jeeps Covnention Photo by Bill Pugliano/Getty Images and Ocean City 9th Street Boardwalk Photo from Google Maps
Due to the impact of Tropical Storm Ophelia, the Fall New Jersey Jeep Invasion has been postponed from Saturday, September 23rd and has received a new date for the event on the Ocean City Boardwalk.
Ocean City Mayor Jay Gillian announced over the weekend that the previously scheduled Fall NJ Jeep Invasion has been postponed to Sunday October 15th.  The original plans for this year's Fall Jeep Invasion of the Ocean City Boardwalk was for Saturday September 23rd featuring 400 Jeeps displayed on the boardwalk.  Despite the rescheduling, the event plans will still include a parade in the morning to bring the Jeeps up to the boardwalk where they will be on display in lines stretching from 14th Street to 5th street, allowing all visitors to still roam the boards and visit local businesses.  The Jeeps will be on display from 1230 pm to 5 pm and there will be trophies awarded by judges for different categories.
The original New Jersey Jeep invasion started in Ocean City a decade ago as a Jeep Showcase and Charity Event with 200 Jeeps parading on the boardwalk before being displayed on the beach.  After a couple of years in Ocean City, the Jeep Invasion grew to over 400 Jeeps and moved to Wildwood for 2015's event which had 800 Jeeps on the beach.  This year's New Jersey Jeep Invasion in Wildwood was a 3-day event with over a thousand Jeeps on display. The popularity of these events has opened the door for the Fall New Jersey Jeep Invasion to come back to the Ocean City Boardwalk where it all began.
For more information about the New Jersey Jeep Invasion events, you can visit their website here.
Here's What Makes Ocean City So Special
You told us about the place or thing that makes Ocean City, NJ special to you