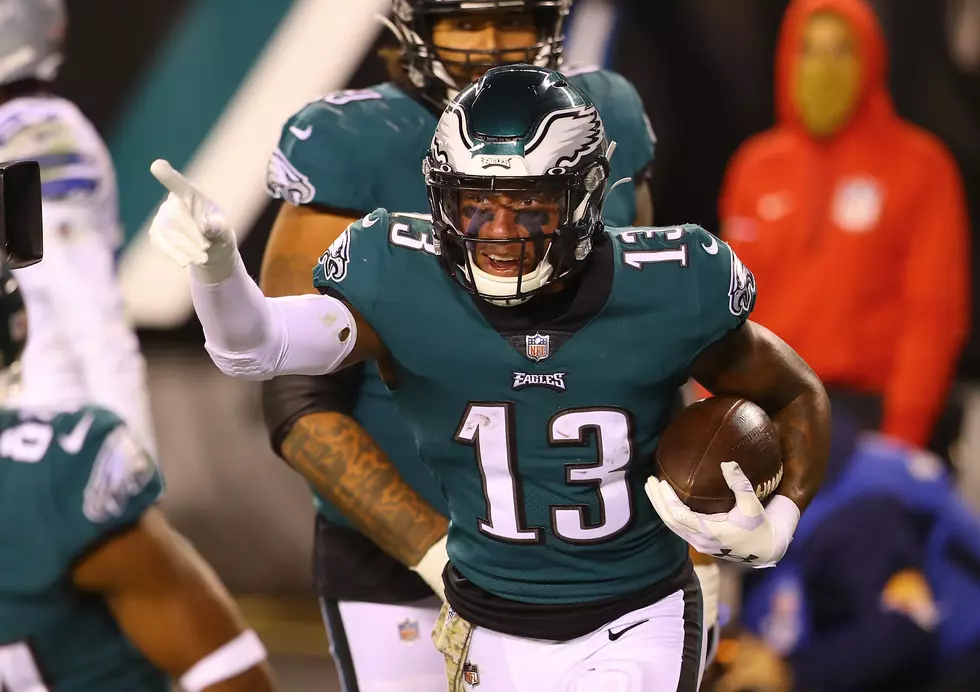 Pair of Eagles WR Not Worried About Offense in 2021
Getty Images
The Eagles will release Alshon Jeffery when the new league year begins, and DeSean Jackson will be following him out the Nova Care Complex doors.
But a pair of young receivers are here to let you know that Eagles fans shouldn't be worried about what the offense will look like in 2021.
Travis Fulgham took to social media on Friday and proclaimed that he was not worried about the Eagles offense AT ALL.
Teammate Jalen Reagor, the teams first-round draft pick in 2020 responded - AT ALL.
Sounds like he agrees.
So are they right?
Tough to say, but they could be, if a variety of things go there way.
First, the teams offensive line needs to get and stay healthy in 2021.  After a season that saw them roll out 13 different line combinations in 16 games, a healthy line could go a long way in fixing some of the offensive issues.
Secondly would be getting more consistent quarterback play.  With Carson Wentz gone, the team could turn to second-year player Jalen Hurts, a veteran free-agent or even draft a quarterback with the No. 6 pick or trade up get one.
Reagor had a rough rookie season, dealing with a variety of injuries, that limited him to just 31 catches for 396 yards and one touchdown.  Fulgham was hot-and-cold, with 435 yards and four touchdowns in five games, but was essentially out of the offense after that stretch of games.
Fulgham finished the season catching just nine passes over the final eight games, but still led the team with 539 yards, hauling in 38 balls and four scores.
There were reports that former Eagles head coach Doug Pederson was concerned about Fulgham's "work habits" last season.
A fresh start could help Fulgham regain some of that magic, and hopefully Reagor can stay healthy in 2021 and new head coach Nick Sirianni has some creative ways to get him involved in the Eagles offense.
Eagles QBs Drafted Outisde Of The First Round Since 2000