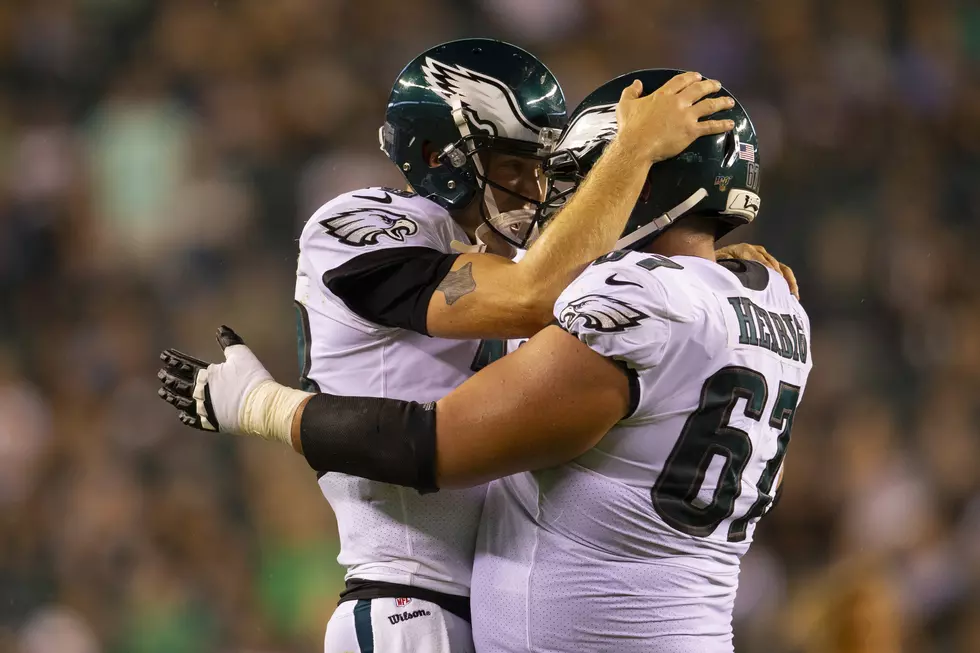 Pederson Announces Nate Herbig will Start at Right Guard vs Rams
Getty Images
On Friday, Eagles head coach Doug Pederson announced that Second-year player Nate Herbig will start at right guard for the Eagles in their Week 2 matchup with the Rams on Sunday.
"We are still obviously planning on going forward with [C/G] Nate Herbig, and he had a great week of practice," announced Pederson on Friday. "This is two weeks back-to-back now that he's gotten the bulk of the work, so he'll go in as our starter at right guard."
Enter your number to get our free mobile app
And given the fact that it's Herbig and not Matt Pryor who will be getting the nod, it would appear the Eagles feel more comfortable that Herbig can handle the Rams dynamic duo of Aaron Donald and Michael Brokers.
"Nate Herbig, who never played an NFL game before, did just fine," said NFL Network analyst Brian Baldinger on The Sports Bash on Wednesday.
"There was a lot of other issues."
Baldinger said while the team gave up eight sacks against the Eagles last Sunday, he said it was more scheme issues, than players like Herbig and rookie Jack Driscoll getting beat up front.
"One-on-one pass blocking wasn't the issue," Baldinger explained.  "Everything else was the issue. The scheme. Holding the ball to long. Dropping back 50 times. They were eight deep on the defensive line, they were fresh and got a lot of chances to rush the quarterback."
(Brain Baldinger from Compass Media breaks down the Eagles Line issues vs Washington on The Sports Bash)
Pederson was willing to offer that Pryor was doing a a great job and is currently learning multiple roles.
"Well, Matt's done a great job. It's not that he isn't," Pederson explained. "I just think it's Nate's opportunity to roll right now, and one of the things that Matt's also doing is he's helping us at a couple of the tackle spots, too, with Jordan Mailata, and obviously Jack Driscoll being in there, as well. He's learning multiple roles and he's done a good job. I just think that at this particular time and where we are, Nate has earned the spot."
Meanwhile, Herbig and the rest of the Eagles offensive line will have to figure out a way to slow down Donald, who was a major force on Sunday night against the Cowboys.
"if you don't game plan Aaron Donald every play. he'l ruin the play," Baldinger said. "What he did to the Cowboys, I've never seen a player do before. it was just a complete wrecking ball. he wants to be the defensive player of the year, the player of the year, the best that's ever played and that's how he played on Sunday night.
Donald is entering his seventh season since the Rams chose him with the 13th overall pick of the 2014 draft. However in three career games against the Eagles, he hasn't made much of an impact, making just five total tackles and no sacks.
If the Eagles can figure out a way to slow him down again, they have a good chance to win the game on Sunday.
KEEP READING: Eagles Quarterbacks With the Most Wins Since 1980