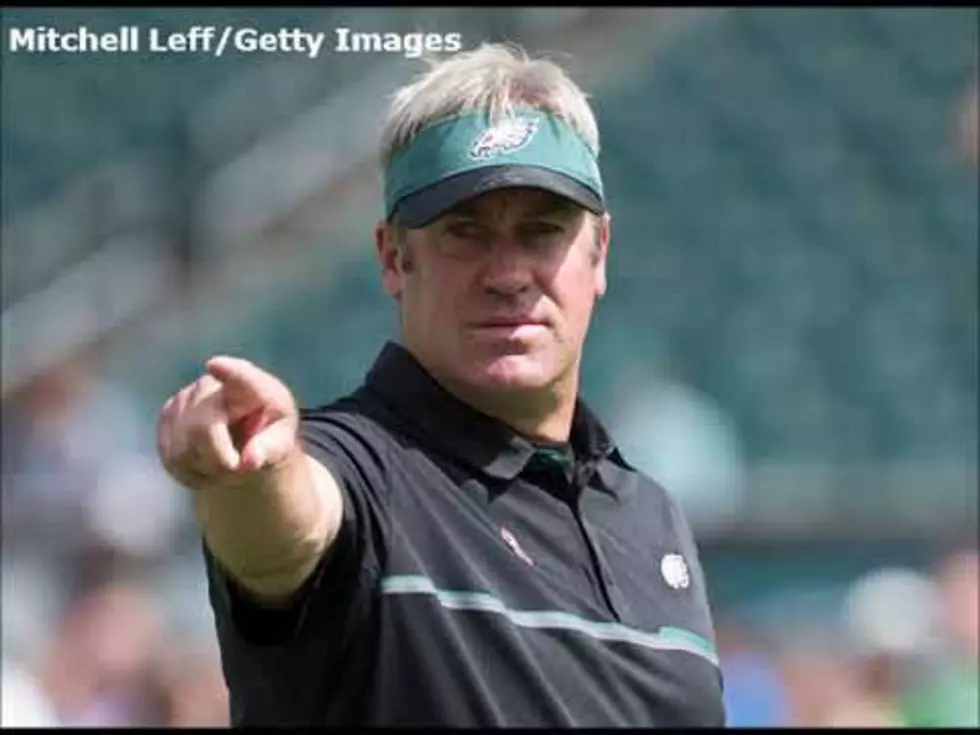 Pederson: "I've Got a lot of Confidence in the Run Game"
Mitchell Leff, Getty Images
Last season the Eagles ran the ball 473 times for 2115 yards, third best in the league, en route to a 13-3 season.  The team averaged 135 yards per game and 4.5 yard per carry.
But these days, they're struggling to get a ground game going, with 180 carries for 720 yards, 18th best in the league, that's just 102 yards per game a 4.0 yards per carry.
They essentially abandoned the entire run game with the team up 17-0 in the fourth quarter of the their loss to the Panthers, running just one time in the final quarter of the game, a QB sneak from Carson Wentz.
So the question is, does Doug Pederson trust the run game this season?
"I'm trusting it, I'm trusting it," Pederson said when asked if he was fully trusting the ground game.
However a 17-3 second-half lead in Tennessee evaporated into a 26-23 loss, this week it was a 17-0 fourth quarter lead that evaporated into a 24-17 home loss to the Panthers.
The Eagles simply have yet to sustain a strong running game through six games. The running back tandem of Wendell Smallwood and Corey Clement, have rushed for a combined 394 yards on 98 total carries.
So does Pederson think they have the personnel to grind out a game?
"Yes, we do. We do," Pederson said.
The Eagles previously had a workhorse, LeGarrette Blount averaged 4.4 yards per carry. The rushing attack has been abandoned at times, with Blount and Jay Ajayi gone, and fellow running back Darren Sproles still sidelined, the Eagles have become very one-dimensional.
"It's not that I lose confidence in the run game," Pedeson explained. "It's not that at all. I got a lot of confidence in the run game. We all have confidence in that O-line room. Those guys are good, really good, and they're talented and the [running] backs are talented."
"It's still an aggressive mentality when I run, and it's still an aggressive mentality when I throw. It's always going to maintain that. We're always going to maintain that aggressiveness. I have no lack of confidence whatsoever in our run game."
The focus of this offense remains the 25-year-old Carson Wentz, who completed 30-of-37 passes for 310 yards and two touchdowns in the Eagles' Week 7 loss to the Panthers.
On the season, Wentz has 1,502 yards and 10 touchdowns in five games.  He has registered his three games with 300 or more yards passing and just one interception. In the five games he has started, he is averaging 39 passes per game, and the team is rushing 25 times per game in the five games he ha started.
So should you expect to see Pederson start to run the ball more?.
"Now you're getting into game plan stuff. You're getting into scheme. You guys aren't in there watching the tape like we are for 18 hours a day and putting game plans together. It's easy to sit in a press box and say, "They should run the ball." Come down and stand on the sideline with me and make decisions. I should run it here, I should pass it here, let's throw a screen here, let's get the quarterback out of the pocket right here. No, there's 15 seconds left on the clock.
"Until you're down there with me on the sideline making in-game decisions, then I guess you can ask all you want."
Maybe I'm not down on the sidelines, but this I know, the Eagles are 3-0 when they run the ball 25 times or more, they are 0-4 when they run less then 25 times.