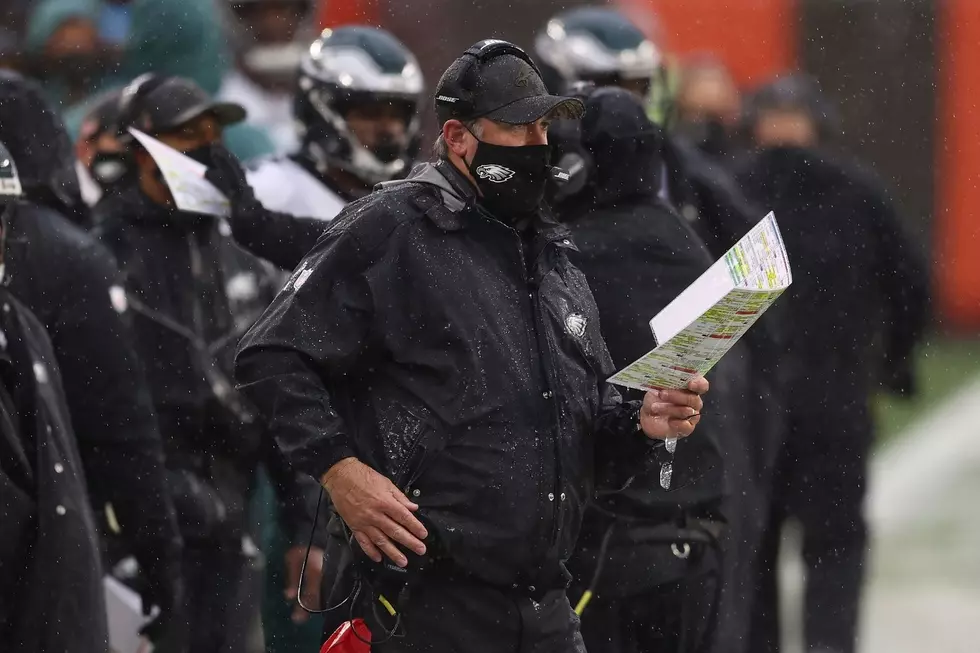 Pederson on Giving up Play Calling: 'It's Definitely on the Table'
(Photo by Gregory Shamus/Getty Images)
The Eagles 2020 season as been a disaster in so many ways.
Carson Wentz has been a major disappointment, the offensive line has had a ton of injuries and head coach Doug Pederson has had plenty of head scratching moments.
Pederson's offense has been offensive, scoring just 17-points per game during their recent 3-game losing streak.  That ineptitude has had many calling for Pederson to relinquish the play calling duty to see if it can give the offense a spark over the final month of the season.
"I take pride in play calling and I look at everything," Pederson said on Tuesday. "I got to take everything into consideration. If I feel like I get stuck or in a rut, I definitely would consider giving that up."
"So, it's definitely on the table. I wouldn't say that's off the table. But that's also part of sparking the offense and maybe seeing the offense through somebody else's eyes."
It's really the first time we have heard Pederson even consider giving up the play-calling, even though the team ranks 25th in scoring (21.5), 28th in total yards per game (322.8), and has the third most turnovers in football with 21.
So if something doesn't change, would the Eagles consider making a change?
On Monday's edition of the Sports Bash, ESPN's Sal Paolantonio suggested the Pederson would not survive a three-or-four win season.
"After that game, you have to put Pederson, Howie Roseman and other people under scrutiny," Clayton added.
The decision to fire Pederson would be a controversial one, he has made the playoffs in three of his previous four season, and won the franchises only Super Bowl.  He carries a record of 41-33-1, including 4-2 in the playoffs.
"I've been around this league a long time, 25 years I believe as a player and a coach, and we're always based on and evaluated on our performance."
"Right now, that's obviously not my concern as far as that decision goes. That's out of my hands. But what's in my hands and in my control is getting the team prepared and ready for Green Bay this weekend."
"So, I'm not going there mentally. I'm looking forward to playing again this week, getting back on the grass tomorrow with the players, and getting ready for Green Bay."
Enter your number to get our free mobile app
Eagles Head Coaching Wins All-Time