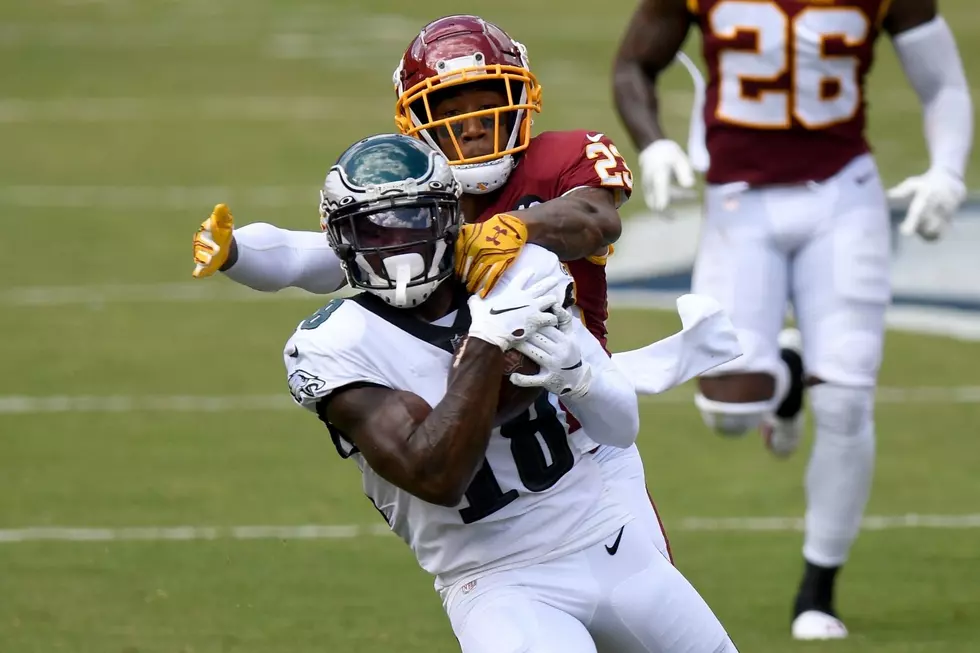 PFF: Philadelphia Eagles' WR Group has 'Plenty of Room to Improve'
(Photo by Greg Fiume/Getty Images)
The Philadelphia Eagles wide receiver room has plenty of high draft picks.  DeVonta Smith and Jalen Reagor are both first-round picks and J.J. Arcega-Whiteside was selected in round two. While the Eagles wide receiving group didn't rank well by Pro Football Focus', the website said the team's group has 'plenty of room to improve'.
PFF ranked the Eagles' wide receivers collectively as No. 30 in the league, with only Detroit and Houston ranking lower.
For Philadelphia, the addition of No. 10 overall pick DeVonta Smith made waves.  The team hopes to pair their pair of first-round picks, giving more passing weapons for quarterback Jalen Hurts.
Reagor graded at 64.0 overall as a rookie in 2020, picking up 396 yards on 31 catches. It was a slow start, but he has the explosiveness to develop as an outside vertical threat. Smith is a better all-around receiver, and that was on display in one of the best seasons in college football history. He can separate to all levels of the field and is dangerous with the ball in his hands, so look for Smith to develop as the high-volume threat in this offense.
PFF believes Travis Fulgham was a bright spot last season, leading the team with 539 yards and for a four-week stretch he was one of the top wide receivers in football, before falling out of the wide receiver rotation.
One of the bright sides of last season's struggles was the emergence of Travis Fulgham, who had bounced around with several teams before posting an impressive 71.2 overall grade and leading the Eagles with 539 receiving yards.
Both Arcega-Whitreside has struggled to make an impact on the field through two pro seasons, Greg Ward has been a solid find in the slot for the team the past two seasons and 2020 fifth-round pick John Hightower has deep-threat potential.
Beyond that top three, Greg Ward may have a role in the possession game, as he's averaged 8.3 yards per reception in his career. J.J. Arcega-Whiteside has disappointed as a former second-rounder with just 26 career targets. And 2020 fifth-rounder John Hightower adds another speed component.
PFF noted that the Eagles' utilization of tight ends has been been a big boost to the passing game, noting the Dallas Goedert could be a No. 1 option, likely replacing Zach Ertz.
At tight end, Dallas Goedert showed that he's the No. 1 option going forward after grading at 79.5 overall, sixth-best among tight ends. He's one of the league's best all-around tight ends — he and George Kittle are the only two tight ends to grade at 80.0-plus both as receivers and as run blockers. Zach Ertz remains on the roster for now, but he's on the trading block after a career-low 57.3 overall Grade.
Inside the NFC East, the Dallas Cowboys came in at No. 2, followed by the New York Giants at No. 11 and the Washington Football Team at No. 19.
South Jersey Things That Aren't There Anymore
Queen Nefertiti: South Jersey's Most Unique AirBnb