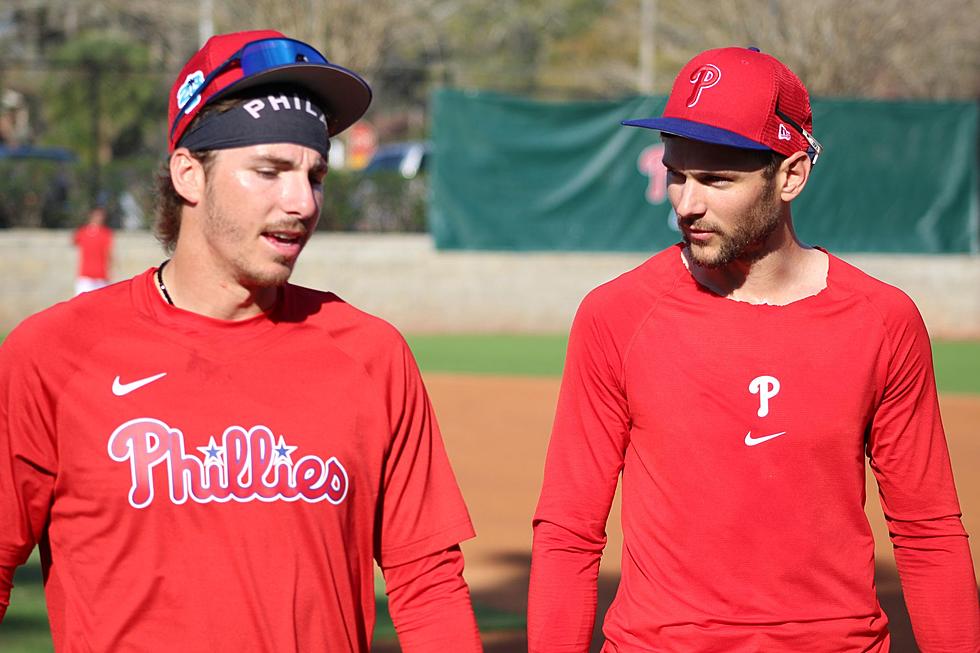 Phillies Mailbag: Hoskins, Double-Play Combo, Hall's Chances
Bryson Stott and Trea Turner at 2023 Phillies Spring Training (Frank Klose/97.3 ESPN)
We are back once again with the 97.3 ESPN Phillies Mailbag.  We take your questions and each week answer them on The Sports Bash with Mike Gill.  Send your questions at any time to @FrankKlose on Twitter and tune in Tuesday afternoons to hear your question answered.
Should we be worried about Rhys Hoskins and his injury?
~Rob
I was in Training Camp on Thursday and watching workouts and happened to ask myself, "Where's Rhys Hoskins?"   He was not with the masses doing the stretches with assistant major league strength and conditioning coach Furey Leva was conducting.  It turns out, he was present, but taking it easy.
We learned on Sunday after Hoskins did not appear in any of the three Grapefruit League games that he was holding out playing in games.
While he is holding out, there was some good news. While he did not participate in workouts that day, I did observe Hoskins taking balls at first base with a few of the infielders.  Later, he faced 
Aaron Nola
How do Bryson Stott and Trea Turner look as a double-play combination?
~Chris
So far so good.  I was lucky enough on Thursday to stop by one of the practice fields used for infield drills and pitching drills.  Several infielders were there working out.  Among them: Trea Turner and Bryson Stott.
They spent a good amount of time working double plays and making the flips to one another.  That continued on yet another field a couple of hours later.  The two are really putting time together getting comfortable with one another. 
That is important to do now, as Turner will be participating in the World Baseball Classic. The double-play combination will have a renewed importance this year.  That is because the shift has been outlawed. 
No more third basemen coming in to play as a second baseman would, and the second baseman playing right into a left-handed hitter's sweet spot.   They now have to choose one or the other. Turner has incredible range at shortstop. 
And Stott, too, has a shortstop's range but will be on the right side of the infield.  While they will not be able to replicate what they could do with Alec Bohm in the mix, they will have a really strong range.
But aside from the simple mechanics, I think there's another really positive sign:  They really seem to like each other. I don't remember seeing a Phillies Spring Training camp in which the players really enjoyed each other's company, and more importantly, enjoyed playing baseball with one another.  I get the sense that they are both excited to play with one another and to be playing for the Philadelphia Phillies.
What are Darick Hall's chances to make the Phillies roster this Spring?
~Joseph
I would say that Darick Hall has a chance.  I'm not sure how big a chance.  But there is definitely a chance.  I think that ultimately it will come down to his bat.  The bat is what gave Hall his first chance last year.  But it also was not enough down the stretch.
The Phillies are a little handcuffed defensively if Hall is on the roster.  You saw last year that as a designated hitter-only option, Hall had to exit the roster whenever the Phillies had some injuries that required some defensive versatility.  There were unable to carry him down the stretch when defensively-limited Bryce Harper was active on the roster.
There could be a real opportunity in 2023, however: the aforementioned end of the shift.
As Matt Gelb of The Athletic notes, the end of the shift will help Hall's chances:

This "best opportunity" could lead to playing time.
But there would be concerns.
The Phillies would need to be comfortable with Nick Castellanos and Kyle Schwarber both as defenders.   The Phillies would need to give J.T. Realmuto full days off, without the option to serve as designated hitter.  The Phillies would also have to play a lot more of Alec Bohm and Rhys Hoskins in the field, who have had their moments when they are defensively challenged.
Jake Cave is in camp as a left-handed outfielder, while Kody Clemens is on the roster as a left-handed versatile utility player.  They probably will be the competition.
If Hall shows his bat is worth it, they will find a way to keep him.  But that is not guaranteed.