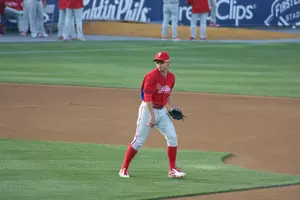 Phillies Mailbag: Kingery, Perkins, Stabilizing the Club
Scott Kingery is at the highest level of the minor leagues (Frank Klose/Sports Talk Philly)
It is Tuesday so it is time once again for a 97.3 ESPN Phillies mailbag.  We take your questions and talk about them on the air on 97.3 ESPN in South Jersey on the Sports Bash with Mike Gill.  Not in the range of the signal?  Listen online at 973espn.com.
When will the Phillies call up Scott Kingery?
~Rich
The Phillies really have no reason to rush with who very well may be the second baseman of the future in Scott Kingery.  Kingery just made the leap from Double-A Reading to Triple-A Lehigh Valley for the first time.  But whether or not the Phillies see Kingery on the Major League roster could depend on a number of factors.
The first would be the status of second baseman Cesar Hernandez.  Hernandez is out with an oblique strain that could very well take him up to the July 31 trade deadline.  Hernandez's presence is greatly missed in the Phillies lineup, and his bat and defense could interest another team in a trade down the line.  But, if the Phillies were  going to potentially trade Hernandez, they probably will not be able to demonstrate his health and there simply may not be enough time to do that.
There has been some discussion about Kingery learning other positions in professional baseball.   Kingery played most of his college career in the outfield, becoming a second baseman the year before the Phillies drafted him.   That does not mean that Kingery could just jump into the outfield.  Besides, the Phillies have three prospects in the Triple-A outfield in Andrew Pullin, Dylan Cozens, and Nick Williams, with Roman Quinn also returning into the mix at some point.   Any position change for Kingery probably would have to happen with an offseason and Spring Training ahead of it.
Kingery could be a September call-up, but then again he might not.  The Phillies will have to carefully manage their 40-man roster this upcoming offseason as they did last offseason.  J.P. Crawford and Rhys Hoskins are still not members of the 40-man roster and could get a call-up ahead of Kingery, depending how much room the Phillies are able to create.   The Phillies have a 40-man spot tied up on Jesmuel Valentin, who will not return, and they will need space to add some pitching.
If the Phillies cannot create enough space for Kingery, he may sit the entire offseason off of the 40-man roster and therefore not get a call-up.
Why is Cameron Perkins starting and leading off every day?
~Mike
I understand the frustration that fans might have in terms of Perkins getting so much playing time right away.   When the Phillies summoned Cameron Perkins, it seemed that the Phillies would be using him as a fourth outfielder and pinch hitter.   But thanks to injuries to multiple players, Perkins ended up starting four games in a row as the leadoff hitter.  While that may have been a bit much, it is hard to take issue with Phillies manager Pete Mackanin.
The Phillies have Odubel Herrera and Aaron Altherr for two of the starting outfield spots.   Altherr essentially fully assumes the starting position vacated by the release of Michael Saunders.   Their starting left fielder, Howie Kendrick, became the starting second baseman and also is injured.
That means two of Ty Kelly, Andres Blanco, Brock Stassi, Daniel Nava, and Perkins have to start every day.   Nava is a switch-hitter, but not really hitting as a right handed hitter (.200 compared to .329 as a left-handed hitter). Stassi is left-handed and Kelly is, well, Ty Kelly.  So the Phillies really do not have a lot of options on the active roster to field a starting lineup right now.
Mackanin saw the high on base percentage Perkins put together at Triple-A and decided to give Perkins a shot.    Speaking of "shots", maybe this is Mackanin's way of sending a message to the front office, who declined to promote either Williams or Cozens from Lehigh Valley.  I personally would have liked the Phillies to pick up Trevor Plouffe, recently designated for assignment by the Athletics.  He has minimal experience playing the outfield, but he could help.  The Tampa Bay Rays grabbed Plouffe.
Had Quinn been healthy, he would have gotten a real shot right about now, which is unfortunate.
What moves would you make to stabilize the Phillies right now?
~Rebecca
If I were the Phillies I would use the financial strength the team has to acquire two veterans.  The first would be one that could step into the closer's role and push everyone back an inning.  The second would be a veteran starting catcher whom the pitchers and young catchers would learn from.
I think the Phillies could find that reliever in the person of Ryan Madson.   Madson signed an overpriced three-year, $22 million contract with the Oakland Athletics prior to last season.   While Madson filled in as the closer for the Athletics for a while, Madson has mostly been a set-up man.
Madson has a 2.45 earned run average and one save in 31 games played.
The key would be what the Athletics would want in return.  In terms of financial relief, the Phillies can provide that no problem.  The question would be what the Athletics would want in return in terms of talent.   The Washington Nationals are probably in on Madson, but may not have the financial strength to add him.  The Phillies can afford to take the contract which would provide stability in the way an overpriced Jeremy Hellickson was to do that to the starting rotation.
The other move I would make is to acquire a veteran catcher.   The catcher the Phillies add should be able to provide a steady lineup presence, as well as work with young Andrew Knapp and eventually Jorge Alfaro, while calling a good game.  Ideally the catcher would be someone who can yield to the young guys while appropriate.
The tension between Cameron Rupp and the coaching staff continues to build.  I am not personally a fan of the coaching staff calling pitches; I firmly believe the catcher should be allowed to do that as his job.   But Rupp and the pitching coach duo of Bob McClure and Rick Kranitz seem to really disagree on pitch calling and it's getting harder and harder for them to disguise it.  That, and not offensive production, seems to be keeping Rupp out of the Phillies lineup.  With Knapp and Alfaro waiting in the wings, I think the Phillies could make a change at catcher.
Right now Derek Norris is available after the Rays got Wil Ramos off of the disabled list.  Norris is not an ideal defensive fit, but he he could fit in others ways.  Norris had three hits on Saturday and was promptly designated for assignment.
But, I would think of the likes of Miguel Montero, who currently plays behind Wilson Contreras in Chicago.  Perhaps someone like Ryan Hanigan should have been kept around after Spring Training to fill this role.   Right now the Phillies are using a bench spot to play Stassi, who can only play first base.  Maybe the Phillies can find a catcher who can also play some first base.   Alex Avila might have been a good fit, but he's played himself into starting for the Detroit Tigers.
It is hard to add such a player during the season, but I think the Phillies need it.