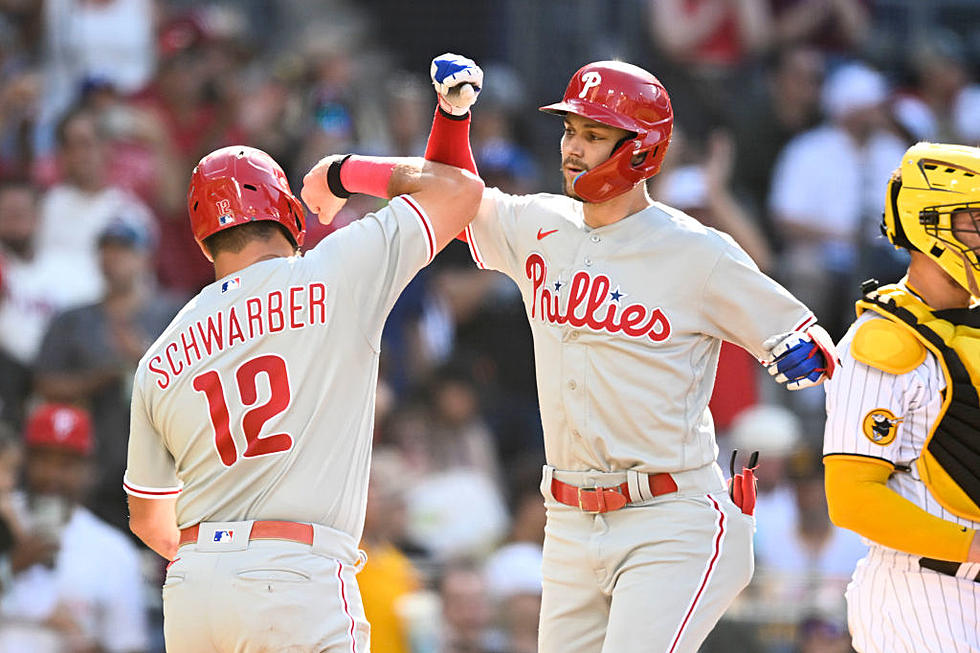 Phillies Mailbag: Pitching, Bohm's Contract, Turner's Power
Trea Turner's power surge has fueled the Phillies to victory (Denis Poroy/Getty Images)
We are back once again with the 97.3 ESPN Phillies Mailbag.  Each week we take your questions and answer them on The Sports Bash with Mike Gill.  Send your questions at any time to @FrankKlose on X, or text the show at 609-403-0973.  Tune in Tuesday afternoons to hear your questions on the air.
Are you worried about the state of Phillies pitching Especially their relievers?
~James
The Phillies are an interesting ball club.  Overall, they keep winning.  A 17-10 August has the Phillies firmly up in the Wild Card hunt.  But there seems to be some consistency in the Phillies play.  Last night in San Diego, the Phillies were up 8-1 and the game got uncomfortably close at the end, ending in a 9-7 victory.
I would think of it this way: In the playoffs, you will only see the top half of the pitching roster.   Cristopher Sanchez will not start.  That means there will be fewer times that the bullpen will pitch many innings.  Taijuan Walker should be better than his San Diego start.
So when Aaron Nola has an off day ahead of them, it feels like the bullpen is overworked and gives up runs.
I think that there is time for Jose Alvarado and Seranthony Dominguez to work through their inconsistency. If two of them do, then the worry is less in the playoffs if Zack Wheeler can give you seven innings.
The Phillies have six starters once again to get them through the doubleheader on Monday.  But once they get past that, someone from the rotation will become relief help.  I am not sure who that will be yet, but we will find out soon enough.
When would the Phillies need to extend Bohm contract? He is becoming an all around player.
~Michael
The Phillies have three years remaining on the rookie contract of Alec Bohm.  And while he has shown great improvement, I would rather see the Phillies go year to year the next couple years and see where things go with Bohm.
Many questions remain.  Will Bryce Harper return to the outfield? If so, would the Phillies use Bohm at first base and sign a third baseman? Who will play first base next year if not Bohm and if not Harper?
The Phillies have needed to improve the defense in recent years.  Most agree (including probably Kyle Schwarber himself that he should not be in left field every day).  And while I agree that Bohm has improved his defense - and very admirably has been bouncing back and forth across the diamond - the defensive metrics still show that he has some deficiencies.
The Phillies also used their first round pick to draft a power-hitting third baseman in Aidan Miller.
So let's see how this plays out.
Is there anyone that the Phillies can call up to eat some innings in the bullpen down the stretch?
~@MintFresh76
There is only one name that comes to mind and that is Nick Nelson.  Remember him?  The Phillies have been stashing him at Triple-A as an emergency starter.  It might have been him instead of Cristopher Sanchez last time the Phillies needed one, but he ended up with a hamstring injury and missed his shot.
Nelson has been OK overall at Triple-A, going 7-2 with a 3.69 earned run average in the minors.
Two bad starts make up a lot of that ERA.  On July 25, Nelson allowed nine earned runs in four innings.  Then, August 29 he allowed six earned in 4 1/3 innings.  But most starts Nelson is going six innings. In his last 10 starts, seven of them have been six innings or longer; the only one other than the two aforementioned starts was a five-inning start.
At some point there won't be worry about him not being "stretched out" to start since there are just four weeks left in the season.   Note that the Phillies and Braves do NOT get an extra player for the doubleheader since rosters have expanded.
Does Trea Turner end the regular season with more than 30 Home Runs?
~@Post224Baseball
Wouldn't that be something?  Considering that Trea Turner has hit eight home runs in his last 15 days, could he match that in the remaining 25 games?  The way that Turner is playing, I surely couldn't rule that out.
It would be quite the feat.
Speaking of Turner I remember someone on Twitter (maybe before it was X, I don't know) ask the question, "Will Turner ever get his OPS to .700 before the season ends?"  Well, after playing out of this world and making up for lost time, he's eclipsed the .750 mark.
If Turner can remain hot the remaining 25 games, I would think that the Phillies have some good odds, and that he could do what seemed like the impossible.
If he can hit eight home runs and steal five bases, he could be a 30-30 player.