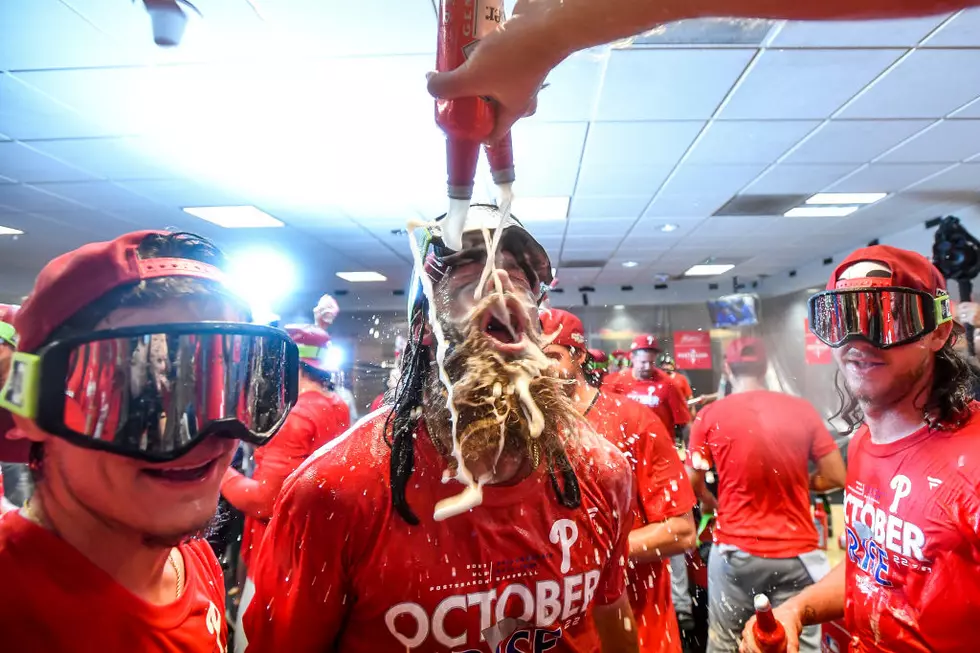 Phillies Mailbag: Playoff-Bound Edition
The Phillies are playoff-bound (Logan Riely/Getty Images)
We are back with the 97.3 ESPN Phillies mailbag.  This week's edition is a little different: It's a playoff edition.  Tune in to The Sports Bash with Mike Gill on Tuesday afternoons to hear your questions answered on the air.
By my count this season the Phillies have had eight winning streaks of four or more wins and six losing streaks of four or more losses, which version of this team will show up in the playoffs?
~John
The season is a long one.  I think the streaks that concerned fans were the ones in September: losing five in a row from September 15 - 20.  They lost five in a row again from September 24 - 29.  But as the Phillies headed down the last two series, I saw something different from this Phillies team.
On Monday's Powder Blue Podcast: I felt confident that the Phillies were ready to grab the Wild Card on Monday.  I see a difference in this team.
We have come to know many of these players over the years: Rhys Hoskins and Aaron Nola to name a few.  Then there are the rookies who have never appeared in the postseason: the Alec Bohms and Bryson Stotts.
I almost think there's a psychological barrier that this team has crossed.  They are a playoff team.  I think we will see a confidence in this group that might have waned in September.   They are no longer the team that choked in September; they're the story of a team that fired their manager with a 22-29 record who surged back and won a Wild Card, even in a division with two 100-game winners.
When you consider these playoff games will be build around their top pitchers, I think that gives them a real shot.  The Phillies took four of seven from the Cardinals in the season series.  Could they take two of three?
Of course they could.
Do u think they bench Kyle Gibson for the Wild Card round? If not who?
~Tom
The Wild Card round is a little different than the other rounds.  We know that the Phillies need just three starting pitchers to get through a three-game round.  Therefore, the Phillies pitching staff as a whole needs fewer arms.  But I think we are seeing how the postseason pitching is setting up.
It almost goes without saying that the Phillies plan to start Zack Wheeler, Aaron Nola, and Ranger Suárez, in that order.  They have set up the rotation that way so that come Friday, Wheeler will take the ball, with Nola following Saturday, and if necessary, Suárez.  They likely have no need for a starter beyond that.
Should Wheeler and Nola win, they can save Suárez for game one of the Division Series.   But if they go all three games and use Saurez, a fourth starter would be necessary to start the Division Series on Tuesday the 11th when that round begins.  If I had to guess who that would be, I might go with Bailey Falter, with Noah Syndergaard ready behind him.
Wheeler would be at full rest for game two of the Division Series; Nola and Suárez would be with an extra day's rest by the time they would pitch in the Division Series.
I can see the Phillies carrying Kyle Gibson on the roster.  But as the weakest link in September, they might be wise to avoid using him.  While I think there is an opportunity for an extra bench player during the playoffs, I would think that there are other arms that are lower on the pecking chart than Gibson at the moment.
How much can they use Zach Eflin in the bullpen? Is it innings based or pitch count? Can he pitch limited innings in consecutive games?
~Rich
I think that Zach Eflin pitching in the ninth inning to clinch was a two-fold goal: 1) They wanted the pitcher with the second-longest tenure on the Phillies to save the game for the longest-tenured Phillies pitcher, and 2) He is good for some high-leverage outs.
Eflin has pitched on back-to-back days once, and I would think that's on deck for the playoffs.  He's looked good.  I think that in the playoffs that places him towards the back end with Jose Alvarado, who has had a remarkable turnaround.
So what about Seranthony Dominguez and David Robertson? I think it's true they have not been their old selves as of late.  I expect the Phillies to use them today and maybe again tomorrow to see how sharp they actually are.  Then they can gauge the best possible roles.
After losing Eflin as a starter, and without the ability to stretch him out, he's been nice surprise in the Phillies bullpen.  Expect them to give him key outs this playoffs.  But as Rob Thomson has done all along: the will pitch them by matchups.