Phillies-Marlins (Game 59): Must-Know Stuff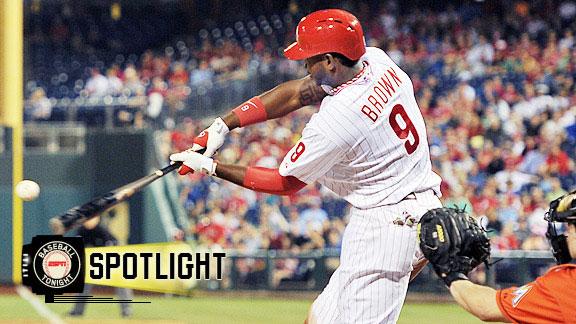 Phillies (28-30) vs. Miami Marlins (16-42)
With last night's 7-2 win, the Phillies plated seven runs in back to back games for only the second time this season, the other being early April against the Mets.
Such games came against the NL's second-worst and worst teams, but that hadn't stopped the Phillies offensive futility before. If nothing else, they've twice in a row beat teams they're supposed to, the type of teams, sub-.500 teams, they'll play in 23 of 26 games this month.
It's two games. But it's a start.
Domonant
Dom Brown stat pack: eight homers in eight games, a span in which he's hitting .484 with 15 RBI, and nine shots in 10 games. An NL-leading 17 bombs this season. Tied for second in the majors. Four jacks in his last eight games against the Marlins.
This is largely the product of Brown's pure talent and as simple as getting consistent playing time. But it's also a testament to his preparation. Brown last night talked about rigorous film study, going over each of his at-bats with a thorough critique. That's impressive.
It also makes you wonder whether the rest of the Phillies are doing the same – and if they are, what it means that they've underachieved so badly.
Brilliant Back End
The Phillies had ridden their Nos. 3 thru 5 starters for most of the season.
Then came May 27 to May 30, when Jonathan Pettibone and Tyler Cloyd had been crushed for 10 runs in 7 1/3 innings. Kyle Kendrick in two starts before had been rocked for a 7.36 ERA.
But Kendrick and Cloyd have gotten back on track, punching a 2.45 ERA in Kendrick's last two starts and Cloyd's latest. Now, it's Pettibone's turn.
In a 9-2 loss to Boston on May 30, Pettibone (3-1, 3.64 ERA) was tagged for four earned in five frames, with four walks. The 10 baserunners were his third straight such start and fourth in five. Pettibone had allowed three or fewer runs in each of his seven starts prior.
His secret has been his performance in the clutch. In "high leverage" situations, Pettibone has a .100 opponent batting average, and, more broadly, he's been at his best with men in scoring position. But is that remarkable gamesmanship? Or escapism that simply can't continue?
Pettibone's only start against Miami this year might've been his finest. He tossed 6 1/3 innings of one-run ball with no walks.
The Other Guy
Ricky Nolasco (3-6, 3.69 ERA) is at his best against the Phillies, and has gone 6-2 with a 3.31 ERA in eight career starts in Philly. But Nolasco was touched up his last time here, surrendering four earned and three home runs in six innings in a 4-1 loss on May 3.
Better news: Brown and, more importantly, Ryan Howard have had success against him. Howard is 4 for 6 against him this season and each of those hits went for extra bases.
Mike Check
Michael Young, activated off the bereavement list yesterday but out of the lineup, is expected to be penned in Charlie Manuel's batting order tonight. With his latest at-bat, Young left the yard to snap an 0 for 22.