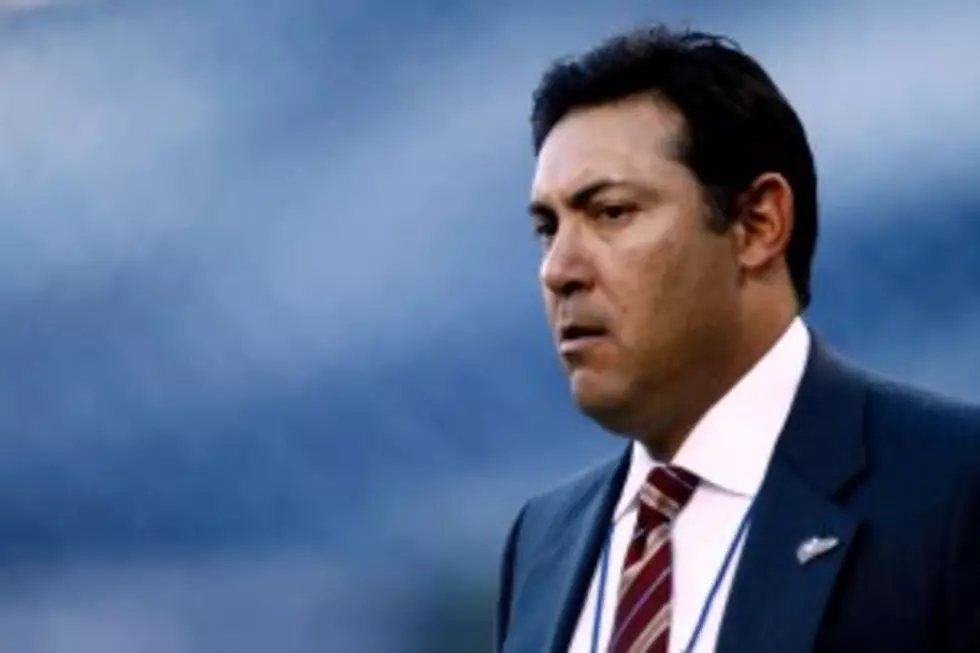 Phillies Offseason Plan Looks a Little Out of Focus
It's unclear who is steering the ship for the Phillies, David Montgomery is currently recovering from jaw cancer surgery. Hall of Fame executive Pat Gillick is the interim president. (Jeff Zelevansky, Getty Images)
The Phillies' 2015 roster is still a work in progress, with the biggest need being, getting younger, someone who can provide some power and depth in their starting rotation. General manager Ruben Amaro addressed these issues so far by bringing back a pair of 32-year olds; outfielder Grady Sizemore and pitcher Jerome Williams.
With these type of moves, it seems the Phillies organization still lacks focus.  About a month ago, Phillies acting team president Pat Gillick stated that the team wasn't ready to compete until about 2018 - which is fine, you finally see what the fan base has seen for the past two seasons - the again core is broken down and it's time to move on from 2008.  However, the first two moves seem to be very familiar to the off seasons of Amaro recent past - bringing in again veterans and hope for one more run for the 2008 core.
With Dom Brown currently in left field, Marlon Byrd in right and Ben Revere in center, it is clear the Phillies are in need of an upgrade in production they got from their outfield last year. Moving Byrd is the most likely scenario but replacing his production would be difficult with very few options on the free-agent market, most notably Melky Cabrera, Colby Rasmus, Jason Kubel and Mike Morse.  The guy the Phillies probably would like to move is Brown, but right now there doesn't seem to be any interest.
"That's out of the question," ESPN Sr. baseball writer Jayson Stark tells me on 'The Sports Bash'.  "They would trade Dom Brown in a heart-beat, the optimum scenario is you trade him for someone elses change of scenery-type project."
However, speaking recently, Amaro sounded like he was fine with his current outfield set-up.
"Who said we were looking for a power bat?" Amaro asked recently.
There are a number of high-profile players available via trade, but the price is high in terms of talent that the Phillies would have to give up, and right now their farm system simply doesn't have the pieces to add a proven major league talent.
"We have a long-term plan and the moves we make are based on that," according to Amaro. "We're looking for pitching right now."
While pitching is certainly a need as noted above, there is little question they need to add a young bat and begin building around that bat, but not if they have to give up too much. Guys like Matt Kemp, Justin Upton and Yoenis Cespedes are said to be available but the price is very high, and do these players offer what the Phillies need?
A young power bat they can start to build around - not really. However, Tomas might have been that guy - apparently the Phillies just weren't that interested.  The Phillies never made an offer for Tomas, according to his agent Jay Alou Jr.
"It was clear the Diamondbacks valued him higher than we did," Amaro stated.
The Phillies don't really have the players to acquire any of the above mentioned outfielders anyway, but by all appearances Amaro would much rather hold onto the few young players the organization has developed and move veteran guys like Cole Hamels, Cliff Lee, Byrd or a guy like Jonathan Papelbon.
If the Phillies want to wait to see if the price they are asking for any of the of the above players is met, that might be the only way they get something done and this roster has a different look in 2015.
The most likely guy to be gone by spring training?  That would be Hamels - but it's not a given.
According to Ken Rosenthal of FOX Sports, a Dodgers trade for Hamels appears "unlikely -- at least for now."  Rosenthal said LA is balking at the Phillies' asking price for Hamels. That asking price is believed to include Joc Pederson or Corey Seager, two of the Dodgers' top prospects. It was reported earlier this week by USA Today baseball writer Bob Nightengale, that the Phillies were conducting "intensive homework" on the Dodgers' minor league system in anticipation of trying to work out a deal involving Hamels.
But still as Stark tells me on 'The Sports Bash' that Hamels is "very available" but just because he is very available and the Phillies are willing to listen, doesn't mean he is changing addresses this off season.
"Go up and down the list of guys on the roster not named Cole Hamels they can trade to begin a rebuilding process," Stark stated. "There really isn't anyone else on the entire roster that can do that, that's why they are listening.  The problem is, there is too much free agent pitching," Stark explains. "The odds of them making this deal this winter, getting back what they need to get back to justify it are really slim. My guess is they wind up hanging on to him and try again in July."
Despite worries about his velocity and strikeout rate, Papelbon has gotten good results in each of his three seasons in Philadelphia, including a very good 2014.  Papelbon - though at times controversial - converted 39-of-43 in save opportunities with a 2.04 ERA. However, his $13 million option for 2016, which will vest if he finishes 48 games next season, might be one source of concern, for teams on top of his edgy locker room presence.
Another interesting story line will be what will the Phillies do with Cody Asche and Maikel Franco in 2015. Asche and Franco, while both are primarily a corner infielders, could possibly try to play some left field or another position on the diamond like first base.
However, until the Phillies are able to move Ryan Howard, something Stark says they are "incredibly motivated" to do, first base will be clogged up for the next two seasons at minimum.
"I have had people tell me they would be surprised if he is a Phillie on opening day, how that shakes itself out?  I don't think we know yet," Stark admitted. "It's tough to trade Ryan Howard, it's obvious, there are $60 million reasons.  No National League team will have interest, he can't play defense, he is an American league player - but the trend in the AL is to get away from full-time DH's - their best case is to trade him for someone elses problem, but I think releasing him is a last resort - it would be so embarrassing for everybody"
Howard really creates a lot of problems for many players on this roster.  There are not many instances where guys like Darin Ruf, Asche, Franco, Cesar Hernandez can all play with Howard still on the team - preventing them from getting younger.
"The reason to trade Ryan Howard is to ideally open first base for Franco, if he comes into spring training and he shows he is even close to being ready," Stark says. "But with Howard here, the future for him is murky and a lot of guys.  But opening up first base I think creates that scenario. But trading Howard opens up a spot for Franco unless they want to move Asche."
Another topic for the off season are the futures of Jimmy Rollins and Chase Utley in Philadelphia.  Stark reported that he heard from two sources that the Yankees offered the Phillies "a utility player" for Rollins and the Phillies balked.
Both Rollins and Utley have full no-trade clauses and don't seem to want to leave at this stage of their careers.
"Jimmy has made it pretty clear that he's not going anywhere, doesn't want to go anywhere and he holds every card," Stark says.  "I think Jimmy's back and I think it's likely Chase is back and they turn into Whitaker and Trammell.  I think there might be a scenario where Chase might go somewhere, but I just don't see a match."