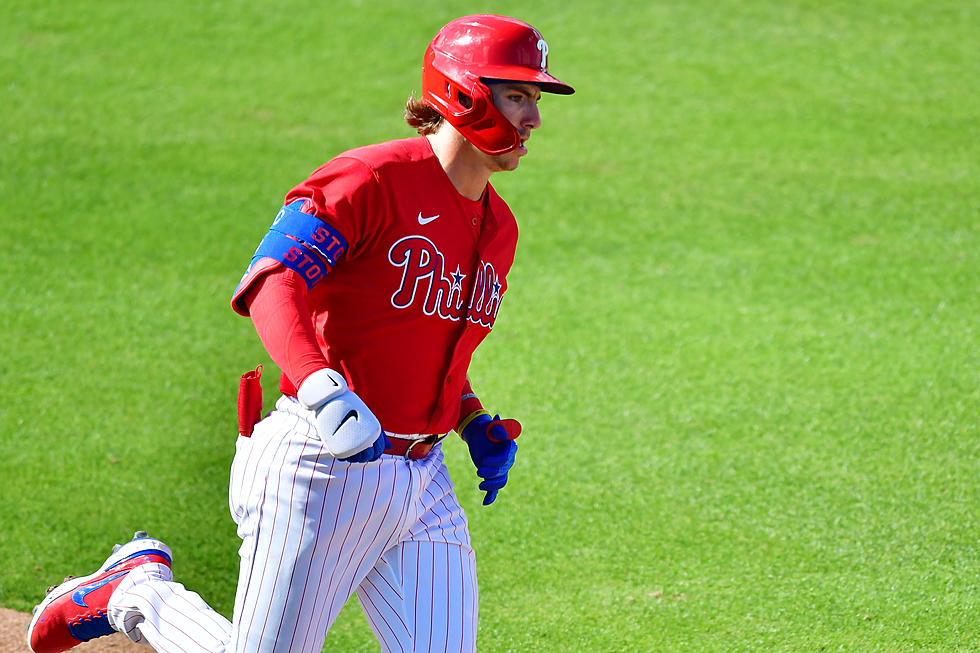 Phillies Top 20 Prospect List Entering 2022 Season
Getty Images
Just two Philadelphia Phillies prospects were named to top 100 list by The Athletic's Keith Law, making it one of the worst farm systems in baseball.
Those two, shortstop Bryson Stott and pitcher Mick Abel, led a group of Law's top 20 prospects in the organization. Philadelphia's two top prospects, came in ranked at No. 66 and 91 respectively on his Top 100 list last month.
The No. 3 player on the list, is pitcher Andrew Painter, the Phillies' first-round pick in 2021. Outfielder Matt Viierling has a shot to make the Phillies Opening Day roster. He is a plus runner and a solid-average defender in center field, a spot the Phillies need help right now.
Johan Rojas (5), Luis Garcia (6), Logan O'Hoppe (7) are three position players with pitcher Hans Crouse (9), who came over in the Spencer Howard trade and outfielders Simon Muzziotti and Jhailyn Ortiz rounding out the Top 10.
Of this group, Law sees a pair that could make a impact at the big league level in 2022:
Vierling seems likely to take one of the open outfield jobs unless the Phillies go externally to fill them. If Didi Gregorius doesn't hit now that his elbow is supposed to be 100 percent, Stott will probably be ready to take over by June, if not sooner.
Rounding out the bottom 10 are outfielder Ethan Wilson (11), LHP Erik Wilson (12), RHP Francisco Morales (13), catcher Rickardo Perez (14), RHP Christian Hernandez (15), RHP Adonis Medina (16), LHP Christopher Sanchez (17), RHP Griff McGarry (18), shortstop Casey Martin (19) and middle infielder Jamari Baylor (20).
To qualify for Law's list, prospects could not have more than 130 at-bats,  50 innings pitched or 45 days on an active roster.
Millville High Alum Mike Trout Through the Year's