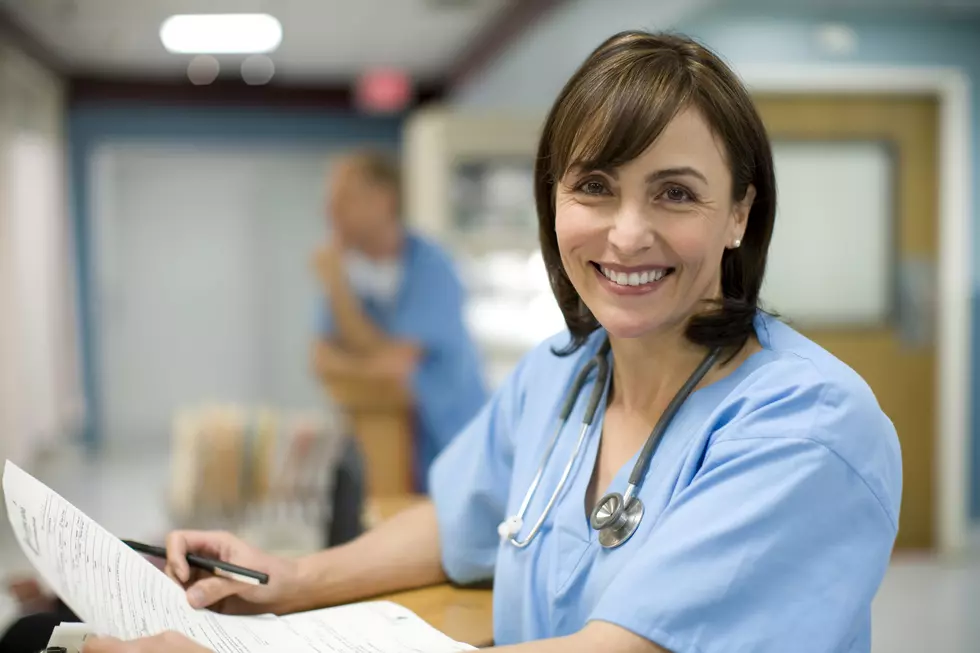 Thank You, First Responders and Other Essential Workers
Getty Images
The Sports Bash on 97.3 ESPN wants to help recognize the people keeping the South Jersey-area safe amid the coronavirus pandemic.
If you know a doctor or health care worker, police, fire or any first responder, a transit worker, a grocery store cashier, a store owner who is helping to keep us safe, send us a text with their name, a photo and where they are from.
Give us a brief description of what they are doing to keep us safe and how they are making a difference so we can showcase it on the site and/or on air.
On behalf of The Sports Bash and 97.3 ESPN and our entire community: Thank you for all that you do!
Text us your names and photos to: 609-403-0973 or e-mail to 973espntxt@gmail.com
Joanna Hackett: Registered nurse Works at Vineland Inspira hospital.
Robert Higbee: NJ State Trooper who works to maintain & police the Casino district and due to less people it is more dangerous & more crime
Mario J Formica Police
Mario C Formica Police
Leslie A Formica Atlanticare
Andrew Southery Police
Cheryl Weber Bacharach Rehab
Alison Sanchez: CNA at Inspira medical center in Vineland NJ
Halle Duzy: HOPE Cancer Center
Anthony Ventura, Ventnor - Ventnor FD
Dan Germana: Ventnor - Margate FD
The Pleasantville UPS drivers
Tori Borden: Atlantic City Medical Center
Alexis Nosotrose: Emergency room nurse near Atco, NJ
Stacie Lorge and the nurses at AtlantiCare/LHC Homecare
Dr Anthony Hikes: Cooper ICU. Just became a doctor, volunteered to be with the coronavirus patients
Karen Bailey: RN inspira hospital vineland
Eric Taylor. Radiologist at cape regional hospital
Ashley Tribbet: Works in the pharmacy at Millville Shoprite and is always happy and welcoming.
John Harris and the employees of City Wide Towing and Recovery an emergency service provider through AAA and all local municipality we are all up and running 24/7.
Comcast techs out of Pleasantville, local 827- They are still working to keep the internet on for everyone , being that everyone is at home, tv and internet are crucial at this time, techs are still doing installs and risking catching the virus
Liz Bilski who is a nurse on the burn unit at Crozer Chester hospital she has 2 kids under 4 but goes to work every shift to help these extra serious health cases.
The Comcast Field Technicians out of Wildwood who are keeping customers connected with installs and service calls.
Jill: A nurse at community in Toms River
Steve Reeves: Store manager at AutoZone
Kathy Hidalgo physical therapist Christiana hospital
Cindy Rongione: Atlantic City Police Department been working 12 hour shifts for weeks. I love what you're doing I listen every day shout out to all the first responders stay safe.
Sean Brannon: Lower Township Rescue Squad
Mark Delano: Townbank Fire Company
Brittney Delano: Villas Volunteer Fire Department
Felicia Wolf and her coworkers Tina Hicks and Jennifer Mousley. Felicia is an RN at Inspira Vineland. Marrying my son Max Riebel scheduled this June 19. Hope they don't have to move it!
Lori and Jacky Porter: Both nurses working in Cape May Court House.
ALL SHOPRITE EMPLOYEES
Teresa Fennimore: Healthcare Worker in North Cape May
Terry White: A first responder/EMT in Ocean County for a long time. Went to the Navy as a Medic , served in Afghanistan and now lives in Florida as a Medevac EMT and first responder for Advent Heath/ Orlando Hospital in Orlando Florida.
Jovanni Arroyo: Mays Landing, Respitory theripist
Justin Schenker: volunteer fire fighter in Tuckahoe
Tom Amenhauser from Villas NJ delivering plumbing, heating and air conditioning supplies to contractors in cape may and Cumberland count.
Kimberly Fatzinger and Carrie Shaffer are both from Absecon: They are both nurses. They put themselves at risk everyday and on top of that they have been sewing headbands for other nurses that hold their masks so their ears don't get destroyed from the rough material on the masks.
Mikey Hinsley. Ocean City Cop who is a Cleveland Browns fan. and U of West Chester football (TE).
Sabrina Giovanni: born and raised in Ventnor: She is a Transcranial magnetic stimulation coordinator at shore clinical TMS.... Mental health care is needed now more than ever and she is on the front line.
Sharon Buckalew from Galloway NJ: Out there everyday delivering mail for USPS mail doesnt stop either has she!
Doug Stonehouse: Cancer survivor and Atlantic County Correction Officer.
Officer Alex Homan: State officer of Correction in NJ State Prison
Phil Fitzpatrick: Grocery clerk, 8th street Acme in Ocean City
Walt Garant: RRT Respiratory therapist delivering oxygen so a patient doesnt run out
Robert Bishop:  ACUA, Residental and Commercial Hauler
Joseph Hawn: A corrections officer in the Atlantic county jail.
George Dannenhauer from Mays Landing: Volunteer Fire Fighter
Olivia Ortega: She is a nurse at Atlanticare in Atlantic City and is taking care of COVID patients.
Maria Sabulao: She is the Charge Nurse at Southern Jersey Family Medical Centers in Atlantic City.

Miriam Lopez: Phlebotomists at Cape regional medical center in cape May court House
Enter your number to get our free mobile app
These People Are Helping Keep South Jersey Safe