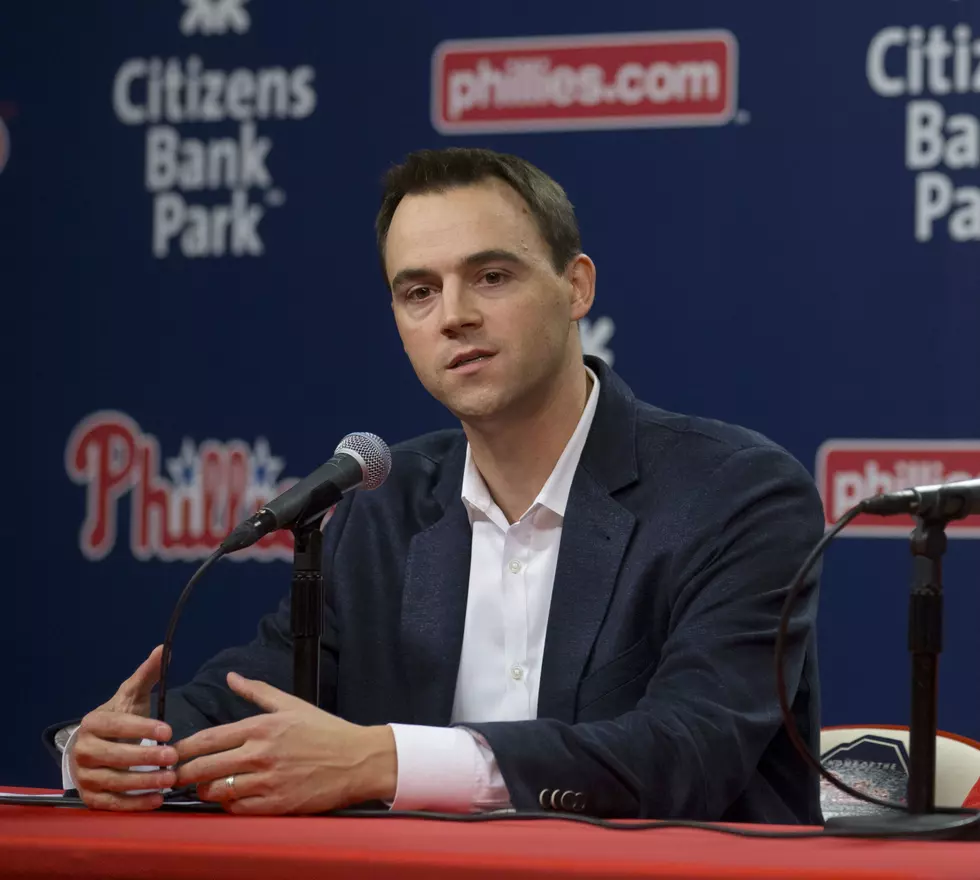 Playoffs or Not, its Time to Move on From Matt Klentak
Photo by Mitchell Leff/Getty Images
On Sept. 8 the Phillies were a season high four games over .500, but are now one game under .500 with just three games left to play.
It's the third year in a row the team made it to September in the race, and found itself fade away late in the year when the games mattered the most.
Sure the Philies still have a shot to make the postseason, but a leaky bullpen is again the culprit, and has put the team's back to the wall with just three games to play.
Enter your number to get our free mobile app
A historically bad bullpen, who according to baseball-reference.com, the Phillies' 7.21 bullpen ERA is the second worst ever, was built by general manger Matt Klentak.
For the Phillies, Klentak has had plenty of time to fix the issues this team has had in those previous years. He hasn't and has no one else to blame but himself, as the team sits at 28-29. Between failed free agents, poor trades and the inability to develop from within their own organization, the Phillies general manager is the key reason why the Phillies are likely to miss the postseason for the ninth straight season.
Tuesday night in Washington is just another night where the bullpen was unable to hold a lead. The Phillies fought to tie the game up and send it into extra innings. With a one-run lead, the team trotted out Brandon Workman to close the game out.  He promptly served up a two-run home run and the Phillies lost for the fourth straight night. Klentak has thrown money and made trades to acquire multiple veterans like Workman, David Robertson, Tommy Hunter, Pat Neshek, Heath Hembree, and David Phelps. There are all players Klentak either signed or traded for to try and help the bullpen - they haven't.
Prior to the 208 season, he signed right-handed relief pitchers Neshek to a 2-year, $16.25 million contract and Hunter to a 2-year, $18 million contract.
In 2019, Robertson got 2-years and $23 million and pitched 6.2 innings total in seven games with an ERA of 5.40, and hasn't pitched again after surgery. This season Workman, Hembree and Phelps have both been total disasters since coming over at the trade deadline.
His signature trade could end up blowing up in his face, sending prized pitching prospect Sixto Sanchez to Miami in exchange for catcher J.T Realmuto.  While Sanchez is looking like a young Pedro Martinez, there is a good chance Realmuto is looking at a huge free agent payday elsewhere.
Though Andrew McCutchen is a great clubhouse guy and leader, his decline during his time with the Phillies has been apparent too. From 2017-19, McCutchen's batting average dropped from .279 to .256 and is currently hitting just .241 in 2020. The former NL MVP and All-Star with Pittsburgh was in a decline, and bouncing around the league with the Giants and Yankees, but Klentak gave him the money with a three-year contract worth $50 million, which includes $20 million due for 2021.
Another deal Klentak made was sending former top prospect J.P Crawford to Seattle for Jean Segura.  Segura, is a fine player, but the Phillies now owe him $28.6 million over the next two seasons, before they can buy him out in 2023.
While Segura is a good player, he is paid like a great one, and for a team that is unwilling to go over the luxury tax, his impact, doesn't meet his contract.
Klentak has assembled some talent, he was able to lure Bryce Harper to Philadelphia, he drafted Alec Bohm, he made a good deal to sign Didi Gregorius and Zack Wheeler, but that's really all he has to show for five years of selling at the deadline, adding in free agency, and through the draft.
It's now time to part ways with Matt Klentak, and they probably waited to long and wasted a year where they could have made the postseason.