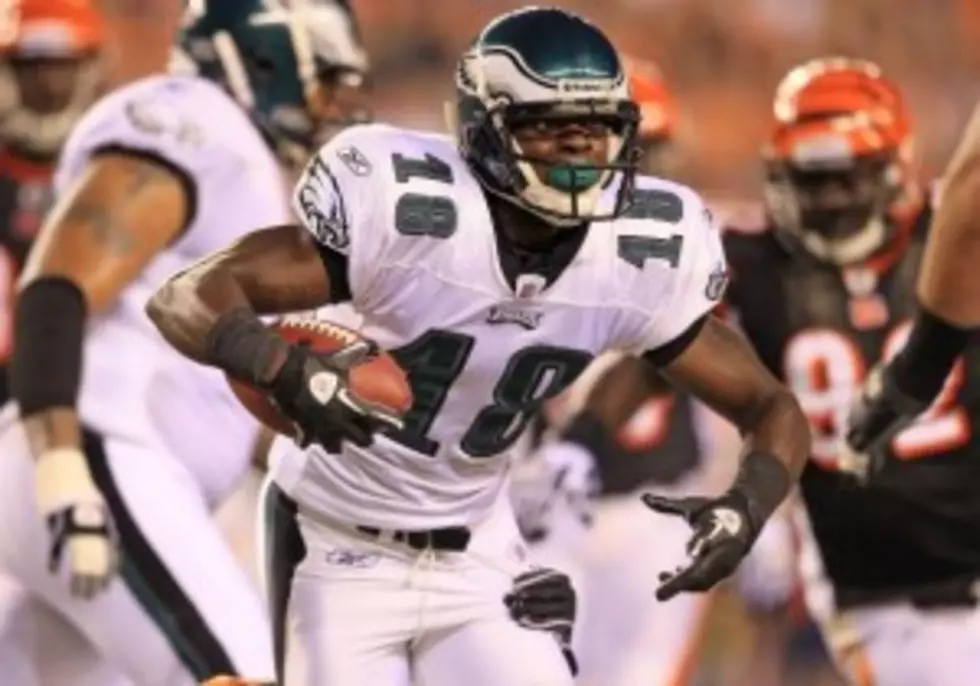 Plenty of Questions and Needs After Eagles Loss to Saints [AUDIO]
Jeremy Maclin tore his right ACL in training camp practice and missed the entire 2013 season. (Photo by Andy Lyons/Getty Images)
The attention now turns to the off-season and what the team could do in the off-season to get themselves over the hump and closer to winning the franchise's first ever Super Bowl.
As a whole, the 2013 season was a success and there are many reasons why the Eagles ended up on the right side of the scoreboard more often than not throughout this past season, but they still have some major questions to be answered and have some clearly defined needs. There are some decisions that need to be made throughout the next four months that will dictate how important each of the needs will be.
Before any of that happens though, here are some of the areas that the Eagles may look to address:
(Listen to Eagles beat writer Jeff McLane from the Philadelphia Inquirer discuss the Eagles off-season on the Sports Bash)
Wide Receiver
Players who are free agents: Riley Cooper and Jeremy Maclin
Why it's a need: The idea behind all the talk about adding a wide receiver is to surround quarterback Nick Foles with as much play-making talent as possible on the offensive side of the ball. Right now, they have two receivers in their normal rotation who are under contract, DeSean Jackson and Jason Avant.  Both Riley Cooper and Jeremy Maclin are free agents and are both going to be tough decisions. The Eagles really don't have a young, up-and-coming wide-out on the roster and might look to add one in the draft.  One of the more interesting story lines of the off-season will be what the Eagles do with Maclin. Maclin reiterated that he's ahead of schedule in his recovery from his torn ACL and anticipates being ready for spring practices in April.  Maclin said he wants to return to the Eagles - and has been productive, he had the most receptions (258), was third in receiving yards (3,453) and fifth in receiving touchdowns (26) among Eagles receivers in their first four seasons.  Cooper had a breakout year though, turning into a very serviceable No. 2 wide-out in the wake of Maclin's torn ACL. Over the final 11 games of the regular season, Cooper averaged 3.5 catches for 67.4 yards and scored seven touchdowns.
However, the Eagles need to add a target that has a top-notch catching radius. The kind of receiver who is open even when he's not.
Free Agents Possibilities: Eric Decker, Hakeem Nicks, Julian Edelman, Anquan Boldin, James Jones, and Golden Tate.
How Mike Gill would address it (as of today): Bring back Cooper and Maclin (maybe a a one-year deal) and draft pick, Mike Evans from Texas A&M would be a intriguing fit for this offense.
Tight End
Players who are free agents: None
Why it's a need: Rookie Zach Ertz enjoyed a successful season as one of the team's tight ends, but was limited as a blocker. Veteran Brent Celek had a terrific season as a blocker, but lacks the athleticism in the pass-catching game for the position. Celek was mostly used a blocker as he saw just 50 targets, a low-water mark since he got 38 in 2008.  It is entirely possible that the Eagles may look at the combination of Ertz and Celek and be satisfied heading into 2014. However, a matchup mismatch playing at that position is the X-factor for most successful offenses in the NFL, so, did the Eagles get enough from the tight end position in 2013? Do they believe Ertz can be that dynamic player in the passing game?  Will James Casey offer more in 2014?  These are all fair questions with a talented free agent class.
Free Agents Possibilities: Dennis Pita, Jimmy Graham, Brandon Pettigrew, Jermichal Finley.
How Mike Gill would address it (as of today): Make a call to Graham agent, if he isn't interested, stay with what I have.
Offensive guard
Players who are free agents: None
Why it's a need: Evan Mathis was an all-pro in 2013, having maybe his best season ever and has been rock solid since coming over to the Eagles in 2011 as a free agent after-thought,  However, Todd Herremans time as a full-time starting player in the league might be coming to an end.  The versatile Herremans started more than 70 games at left guard for the Eagles between 2006 and 2011, he played right tackle in 2012 and was at right guard this season.  While he wasn't terrifyingly bad, he definitively regressed as a right guard this season after being mediocre as a tackle last season.  back in 2012, Herremans signed a five-year, $27.1 million contract. The deal contains $11 million guaranteed, including a $6 million signing bonus - so he might not be going anywhere. However, now might be the time to find someone to either send Herremans to the bench as a swing tackle/back-up guard or get ready to take over for the 31-year old veteran.  It should be noted that Mathis is 32 years old as well and it can't hurt to have a younger guard ready to play if needed.  The Eagles line played well in 2013, but was inconsistent and is getting older at the guard position.
Free Agent Possibilities: Travelle Wharton, Jon Asamoah
How Mike Gill would address it (as of today): Pass on free agency, the Eagles need to find a younger guard to groom.  Draft pick, round 4, 5 or 6 & undrafted free agent
Left tackle
Players who are free agetns: None
Why it's a need: If Jason Peters could remain healthy was one of the big questions entering camp this season. Peters was coming off two Achillies injuries, not an easy injury to come back from. While he was banged-up much of the season, Peters still managed to start every game for the Eagles at left tackle and was named to the all-pro team - he had a tremendous 2013. If Peters can continue to play out his contract at this level that would be a bonus for the Eagles, but Peters will be 32 entering the 2014 season, so look for them to address this position at some point in the draft. The Eagles can shift rookie Lane Johnson to the left-side whenever the time comes that Peters can no longer play at a high level and fix the right side at another time.  Johnson played well on the right-side as the season went on and journeyman Allan Barbre was solid in limited time filling in for Peters.
Free Agent Possibilities: None
How Mike Gill would address it (as of today): Draft, round 3, 4 or 5
Linebacker
Players who are free agents: Philip Hunt
Why it's a need: The Eagles linebackers could be described as solid but not spectacular. The starting line-up of Trent Cole, Connor Barwin, DeMeco Ryans and Mychal Kendricks was a very good bunch - but were they great?  Who should be replaced?  Tough questions to answer.  Cole changed positions and responded well, coming on late in the season and was a solid contributor in the run game. the 31-year old signed a six-year, $59.3 million contract back in 2012.  As for Barwin, he was one of the big free agent signings last off-season, signing a six-year, $36 million contract and was at times the face-of-the-defense. Barwin played 94 percent of Philly's defensive snaps in 2013 and had five sacks. The middle backers both had very good seasons with Kendricks coming on real strong in the second half of the year, making the transition from outside backer to inside backer. At 23-years old, Kendricks could be a star in year number two of Billy Davis' defense. Finally, there is Ryans who probably will be back for his age-30 season with the Eagles despite a $6.8 million base salary.  He had a solid season as the quarterback of the defense. Ryans played near the level he was at before a ruptured Achilles' tendon in 2010. The one issue with the linebackers is depth, none of the starters is a great, pro bowl level players, but they are all very solid. As for reserves, they weren't impressive, despite some playing out of position. Former first-round pick Brandon Graham had pretty much a wasted season, Casey Matthews and Jake Knott were complete non-factors. The one guy who played well in limited time was 24-year old Najee Goode, who was the Bucs' fifth-round pick in 2012.
Free Agent Possibilities:  Vincent Rey, Wesley Woodyard, Karlos Dansby
How Mike Gill would address it (as of today): I would take a look at Rey, 26, as a free agent, who is also a good special teams player - but really excelled in the Bengals defense, filling in for an injured Rey Maualuga.  A couple of outside linebackers to consider in round one; Ohio State's Ryan Shazier, Kyle Van Noy of BYU,
Defensive End
Players who are free agents: Cedric Thornton, Clifton Geathers
Why it's a need: The Eagles have Vinny Curry and Fletcher Cox under contract for next season, but Thornton almost certainly will be back. He was really the most consistent player at times on the defensive side of the ball, having 60 total tackles and a sack. Both Cox and Thornton should be even better in year number two of this defense, but I think the Eagles need another player to be a part of the rotation to take some pressure off both of the starters. What the Eagles really need here is depth at the position, it's not a priority, but it is something that the team should address. Curry was very good at getting to the quarterback in limited time, but struggles against the run.
Free Agent Possibilities: Jared Allen, Michael Johnson, Lamarr Houston
How Mike Gill would address it (as of today): Mid-to-late round draft pick, but I would also take a look at a guy like Houston who could provide depth at both nose and end.
Safety
Players who are free agents: Nate Allen, Kurt Coleman, Colt Anderson
Why it's a need: It has been a need since Brain Dawkins packed his bags for Denver in 2009. Nate Allen played better in 2013, but has never lived up to the second round pick that the Eagles used on him four years ago.  While he was much better this season, he was simply not good enough and the Eagles need to get better at this position. Rookie Earl Wolff was solid, but missed time late in the season with a knee injury.  The fifth-round pick was a good tackler and helped in the passing game. Patrick Chung and Allen struggled in pass coverage all season and must be replaced.
Free Agent Possibilities: James Ihedigbo, Jarius Byrd, Brandon Meriweather, TJ Ward
How Mike Gill address it (as of today): Sign Jairus Byr if the Bills don't place the franchise tag on him, another free agent to look at would be TJ Ward from Cleveland.  Just 27-years old, Ward had a very solid season and was ranked the No. 4 safety overall by Pro Football Focus.
Cornerback
Players who are free agents: None
Why it's a need: The Eagles are hoping Cary Williams will get more consistent, he was very good at times and at other times he was average. Bradley Fletcher took a step forward as the season went on, in what was his best season to date, showing the ability tackle - something that has been a problem at this position the past few years. Brandon Boykin also provided a big boost as their nickel corner and is entrenched in that position going forward. The need for a cornerback really comes down to a depth perspective. Roc Carmichael is an average player who was picked on whenever he was on the field, while its safe to say former third round pick Curtis Marsh is a bust. The Eagles need depth at the position so adding some experience and some youth, both with the prerequisite of size, will help round out the group that was a lot stronger than first anticipated in 2013.
Free Agent Possibilities:  Aqib Talib, Brandon Browner, Walter Thurmond,
How Mike Gill would address it (as of today): Lower-tier free agent and late round draft pick
Quarterback
Players who are free agents: Mike Vick
Why it's a need: The Eagles have stated that Nick Foles will be their starter in 2014 and also spoke about how happy they were with the contributions of Mike Vick, who started the  first four games of the season. The Eagles can't sign Foles to a contract extension until after the 2014 season, which actually gives the Eagles a full season to be absolutely sure they want to commit to Foles as their franchise quarterback. It also brings them a windfall of cap space. Meanwhile, Vick has said he thinks he can be a starter in the league still, but also said he wouldn't mind being back as a back-up. Matt Barkley is also going to be back  next season.
Free Agent Possibilities:  Josh McCown,
How Mike Gill would address it (as of today): Bring Vick back as the back-up.